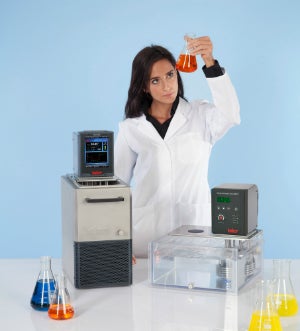 Huber Kältemaschinenbau has expanded its range of classic heating and cooling thermostats. The programme offers two product lines, which are the CC models that meet the highest standards and the MPC models that provide simple operation and affordable prices.
The company offers immersion circulators, bath and circulation thermostats for temperatures from -90°C to 300°C. The product line also includes the smallest cooling thermostats in the world, the Ministats.
CC models and Ministats are equipped with a Pilot ONE touch screen controller, which offers a 5.7in TFT colour display, as well as USB and LAN ports. Additional features include an adjustable pumping capacity, sensor calibration, clock function, auto start, a favourites menu and menu navigation in 11 languages.
Another advantage is the electronic upgrade feature, which enables the activation of additional functions such as programmer or process control.
In contrast, the MPC models focus on basics. These devices are inexpensive and are recommended for routine tasks. They have an LED temperature display and protection functions according to Class III / FL (DIN 12876).
Both model ranges are available with polycarbonate or stainless steel baths. The cooling thermostats are environmentally friendly and use natural refrigerants.