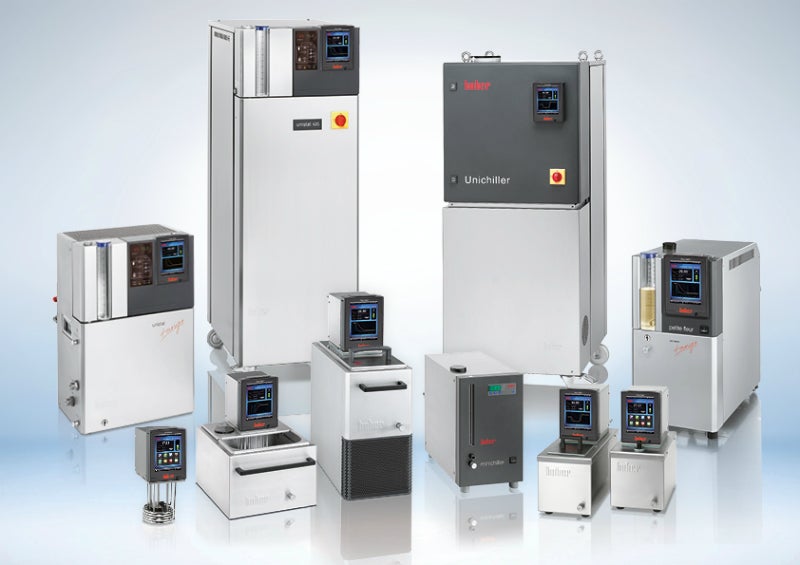 Huber Kältemaschinenbau produces high-precision thermoregulation solutions for the pharmaceutical industry.
Temperature control solutions for pharmaceutical laboratories
Huber's range of products maintains precise temperature control for laboratories, pilot plants and production processes from -125°C to 425°C. The company's range includes solutions with cooling capacities of up to 250kW, and chillers, heating and cooling thermostats.
The Unistat thermoregulation range is an ideal solution for fast and precise temperature control of externally connected applications. Compared with other circulators, Unistats offers rapid temperature change without fluid change.
Huber provides a choice of more than 60 models with cooling from 0.7kW to 130kW. Unistat provides professional scale-up and stable process conditions for development labs and production systems.
Heating and cooling circulators
Huber offers two types of circulators, which are the CC models and KISS models. Both product ranges are classically constructed laboratory circulators with open baths. The company produces baths and circulators for heating applications of up to 300°C, as well as models for heating and cooling applications between -90 °C and 200°C.
Ministat is the smallest cooling and heating circulator in the world, and ideal for operation in fume hoods or system integration.
Bath and circulation thermostats are available for temperature control of externally connected operations with options such as samples and sensors for the thermostat bath, in addition to immersion and bridge circulators. Devices feature long-life bath vessels made out of high quality stainless steel with pump connections.
All models feature an over temperature and low level protection system, which meets safety class III/FL (DIN 12876) to ensure it is suitable for use with flammable fluids. It includes a powerful pressure suction pump for optimal heat transfer.
Hook-and bridge thermostats, polycarbonate or stainless steel baths and refrigeration and low refrigerated circulators are also available.
Recirculating and immersion coolers
Huber produces circulating chillers for environmentally friendly and economical cooling in laboratories. The company has more than 50 air and water cooled models with outputs ranging from 0.3kW to 50kW.
All chillers feature efficient energy management to maintain low operating costs and minimal water usage. The stainless steel chillers are a small, eco-friendly alternative to cooling with fresh water.
Controller technology for set temperatures
Huber provides the Pilot ONE and KISS/OLÉ controllers for a range of functionality to suit different temperature control requirements, budgets and applications. The KISS/OLÉ controllers are ideal for basic functionality, while Pilot ONE features more extensive features. Pilot ONE offer additional upgrades with e-grades, which allow software to be updated using a unit specific, upgrade code.
Huber provides flexible solutions for heating and cooling in test stands, machines, industrial and production plants, as well as analytical systems.
Customised temperature control system
Huber adapts temperature control solutions to clients' needs and provides personalised advice. The company offers suitable solution approaches and show reference projects with comparable requirements. Other specialist areas for temperature control products include integration into the plant such as a heating and cooling plant in test stands, machines, industrial and production plants, as well as medical devices and analytical systems.
About Peter Huber Kältemaschinenbau AG
Huber Kältemaschinenbau employs 350 employees at its headquarters in Offenburg, Germany. More than 140,000 of Huber's temperature control products are used in science, research and industrial applications.
Huber was awarded the TOP 100 seal as Innovator of the Year in 2018 for being the most innovative mid-sized company in Germany.
Cooling bath thermostats with insulated cooling baths are an economic solution for thermoregulation of objects directly in the thermostat bath.
Huber promotes its Pilot One® Multi Touch Controller, CC® Models, Unistats®, and Unichillers®, as well as new features such as plug and play, gesture-based multitouch, and both USB and ethernet connectors.
Get inspired by Huber Kältemaschinenbau's completely revised catalogue demonstrating its dynamic temperature control systems, chillers, baths and circulators for working temperatures from -125°C to +425°C.
Huber offers a wide range of temperature control systems and associated accessories.
Many research tasks in the laboratory require exact temperature control, but advertising claims such as extremely fast or high-cooling capacity make choosing a circulator difficult. These phrases are not very meaningful and do not permit any objective assessment.
Huber's new temperature control catalogue 2019 has been completely revised and highlights a wide range of equipment for in laboratory, mini plant and production, including chillers and high dynamic temperature control systems, as well as classical baths and circulators for working temperatures from -125°C to +425 °C.
Peter Huber Kältemaschinenbau AG
Werner-von-Siemens-Strasse 1
Offenburg
77656
Germany