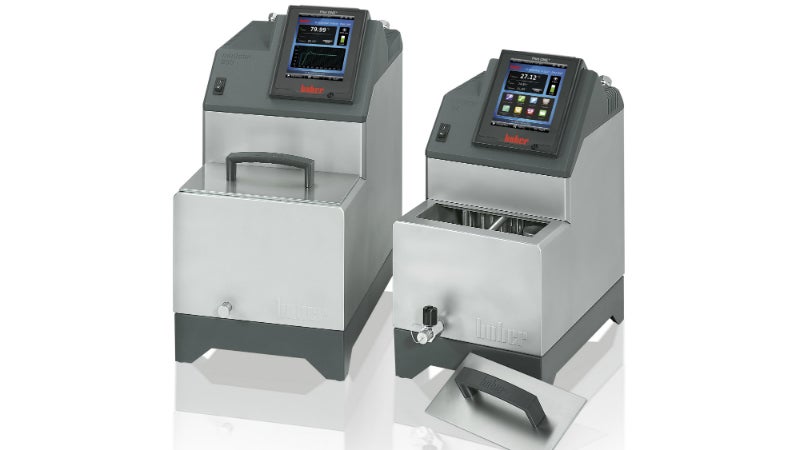 Despite their size, Ministats have enough power to thermoregulate photometers, refractometers, viscosimeters, distillation apparatus, reactor vessels, and mini plants.
Their compact form allows them to be placed in areas where space is at a premium, for example laboratory extraction hoods or within technical installations. Ministats can be used to control external applications or objects can be thermoregulated directly in the bath.
The Ministat range consists of three models, either available as air or water-cooled versions. Depending on the model, working temperatures from -45°C to 200°C and cooling capacities of 600w can be achieved.
A powerful variable speed pressure/suction pump allows optimum circulation and can be controlled using an optional pressure sensor, a variable pressure control (VPC), which protects delicate glassware.
For energy saving and reduced heat dissipation, all models have active cooling control at the maximum working temperature and an automatic cooling power regulation for energy saving operation and reduced heat dissipation into the lab. Compliance with DIN 12876, class 3 allows them to be used unsupervised in continual operation. The maximum ambient temperature is 40°C. All parts in contact with the thermal fluid are made of stainless steel or polycarbonate, which improves service life.
The Ministat is fitted with newly developed Pilot ONE touchscreen controller. Pilot ONE is backwards compatible to previous models and existing machines can be updated easily and economically.
Pilot ONE offers the latest touchscreen technology, providing comfortable navigation and advanced control technology. Operation is via a colour 5.7" TFT-touchscreen display, with convenient menu prompts and full text menu guidance in 11 languages. In addition, important parameters such as process temperature, jacket temperature, pump pressure, and safety equipment are visible at a glance. Temperature processes are graphically displayed and shown in real time.
Ease of use is facilitated with USB/LAN connections. This not only compliments operation but also has benefits for data recording or remote control. For example, temperature measurement data can be easily stored on a USB stick. USB features also allow connection to a PC or notebook.
Combined with the Huber Spy Software, requirements such as remote control or data transmission can be performed easily and in a cost-effective manner. Ministats can be fitted with a Com.G@te (NAMUR Standard) allowing it to be integrated into a process control system.