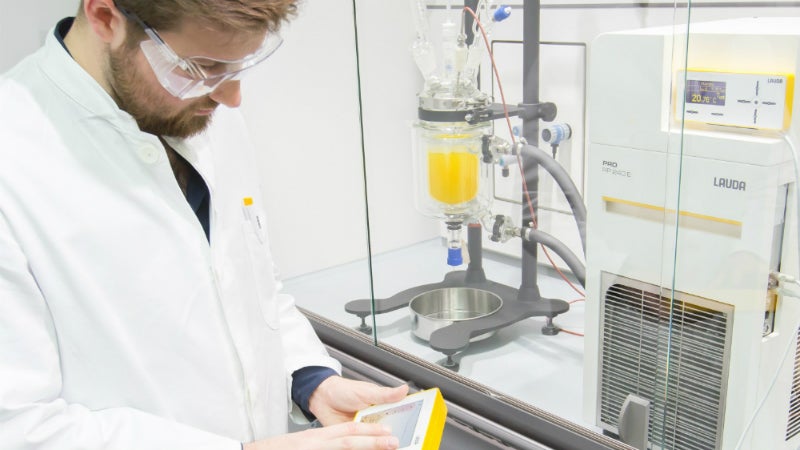 LAUDA manufactures constant temperature equipment, industrial chillers, heating and cooling systems, as well as measuring instruments for the pharmaceutical and semiconductor industries. Its high-quality products keep consistently maintain precise temperatures up to a 5,000th of a degree Celsius. Targeted changes are also achievable between -159°C and 550°C.
Through active cooling or warming, LAUDA's systems help accelerate production processes and enable the research and mass production of vital medicines. Its devices are environmentally friendly and cost-efficient.
Heating and cooling systems for clinical trials and laboratory testing
LAUDA's extensive thermostat portfolio enables the research and production of vital medicines. These instruments are used for accurate heating and cooling in applications such as active pharmaceutical intermediate (API) manufacture.
LAUDA thermostats are used to improve processes and help ensure accuracy and consistency, which is especially important for clinical trials of temperature-sensitive products. In the pharmaceutical industry, process thermostats are used for synthesis and crystallisation reactions, where a precise temperature range is vital. Process thermostats such as the Integral XT and Kryoheater Selecta ranges allow for very rapid temperature changes while maintaining high levels of accuracy. The system works according to the efficient flow principle and can cover a wide range. Air and water-cooled units are available, as well as machines designed specifically for high-temperatures.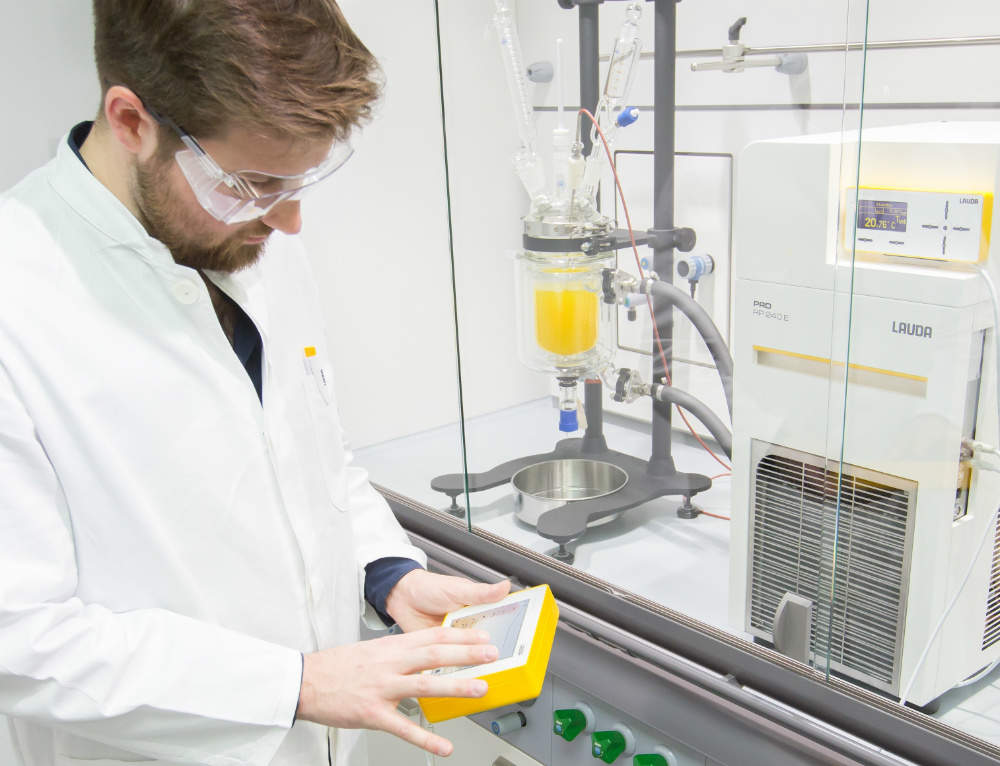 The LAUDA Proline thermostating unit is versatile, working at temperatures from -90°C to 300°C.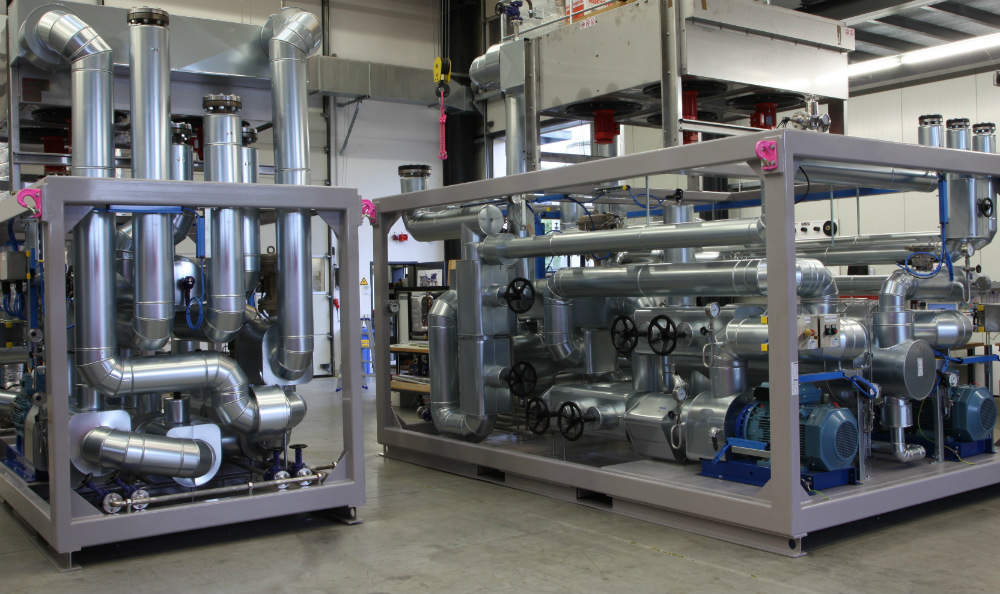 LAUDA's product range includes both compact laboratory thermostats and industrial circulation chillers, as well as customer-specific projected heating and cooling systems.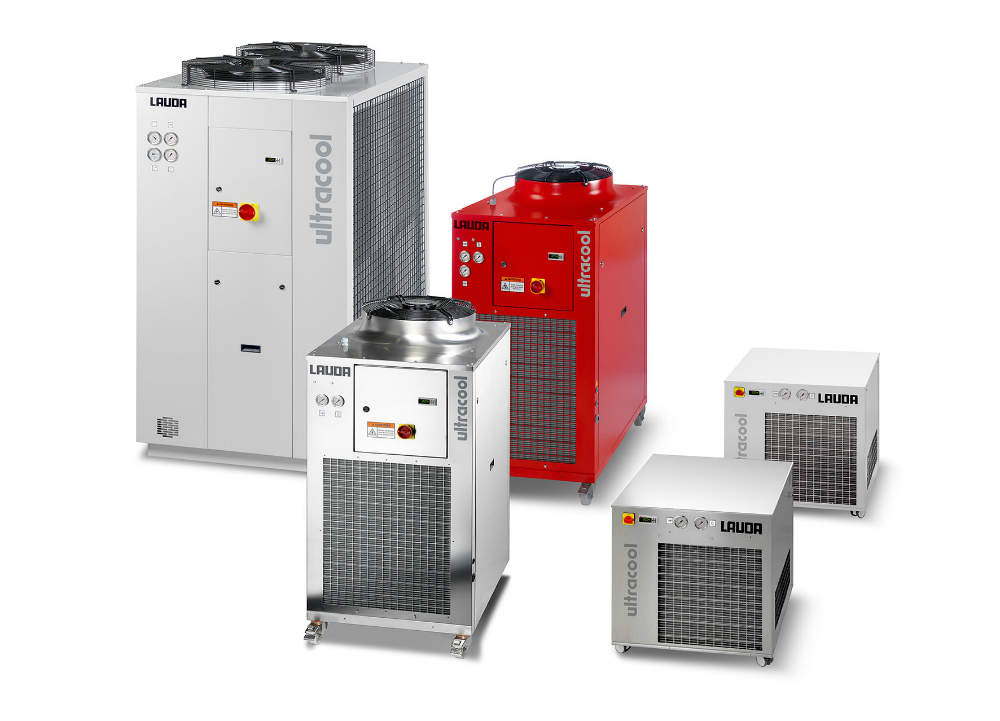 The Ultracool is a circulation chiller used for industrial applications and is available in standard and superplus versions, each with anti-freeze protection.
The new LAUDA PRO is a compact and powerful unit, optimised for customer-specific applications. Tailored to a number of applications, the PRO range, for the first time, includes two unique options: a bath circulator range for precise internal temperature control from -100°C to 250°C or a circulation thermostat for dynamic heating and cooling of external applications from -45°C up to 250°C.
Chillers for laboratory and industrial use
The LAUDA chiller range consists of the Microcool, Variocool, and Ultracool units.
The Microcool range consists of five compact models, with capacities from 0.25kW to 1.2kW. It is easy-to-use and has a block-pump with magnetic coupling, which helps reduce the occurrence of sealing problems on the pump shaft. The cooler dissipates heat quickly and can be used in laboratories or for distillation and rotary evaporators.
The Variocool range bridges the gap between laboratory and industrial, with units ranging from 0.6kW to 10kW. It can also be used as an accurate thermostat, with an optional heater.
The Ultracool range is designed for industrial applications with capacities from 4kW-265kW. Applications for these units range from industrial printing, laser cutting and sorting, and injection molding to large rotary evaporators in pharmaceutical environments.
In addition, circulation chillers made by LAUDA cool patients, during open-heart surgery.
The LAUDA Noah range offers accurate temperature control using Thermoelectric Peltier technology.
Instruments to measure viscosity, surface tension, and temperature
Worldwide, LAUDA Measuing instruments have provided clients with precision, reliability, and longevity. Combined with skills in sales and service, this experience has allowed for the set-up of an independant company for the Measuring instruments division, LAUDA Scientific.
LAUDA Scientific develops, manufactures, and distributes instruments that determine the physical properties of polymers, surfectants, plastics, and oils, including viscocity, as well as surface and interfacial tension. Its robust and reliable precision instruments are used for research and quality-testing applications, such as finding the viscosity of aviation fuel, where samples need to be cooled to -60°C.
With an emphasis on innovation, research, and cooperation, the company develops new methods and instruments to measure samples.
LAUDA Scientific tailors its services to customer and market requirements, from reliable spare parts logistics, to customised maintenance for optimum availability and productivity of measuring instruments.
New measuring products by LAUDA Scientific
easy.Visc: The easy.Visc is a viscosity measuring device for small sample volumes. With a small bench space requirement and a straightforward interface, the device makes precise measurements and a wide temperature range. It is designed for use in laboratories, warehouses, or in quality control (QC). Samples reach the desired temperature quickly and the device can calculate kinematic viscosity due to the parallel measurement of density.
TD4: A user-friendly and precise device, the TD4 is the latest model in the tensiometer range. The compact ring offers high-quality measurements for research, development, and QC applications.
TC1: The TC1 offers precise and reproducible measurements of capillary viscosity, achieved with integrated assistants. Its precise measurements provide numerous benefits, such as integrated standard methods, good laboratory practice (GLP) compliant user management, and extendibility through the compact PTT+.
Duo.Visc: Measuing two temperatures in parallel with the precision of the Ubbelohde capillary, Duo.Visc can process a high-level of precision. It features two independent thermoelectric Peltier heating and cooling systems, which allow for stability and accuracy.
About LAUDA
LAUDA is a global manufacturer of innovative, consistent temperature equipment and systems for science, technology, and production applications. The company has around 420 employees, 12 subsidiaries, and has an annual turnover of more than €70m.
The company has more than 60 years of experience and its product portfolio ranges from laboratory thermostats to industrial circulation chillers and heating systems.