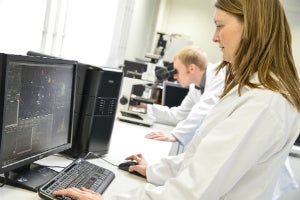 Malvern has highlighted its ongoing commitment to extending and supporting the application of NanoSight, a nanoparticle characterisation technology with unique capabilities, by releasing new software and expanding the global technical specialist team.
The Malvern NanoSight range enables the visualisation, sizing and counting of nanoparticles, exosomes and protein aggregates. It is increasingly being used in biopharma and nanoparticle research.
Malvern Global Nanometrics sales manager Andrew Malloy said: "Two years on from joining Malvern, the benefits of becoming part of a larger global business are clear.
"NanoSight customers are now benefiting directly from Malvern's highly developed skills in making complex analytical techniques more accessible, through smart software and knowledgeable support from an extensive network of application specialists."
Malvern's NanoSight range uses nanoparticle tracking analysis (NTA), a particle-by-particle methodology to produce high resolution results for particle size distribution and concentration.
Visual validation provides users with additional confidence in their data. For many users NTA is a relatively new analytical technique.
Malloy said: "Nanoparticle researchers always respond well to the NanoSight systems and instantly see their potential but we recognise that the cutting edge nature of the technology means it can require some expert support.
"Recent additions to our technical specialist team in the US offer doctorate level, application specific advice in key areas such as colloid science and exosomes.
"These experts are now helping customers across the globe to fully exploit the technology and gain new insight into their nano-scale systems."
Gold standard support is a defining aspect of the Malvern Instruments. The new NanoSight technical specialists form part of a global network of support professionals.
This network provides pre and post-sales support across the entire Malvern portfolio, including techniques that provide complimentary and orthogonal information to NanoSight, in the characterisation of nanoparticles.
These include the Zetasizer dynamic light scattering range for nanoparticle sizing. Embedded analytical intelligence is also an increasingly important feature of Malvern instrumentation.
Malloy said: "On a daily basis our new NTA software upgrade provides instant help to the analyst, at the benchtop.
"It incorporates features that reduce user input and increase repeatability, enhancing inter-laboratory consistency in size and concentration measurements.
"Furthermore it enables precise and accurate measurement at higher concentrations extending the applicability of the system.
"NanoSight systems have an excellent reputation for delivering valuable insight in critical areas of nanoparticle research.
"Joining forces with Malvern is enabling us to drive the technology forward and extend its applicability to increasing numbers of customers."