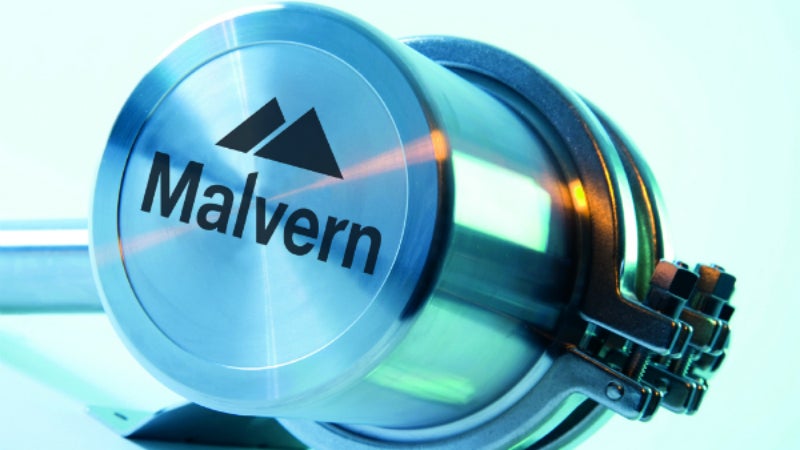 Malvern Panalytical has a wide range of characterisation technologies that can be used to accelerate the drug development process. Its methods are used by scientists and engineers to maximise productivity and increase time-to-market.
Through a range of high-quality, customer-focused characterisation services, Malvern Panalytical delivers cost-effective chemical, physical and structural analysis of materials for the indication of performance in drug products.
Solutions range from tools that can run reliably and unattended, to systems that provide information on several key attributes in a single analysis such as particle size, shape, chemical identity, molecular weight, size, and concentration.
Analysis of materials for development and manufacturing of drugs
Malvern Panalytical's instruments are deployed across the pharmaceutical industry for discovery, development and manufacturing applications. Whether developing new, ground-breaking drugs or generic formulations, both the time and cost associated with pharmaceutical development is significant. In addition, work-flow efficiencies may be achieved when these tools are used in conjunction with each other.
Malvern Panalytical is focused on providing well-designed, innovative analytical instruments, which follow the quality by design (QbD) ethos in the fields of drug discovery, chemical and formulation development, and pharmaceutical manufacturing.
The company understands what is involved in the development and manufacturing of a drug product and the requirements to measure the critical material attributes (CMA), as well as critical quality attributes (CQA) affecting the critical process parameters (CPP) in the manufacturing process.
Molecule discovery tools
High throughput screening of large libraries of chemical compounds is the dominant technique used in early stage drug discovery, with dynamic light scattering being the optimum tool.
Being able to measure very small particle size at low concentrations, it is ideally suited as a screening tool for identifying even small levels of aggregation and potential inhibition.
Molecule optimisation with laser diffraction
In order to monitor efficacy of the suspension accurately, administering trial drug candidates in this form requires accurate, repeatable and validatable control of the active ingredient's particle size, often on limited sample volumes.
Laser diffraction is the best tool to meet these pre-formulation requirements. This technique provides particle size distribution of nano-scale material, while also having a wide dynamic range.
Chemical development for drug delivery
When characterising bioavailability or bioequivalence of nasally administered drugs, in support of new drug applications (NDAs) or abbreviated new drug applications (ANDAs), for nasal aerosols and sprays, the US Food and Drug Administration (FDA) recommends several tests.
In cases where the active component or components are suspensions, one important attribute is the drug particle size distribution. A laser diffraction system fit for this purpose must be able to rapidly measure obscuration (optical concentration), in addition to changes in droplet size distribution and span in real-time over the life of a single actuation from the drug delivery device.
Formulation development of drugs
The size of a liposomal vesicle plays a pivotal role in the pharmacokinetic and pharmacodynamics attributes of chemotherapeutic drugs, with the liposome acting as a carrier of the drug to the site of action and dynamic light scattering can be an effective technique.
Triple-detection size exclusion chromatography (TD-SEC) can accurately characterise polymer excipient molecular size and weight and avoid incorrect determination. The conditions of a tablet coating process can be simulated using a rotational rheometer system.
The viscosity of the liquid coating is measured initially under low stress conditions to quantify its full structure, then at high shear rates to simulate spraying, and again at low stress conditions to assess the viscosity rebuild with time.
Online particle analysis for drug manufacturing
Granulation can improve the ease of handling of powder blends and prevents the segregation of fine constituents, improving consistency in subsequent process steps, principally tableting.
To improve the efficiency of the milling operation, and deliver more consistent milled particle sizes, online particle-size analysis is a solution for continuous milling monitoring and control. In addition, measurements made by the online analyser can control the process through a closed loop with the mill's programmable logic controller (PLC).
Founded in the late-1960s as Malvern Instruments, Malvern Panalytical is now one of the world's leading materials and biophysical characterisation companies.
Having built on a long-established reputation for innovation in particle sizing, the company today is highly respected for its technology and applications leadership in areas that range from particle, protein and macromolecule characterisation through to rheological properties measurement and into process optimisation.
Malvern Panalytical understands that when a customer chooses to invest in a Malvern Panalytical product, that customer is making a serious financial commitment. The company takes this seriously, and strives to ensure that the customer is reminded that they will receive exceptional and personalised support for the many years they will have Malvern Panalytical equipment.
Please contact Malvern Panalytical with your business enquiry.
Insitec systems provides continuous online analysis of particle size analysis, ensuring economical, efficient monitoring of industrial processes.
Differential Scanning Calorimetry (DSC) is a technique for understanding the stability of proteins and other biomolecules.
This white paper explores a number of ways that today's modern, laboratory-based powder x-ray diffraction (PXRD) instrumentation and advanced software can greatly assist pharmaceutical scientists in their quest to develop high-quality, stable products and accelerate their speed-to-market.
Nasal spray products are increasingly valued for delivering systemic, as well as locally acting therapies, most notably hormone and migraine treatments.
This white paper provides a general introduction to X-ray Fluorescence (CRF) spectrometry and XRF analysis. It explains how a spectrometer works and how XRF analysis is achieved. 
The European Molecular Biology Laboratory (EMBL) is developing a facility within the Barcelona Biomedical Research Park (PRBB) campus in Spain.
Malvern Panalytical, manufacturer of analytical systems, and Concept Life Sciences (CLS), a contract research organisation, have today announced a full business integration. The integration will expand Amplify Analytics, the companies' existing analytical instrument and service relationship, to include CLS's chemistry and biology services. Both entities are operating businesses within the Spectris Group.
Malvern Panalytical
Enigma Business Park
Grovewood Road
Malvern
WR14 1XZ
Worcestershire
United Kingdom