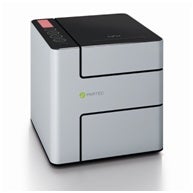 The first fully integrated molecular diagnostic device for real-time gel electrophoresis is being offered as a stand alone instrument from Partec UK Ltd. With everything necessary to carry out real-time gel electrophoresis in a single instrument, the Partec CyFox is user-friendly, compact and cost-effective.
The in-built electrophoresis chamber is illuminated by interchangeable LED arrays with different wavelengths. Running gels can be monitored and visualised in real-time during the entire course of analysis and a wide range of dedicated reagents, including HIV, CMV, Hepatitis, TB and malaria, are also available.
With an in -built CMOS camera and integrated data storage and data transfer functionalities, the CyFox is the first innovation to be introduced by Partec's newly established Molecular Diagnostics and Analysis Division. With high quality components manufactured in Germany, and dedicated scientific-led support for UK customers, the CyFox frees up bench-space, generates smoother workflow and brings together a multitude of equipment into one neat, powerful system.
Partec has supported the BBC expedition "Operation Iceberg" by providing the innovative CyScope® fluorescence microscopy...