Partec has been setting standards and pioneering the development of commercially available systems for cell and particle analysis for more than 50 years. These include an award-winning range of flow cytometers (FCM) and cell evaluation instruments with advanced fluorescence-activated cell sorting technology for reliable and repeatable results.
By combining the latest scientific and biotechnological knowledge with cost-efficient flow cytometry protocols, Partec provides excellent automated cell analysis and diagnostic tools with higher precision and more affordability, enabling analysis of 100,000 cells or more in less than one minute.
Innovative flow cytometry technology
With its innovative FCM technology, Partec addresses a global solution for research and clinical routines as well as new sophisticated applications. These include:
High-end, multi-colour analysis
More affordable immunophenotyping
Decentralised research applications in cell biology and microbiology
Accurate and highly affordable HIV monitoring for low and mid income countries and remote, resource-limited settings
Sterile and non-destructive particle and cell sorting
Partec also provides software, reagents, protocols, accessories, application support, excellent training and first-class after-sales service.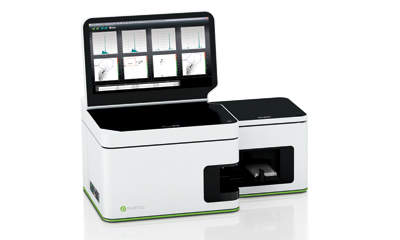 The versatile and award-winning CyFlow CUBE 8 flow cytometer is part of a range of flow cytometers suited to applications in laboratory centres as well as remote sites.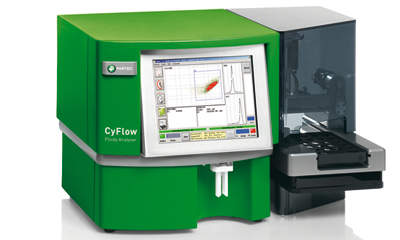 The Partec CyFlow Ploidy Analyser provides a fast and efficient solution for carrying out routine ploidy level and aneuploidy measurements.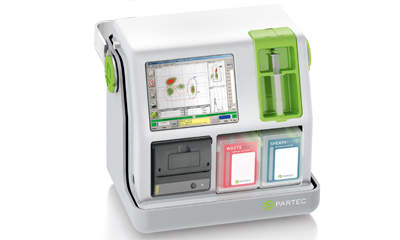 Partec's CyFlow miniPOC is a point-of-care (POC) instrument for HIV / AIDS immune status monitoring in primary health centres and PMTCT sites, even in remote areas.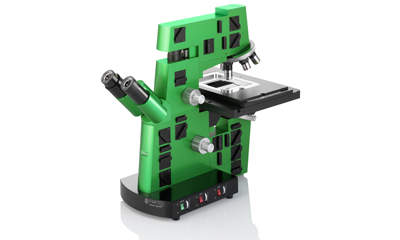 CyScope Research is just one of a number of high-powered microscopes developed by Partec for in-depth blood, cell and tissue analysis.
Flow cytometers
Accurate, reproducible and cost-effective flow cytometry results can be achieved with both the award-winning CyFlow® Cube 8, a stand-alone laboratory flow cytometer and the CyFlow® Cube 6, a portable dual-laser flow cytometry system.
The CyFlow® Cube 6 is a lower-priced cytometer employing 6 optical parameters, while the CyFlow® Cube 8 uses 8 optical parameters. The more powerful CyFlow® Cube 8 is available with a built-in CyFlow® Sorter module for diamond-piezo-based, closed, non-destructive and non-hazardous cell and particle sorting; it uses Windows CyView® software for acquisition of on- and off-line data analysis.
Other flow cytometer models include:
CyFlow® ML: multi laser,16 parameter
CyFlow® Space: 3 laser, 9 parameter multi-laser, benchtop instruments
CyFlow® SL: a portable single-laser, 3-colour flow cytometry system
Ploidy level and aneuploidy measurement
The CyFlow® Ploidy Analyser efficiently measures the DNA content of thousands of individual nuclei, which are extracted and stained with Partec CyStain® reagents. When used in combination with Partec CyStain® PI reagents, the relative genome size of plant and animal nuclei can also be determined.
Yeast analyser
The Partec CyFlow® Oenolyser is ideal for the automatic detection, quantification and live / dead analysis of yeasts in wine and champagne. It provides early detection and quantification of Brettanomyces in maturating wine to ensure a very low number and/or no proliferation of this organism.
Fast HIV monitoring
The CyFlow Counter is a fully equipped, portable, ultra-compact desktop flow cytometer for routine CD4 and CD4% counting, as well as total lymphocyte and WBC counting. As a 'plug and play' CD4 instrument, it eliminates the need for optical and laser adjustment, taking less than 5 minutes to get the first CD4 cell count results. This dramatically reduces the cost per CD4 count and the overall running cost.
The CyFlow® Counter runs either on 100V-240V or on 12V DC power and therefore can be independent of the local power grid, enabling easier HIV monitoring in remote locations.
Immune status monitoring
By eliminating the need for cold chain and cold storage the CyFlow® miniPOC is truly a portable immune status analyser, weighing less than 5kg. Success of the Partec CyFlow® miniPOC is achieved due to the revolutionary Partec dry CD4/CD4%, which enables testing without the need for larger centralised laboratories.
It can be powered by 110V or 240V supplies, a rechargeable battery pack or optional solar panels, making the CyFlow miniPOC suited to both high throughput analysis labs, as well as small health centres in rural areas.
Employing state-of-the-art laser modules, optics, fluidics and electronics, the total biological range of CD4 absolute counts and CD4% is covered with unmatched precision, accuracy and reproducibility.
Integrated molecular diagnostics
CyFox® is the first fully integrated molecular diagnostic device for real-time gel electrophoresis, in a compact and easy-to-use standalone instrument. The running gel can be monitored and visualised in real-time during the entire course of the measurement.
Partec also offers a wide range of dedicated reagents and consumables for gel electrophoresis in combination with the CyFox®, for HIV, CMV, Hepatitis, TB, Malaria and other applications.
Portable high-power microscopes
CyScope® is a leading brand of innovative, compact, portable LED fluorescence and light transmitted microscopes suited to a broad spectrum of applications, including clinical routines and research examinations for immunofluorescence, cell biology and pathology, as well as educational programmes.
For routine tests in microbiology and parasitology, Partec offers dedicated fixed set-ups with Partec CyStain® TB and Partec Rapid Malaria Tests and detection of Chlamydia Trachomatis or Pneumocystis Jiroveci.
The CyScope® range also includes a camera upgrade for taking images of the slide for further investigation by image analysis software on a Windows-based PC.