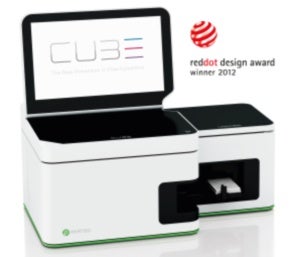 German biotechnology company Partec has been selected, from a field comprising 4,515 products from 1,800 manufacturers and designers based in 58 different countries, as winner of 2012's red dot award for product design. The red dot award is one of the largest and most prestigious design competitions in the world.
The 30 member panel of high-ranking international experts awarded the red dot to Partec's CUBE flow cytometry system. The system, the key technology for which was developed by Partec cofounder Professor Wolfgang Göhde at the University of Münster, allows individual cells to be analysed and sorted based on a range of cellular properties. It can analyse up to 100,000 cells per minute. Flow cytometry is used in immunology (in areas such as leukaemia, lymphoma and HIV/AIDS), in cancer diagnosis and research, in microbiology, in agricultural and quacultural research and in industrial applications in sectors such as food and pharmaceuticals.
The key figures behind the winning product design were Jens Kaschlik, proprietor and manager of Berlin design agency Formfreunde, Professor Wolfgang Göhde, executive director for Partec GmbH's Münster offices, Dipl.-Ing. Tobias Henkel, director of technical product development, and Roland Göhde, executive director for Partec GmbH's Görlitz operations.
The CUBE product presentation was developed by Münster design agency cyclos design GmbH, who were given a brief to develop a communicative design. The award ceremony will be held on July 2 at the Aalto Theatre in Essen. Subsequently, the CUBE system will be presented in the red dot design museum at the traditional special exhibition of the award-winning products.
"Winning the prestigious red dot quality seal of design approval is a ringing endorsement of our innovative approach to development, unique in the realm of flow cytometry," says Roland Göhde. "The CUBE combines groundbreaking all-in-one design with outstanding ergonomics, whilst meeting the highest possible performance criteria. As well as excellent sensitivity for fluorescence-based cell analysis, the high-performance system offers an extremely high measurement resolution in the nanometre range, suitable for detecting the tiniest particles and for direct detection and sorting of viruses – something which no other supplier anywhere in the world can currently offer."
Partec has supported the BBC expedition "Operation Iceberg" by providing the innovative CyScope® fluorescence microscopy...