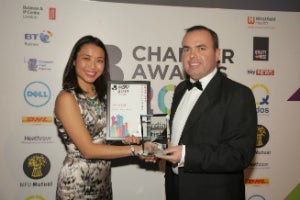 Sepha has won the award for Excellence in Innovation from the UK Chamber of Commerce.
The company reached the finals alongside ten of the most innovative companies in the UK.
Sepha was announced as the winner at the National Chamber Awards Gala on 27 November at the Tower of London.
The company's innovation success centres on VisionScan, the world's first tool-less and non-destructive leak detection device for pharmaceutical blister packs.
Using camera imaging technology, it offers a modern, flexible and cost-saving alternative to traditional test methods used by pharmaceutical manufacturers.
VisionScan has been installed in 35 pharmaceutical manufacturing sites in more than 20 countries worldwide. It received widespread recognition as a ground-breaking device and achieved global supplier agreements with two of the world's top four pharmaceutical companies.
Significant further growth is expected by focusing on continued innovation.
Sepha head of sales and marketing Paul Kelly said: "Innovation is at the core of Sepha's business, so we are extremely proud to have won this award.
"The success of VisionScan is the result of continuous teamwork and so the award is a credit to the entire Sepha team."