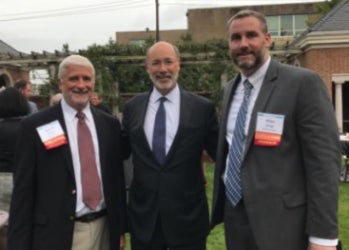 Klinge Corporation has served as a Bronze Sponsor of the World Trade Center Harrisburg's event Bringing the World to You.
At the event, trade representatives worldwide met with local companies seeking trade assistance. Fifteen trade offices from across the globe met with companies from the southcentral region to consult on regulatory information, market intelligence, competitive intelligence, market entry strategy, and other trade services.
As Klinge Corporation primarily exports its transport refrigeration systems, the company was proud to sponsor such an event, which supports trade and assists local businesses with a focus on increasing export.
Following the event, the Governor of Pennsylvania Tom Wolf and First Lady Frances Wolf hosted an invitation-only networking reception at their residence in Harrisburg. Klinge Corporation attended the reception along with Pennsylvania's authorised trade representatives, consular corps, state officials, event sponsors, and other invited local manufacturers.
The biopharmaceutical cold chain sourcebook is a leading resource to the pharmaceutical industry. It recently...