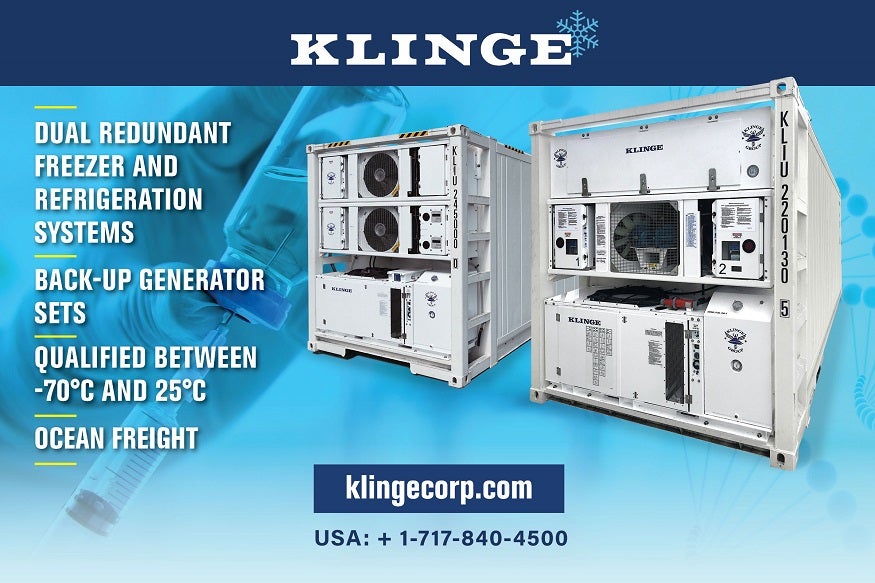 Klinge Corporation manufactures temperature-controlled refrigerated and freezer cold chain containers for the pharmaceutical industry. The company's variety of transport solutions ensures the safety of pharmaceuticals by preventing temperature deviations.
As a leading manufacturer, Klinge Corporation recognises the precise requirements of the industry and its products reduce associated risks. Its portfolio ranges from ISO containers maintaining temperatures between -70°C and 20°C, to global system for mobile communications (GSM) remote temperature monitoring systems and dataloggers.
Safe, portable, temperature-controlled ISO storage containers for pharmaceutical transport
Klinge Corporation's Dual Refrigeration systems feature two reefer units, with an automatic switchover. This back-up and primary set-up ensures products are kept at the required temperature, even in an emergency. The company also present the option for one or two generator sets for extra back-up power. The units are also compact, meaning there is a maximum cargo space.
Reliable ISO storage containers and deep freezers for quick -70°C storage
For complete protection of cold chain supplies, Klinge Corporation offers two full-capacity freezer systems, the ultra-low temperature container and the Blast Freezer Unit.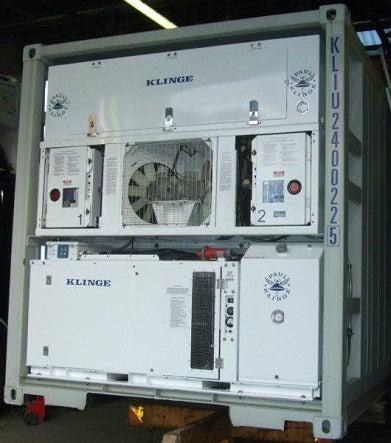 Klinge Corporation's Dual Refrigerated Containers safely and reliably store and transport pharmaceuticals.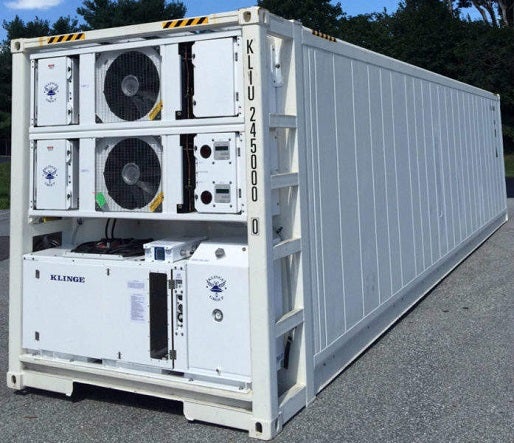 For complete protection of cold chain supplies, Klinge Corporation offers two full-capacity freezer systems.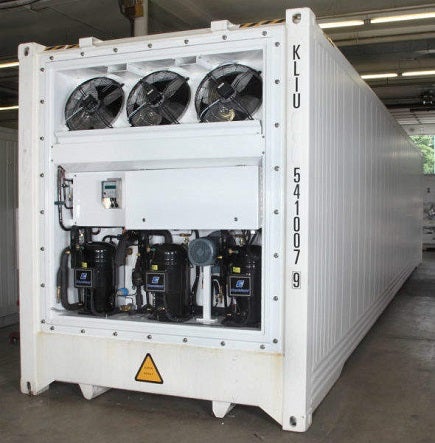 The portable Blast Freezer Unit is used for the quick freezing of pharmaceuticals down to -70°C.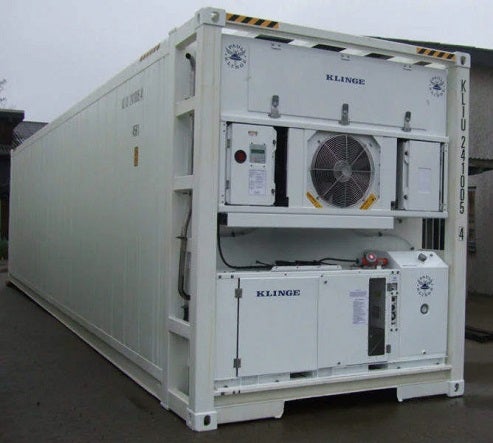 Klinge Corp offers a complete cold-chain solution for ultra-low temperature storage in ISO and sea containers.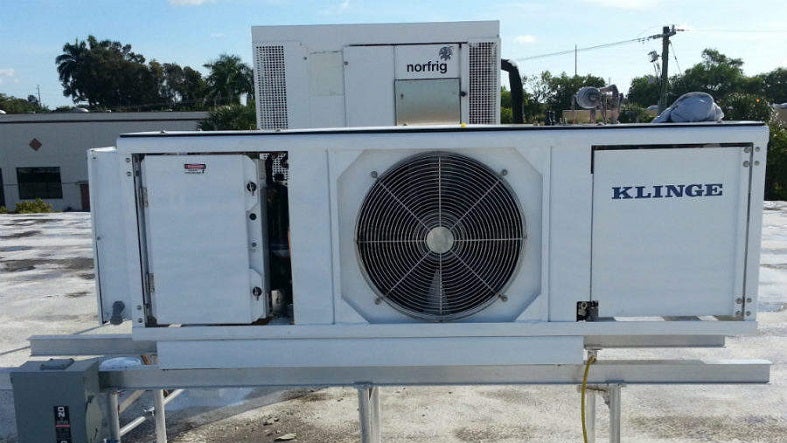 The unique design allows for the split-system deep freezer to be mounted in customer built-in rooms or on standard insulated containers.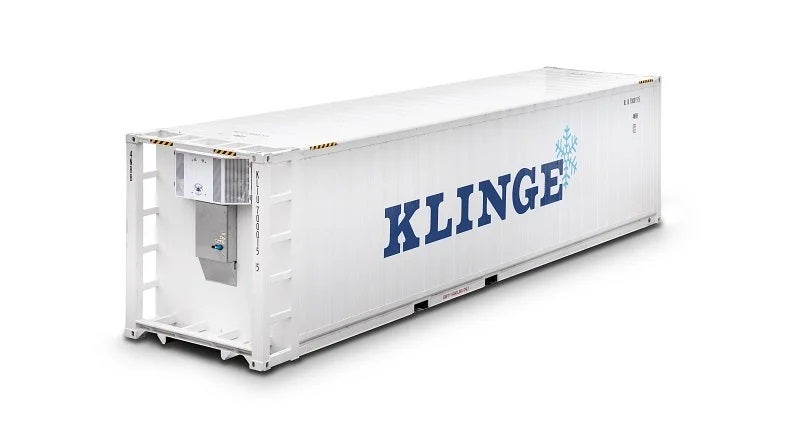 Klinge Corporation offers controlled and safe thawing of pharmaceuticals, which have been frozen to temperatures at -70°C.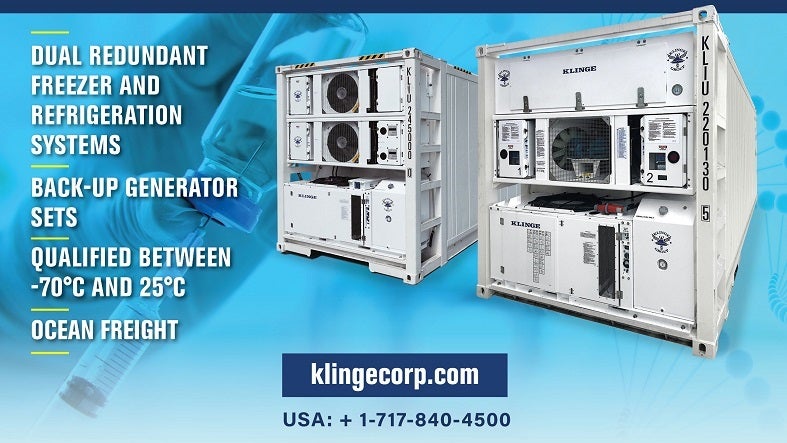 Klinge Corporation has been delivering cold chain transportation solutions for more than 30 years.
The full-capacity freezer unit maintains temperatures between 0ºC and -70ºC and prevents defrost heat from entering the cargo area. This design also stops decreasing of defrost efficiency, which can occur in more standard units. This system is also equipped with hot-gas defrosting and has options of having back-up power.
Another available system, the Blast Freezer Unit, maintains temperatures of up to -70°C but is designed for quick-freezing. It uses an evaporator fan and adjustable ceiling to quickly lower temperatures and is often used for high-value seafood and meat, as well as for quickly freezing phase change materials.
Temperature-controlled containers preventing inconsistency in pharmaceutical transit
According to some sources, temperature excursions occur in 1%-5% of transport events, which makes cold chain one of the most vulnerable pharmaceutical processes. Klinge Corporation tackles the risks of transport with its Dual Refrigeration or Single temperature-controlled containers, back-up power, and temperature recorder.
Cold chain container tracking and monitoring
Klinge Corporation's cold chain containers are available with GSM Remote Monitoring, which provides data on ambient and cargo temperature, the location of the shipment, and whether the alarm and power are on or off. The Dual GSM or SAT back-up can also be monitored, with all data accessible on the specifically designed satellite communication website.
Temperature recorders are also available to provide evidence of correct temperatures for every trip as a delivery ticket or as a numerical or graphical printout. All data is stored with a date and time stamp in a large flash memory drive. Data will not be lost if the power supply is disrupted or disconnected. The real time clock is powered by an internal back-up battery.
Transport refrigeration solutions
Klinge Corporation offers customised designs, which are robust alternatives to standard mass-produced containers. The company has been delivering cold chain transportation solutions for more than 30 years to leading pharmaceutical and chemical companies worldwide.
Klinge Corporation was founded in 1984 as a spin-off of the Transport Refrigeration Equipment department of York International. It has maintained and built on the high standards set by York International, while constantly expanding its range of products.