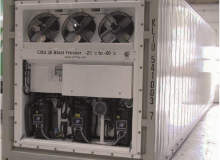 Klinge Corporation's Portable Blast Freezer and Quick Thaw Unit can respectively allow the freezing and thawing of pharmaceutical cargo.
The Portable Blast Freezer Container can freeze cargo to -60°C (-76°F) due to its unique design. Consistent temperatures are maintained throughout due to the use of an evaporator fan and full airflow is kept, even with loads with high drops in internal pressure.
Klinge Corporation's Quick Thaw Unit is produced by Morep Food Process. It is designed for high-value pharmaceuticals, which are deeply frozen to -60°C (-76°F) and is able to defrost 10-12 pallets in 12-36 hours.