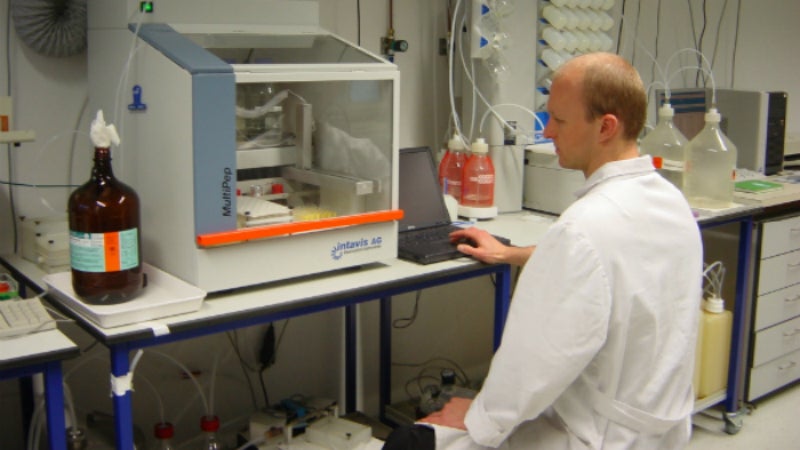 Peptide Specialty Laboratories (PSL) provides conjugation services, synthesisers and can produce any kind of peptide, from milligram to gram amounts with lengths between five and 50 amino acids for the pharmaceutical industry.
All peptides are high-performance liquid chromatography (HPLC) purified and analysed by mass spectrometry.
Continuous flow synthesisers for peptides
PSL synthesises special peptides with rare amino acids, unnatural amino acids, peptides with fluorescent moieties and biotinylated peptides.
The company's production facility holds several peptide synthesisers, which are able to synthesise up to 48 peptides simultaneously.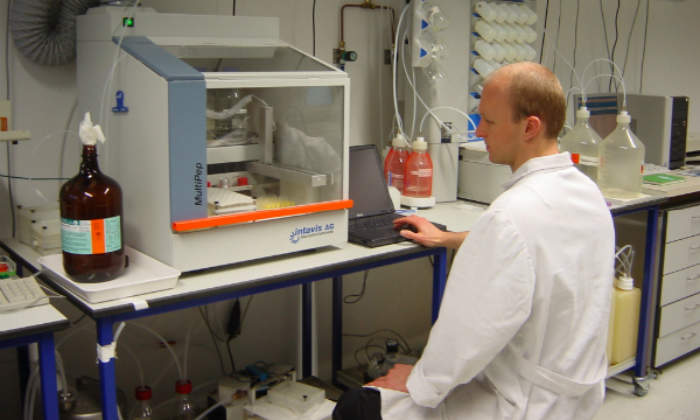 Peptides are HPLC-purified and analysed by mass spectrometry.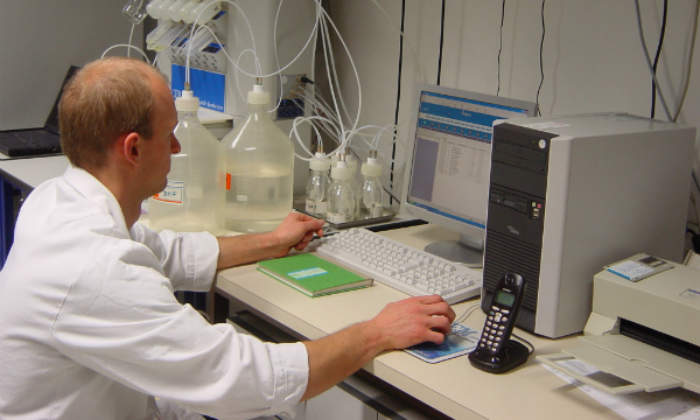 The company synthesises special peptides with both rare and unnatural amino acids.
PSL produces bioconjugates between peptides and proteins using bifunctional ligands.
PSL has several continuous flow synthesisers, which allow synthesis of peptides with lengths of up to 50 amino acids in high-quality. Microwave peptide synthesisers are available for fast and larger-scale synthesis of peptides up to gram amounts.
Conjugation services and production of bioconjugates
The company produces bioconjugates between peptides and proteins or column matrices using bifunctional ligands or other chemically activated intermediates.
Conjugation services include coupling peptides with keyhole limpet hämocyanine (KLH), bovine serum albumine (BSA) and ovalbumine (OVA).
Peptide-specific antibodies for scientific research
PSL contribute peptide-specific antibodies for scientific research and specialise in phospho-specific antibodies.
Antibodies are normally produced in guinea pigs or rabbits, although immunisations of other animal species are also available.
The company uses high-quality products such as purified peptides and maleimide activated KLH and OVA for preparing antisera.
PSL's use of high-quality products is evident in the company's high success rate in generating highly specific antisera.
Screening pharmacologically active peptides
Peptide sets are valuable tools for screening epitopes, proteases, kinases, antibodies and pharmacologically active peptides. Using peptide sets saves time and money, with respect to the use of recombinant proteins.
Peptide sets of different lengths are also offered, with different quality controls, and multiples from 12 to 96 peptides for each set.
About PSL
Founded in September 2000, PSL is located within the Technology Park in Heidelberg, Germany.
PSL is originated from the German Cancer Research Centre in Heidelberg. Co-founder and manager of the company, Dr HR Rackwitz, gained experience here in peptide synthesis and antibody preparation.
PSL serves clients worldwide, particularly from the industry and research community of Germany and Europe.