Beacon is a sterilization-packaging manufacturer for the medical device and pharmaceutical industry, creating specialized sterilizable packaging systems from hundreds of possible material combinations.
TERMINALLY STERILIZED MEDICAL DEVICE FLEXIBLE PACKAGING
Beacon has been an active participant in the evolution of the sterilization packaging industry, and is a founding member of the Sterilization Packaging Manufacturers Council (SPMC).
Products for preformed sterile barrier systems include:
Pharmaceutical bulk bags
IV overwrap bags
Peelable pouches and non-peelable pouches
PHARMACEUTICAL BAGS
Pharmaceutical bulk bags are commonly used to transport pharmaceutical materials through all the phases of the drug manufacturing process. The performance attributes can be matched to meet the requirements of your application, whether it is a breathable microbial barrier, extreme toughness, or barrier protection from moisture, oxygen, other gases or ultraviolet light. Bags may be produced up to 36in wide and up to 100in long, and can include a bottom gusset.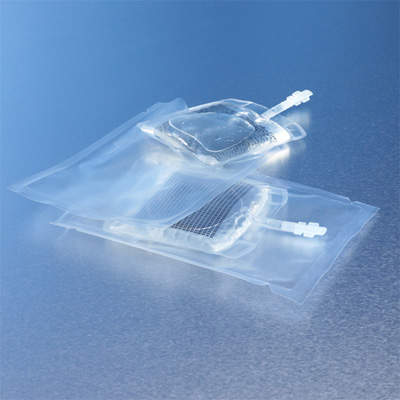 IV overwrap bags meet the protective requirements of specialized therapies.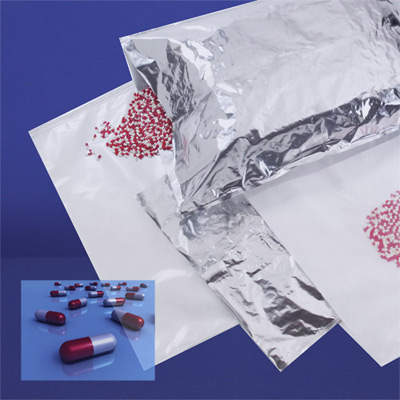 Pharmaceutical bulk bags are commonly used to transport pharmaceutical materials through all the phases of the drug manufacturing process.
IV OVERWRAP BAGS
IV overwrap bags can meet the protective requirements of specialized therapies that require unique packaging solutions. Whether it is autoclavability, high moisture-barrier, ultraviolet-light protection or all three, we understand the unique demands of drug delivery systems.
PEELABLE POUCHES AND NON-PEELABLE POUCHES
Pouches, primarily used for terminally-sterilized medical devices, can be designed for all conventional sterilization methods. They are available as peelable pouches or non-peelable pouches, with several types of opening features.
Beacon's pouches employ clear or opaque medical grade packaging materials that include Dupont™ Tyvek®, aluminum foil, PET, nylon, paper, polyethylene films, and specialized barrier materials. Pouches are available in a wide range of shapes and sizes and can be custom printed with up to four colors, and fabricated up to 36in wide and 100in long.
Protective packaging is available for all preformed sterile barrier systems.
PACKAGE PROPERTIES FOR STERILE BARRIER SYSTEM OPTIMIZATION
High breathability
UV-light protection
Enhanced durability
Moisture / oxygen sensitivity
High temperature sensitivity
Conflicting barrier / sterilization requirements
Beacon understands the critical attributes of the sterile barrier system that affect the device and sterile packaging system. Our technology team works directly with the customer to understand the specific requirements of their product, including safety and protection, barrier, durability, package and seal integrity, visibility and appearance, processing and printing.
We offer the most advanced packaging materials, creating specialized sterilization packaging systems for the most demanding applications. Medical grade materials include Dupont Tyvek, single and multilayer films, medical grade paper, and laminations containing foil, paper and film. Other barrier materials are available.
Beacon guides their customers through the process of selecting the right materials and package type to best meet their unique set of needs.
ABOUT BEACON
Founded in 1947, third generation family-owned, FDA registered and small business certified, Beacon creates specialized sterile barrier systems for the most demanding applications.
CERTIFICATIONS AND AFFILIATIONS
Authorized supplier of DuPont Tyvek
Member of FPA
Member of SPMC
Member of ASQ
Member of AAMI
Member of ASTM
Certified Women Owned Business (by the New Jersey Commerce and Economic Growth Commissional Office of Small Business and Women and Minority Businesses)
Tyvek is a registered trademark of DuPont for its brand of protective material.