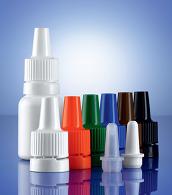 The American Academy of Ophthalmology endorses the uniform use of a colour-coding system for caps and labels on topical ocular medications. Topical medications are applied locally, for example eye drops and nasal drops.
The American Academy of Ophthalmology recommends to the pharmaceutical industry that a uniform colour-coding system for the caps and labels of all topical ocular medications be established. No other topical medications should carry the same colour.
The objective of the uniform colour-coding system for topical ocular medications is to help patients distinguish between various medications, thereby minimising the risk of patients selecting the incorrect one and helping to avert potential medical problems.
The background to the colour-coding system
The American Academy of Ophthalmology's policy on the colour-coding of caps for eye drop medications was prompted by reports to the Academy and the National Registry of Drug-Induced Ocular Side Effects of serious adverse events resulting from patient difficulty in distinguishing between various ocular medications.
With input from the pharmaceutical industry and the Food and Drug Administration (FDA), the Academy's Committee on Drugs developed a uniform colour-coding system. Specific pantone colours were assigned to defined classes of ocular drugs according to the nature of the disease being treated, the product's side-effect profile, and the risk of serious sequelae if a product is mistakenly confused with another.
Recommendation of the FDA
The US Food and Drug Administration says: "The colour code is currently voluntary; however, the FDA highly recommends that manufacturers follow the colour-coding policy statement of the Academy. The colour-coding policy has generally been adopted and is followed closely by industry. However, colour code compliance is not currently a regulatoryrequirement."
Gerresheimer is committed to patient safety
Gerresheimer therefore strongly supports the colour-coding system and supplies customers with caps in the different Pantone colours for use as packing for topical ocular medications.
The standard product range contains TE screw caps, TE wing screw caps and CR/TE screw caps. The caps are produced in polyethylene (PE) in compliance with FDA's title 21 CFR § 178.3297, Colourants for Polymers', Recommendation III – Polyethylene of the BfR and Regulation (EU) 10/2011.
Other designs, materials and sizes, as well as customized solutions are also offered.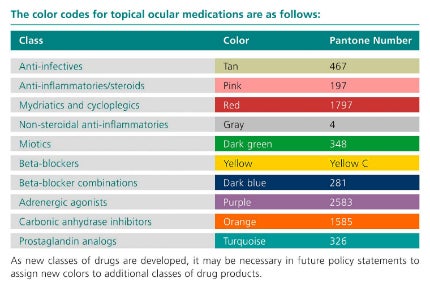 Gerresheimer is a leading global partner to the pharma and healthcare industry. With specialty glass and plastic products, the Company contributes to health and well-being....
Gerresheimer is one of the leading specialists for the production of high-quality glass and plastic products for the international pharmaceutical and healthcare industry.
During the Covid-19 pandemic, Gerresheimer is focusing on aspects including business continuity, customer demand, and supply chain. In 2019, we paved the way for profitable...