Increasing Demand For Biosimilars
Complex biological drugs and biosimilars are transforming the healthcare market by offering treatments for diseases that were hitherto seen as incurable.
Throughout the past five years more than 100 patents of biologic medicines expired. Nowadays over 314 biosimilars¹, highly similar to the original biologic in terms of quality, safety and efficacy, are marketed globally. Many additional patent expiries of biologics take place in the coming years.
The moment the first biosimilar enters the market to challenge the reference product, quite rapidly list prices decline by 15% to 35%². When multiple competitors enter the market prices erosion can reach up to 70%³.
In general, global healthcare systems face persistent cost constrains while at the same time must provide the best possible care to an ever-increasing number of patients. As biosimilars offer life-saving biologic medicines at lower prices they are an optimal and economical choice.
The global medicine market is expected to grow by a 3-6% CAGR through 20264. The biosimilar market is performing exceptionally well and is expected to grow at a CAGR of 15% through 2030 reaching an estimated market value of $75bn5.
Pre-fillable glass syringes – an excellent choice for biosimilars
Almost 100% of the currently marketed biosimilar drugs require 'injection' as route of administration¹. One of the best suited types of primary packaging for injection are glass pre-fillable syringes. Pre-fillable syringes are well-established and widely used within the healthcare industry. They enjoy such wide acceptance as they offer many specific benefits, such as:
Benefits for the pharmaceutical companies:
Available in sterile tub/nest formats
= direct use in standard fill-finish operations
Require minimal overfill
= less drug waste
Provide excellent drug-container compatibility
= less risk of drug container interactions contributes to stability over the entire shelf-life
PFS can be integrated into auto-injection devices
= enables product differentiation
Benefits for end-users:
Prefilled doses
= Lower the risk of dosage errors
Sterile, ready to use at patient side
= Reduce the risk of contamination
No reconstitution required
= More comfortable administrations
Pre-fillable glass syringes are one of the best choices for Biosimilars.
Nipro's D2F™ Glass Pre-fillable Syringe Solutions For Biosimilars
Biosimilars are complex, large-molecule biologics. They are extremely challenging when it comes to providing the right primary packaging quality. Their highly sensitive character necessitates that primary containers fulfill very specific and strict requirements.
Nipro offers pre-fillable syringes in different quality levels fulfilling the various drug product and service requirements: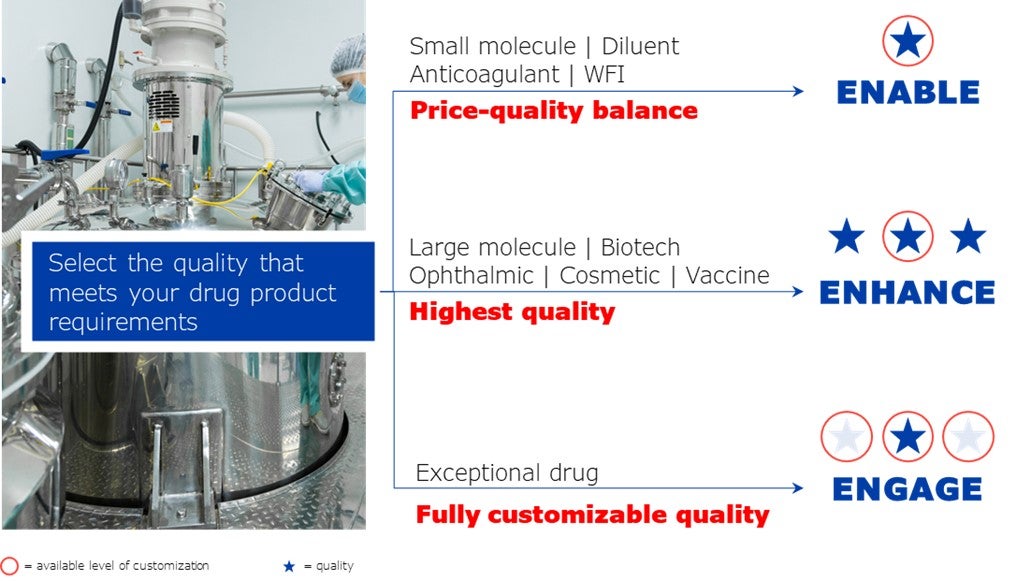 D2F™ pre-fillable glass syringes (PFS) in eNhance quality answer to the challenging requirements of present biosimilar products.
Glass is impermeable, chemically resistant, and inert therefore an ideal material for primary pharmaceutical packaging. It minimizes the risk of extractables and leachables that potentially could interact with the filled drug and effect it negatively. Nipro PFS are manufactured using Nipro in-house drawn, type I, borosilicate glass tubing that meets the strict requirements of prevailing Pharmacopoeias (EP, USP, JP).
Especially tungsten residuals, potentially remaining from the forming process on the inside surface of the syringes tip, are a particular problem. Nipro's PFS are offered in low tungsten and tungsten free configurations, minimizing the risk of tungsten residuals, or eliminating it.
Usually, PFS require a siliconization of the inside of the glass barrel for a smooth plunger performance. This process must be controlled strictly as excessive silicone potentially could migrate from the syringe wall into the drug and cause undesired effects such as particulate formation, aggregation, and absorption. Consequently, Nipro PFS are siliconized homogeneously using low silicone quantities with extremely low tolerances. The silicone quantity as well as the homogenous distribution are carefully controlled 100% in-line.
Furthermore, the mostly high viscosity and inherent larger injection volumes of biosimilars makes the use of auto-injection devices (AID) necessary. In this respect selected pre-fillable syringes must provide ensured container closure integrity (CCI), precise dimensions, and a high mechanical durability for smooth integrations which ultimately lead to safe and easy administrations.
Nipro PFS in eNhance quality are thoroughly inspected 100% in-line for a wide array of parameters that contribute to the smooth integration with AIDs, such as:
Precise syringes dimensions
= Smooth fitting in AID
Strong syringes flanges
= Supports safe operation of AID mechanism
Rigid needle shield (RNS) concentricity
= Contributes to smooth assembly of AID and PFS
Optional X-ray inspection for pierced RNS
= Reduced risk of unseen CCI
Cooperation with leading AID manufacturers
= Ensure compatibility between PFS and AID devices
Quality and service level always need to be directed to provide an optimal customer experience. To achieving these targets providing necessary and precise data is essential. The eNhance quality level incorporates an extended data packaging allowing you to process and accept goods at any stage of a project in a fast and effective way. It includes drug master file related data (DMF), a customizable certificate of analysis (CoA), and if necessary additional data confirming compliance to selected standards.
Nipro's customised solution for a Humira biosimilar from a leading pharmaceutical player
Nipro D2F™ pre-fillable syringes and service level in eNhance quality were chosen for the Humira biosimilar development project. While in an initial approach the standard eNhance quality, with its pre-defined options, seemed sufficient it became apparent that certain customizations would be necessary to meet all specific requirements of the Humira biosimilar. Also, in relation to the integration of the PFS into an AID.
For fully or partially customized product and service specifications Nipro offers the eNgage quality level to meet unique, non-standard quality requirements. The customization is fully supported by a dedicated, experienced, and interdisciplinary team, including technical customer support, quality & regulatory support, and production.
For this specific project acceptance quality limits (AQL) of selected product parameters were lowered to match very demanding characteristics of the biosimilar. Involved parameters contribute to:
Minimized risk of glass particles
Cosmetic aspects of the glass barrel
Containers closure integrity (X-ray inspection)
Improved performance with AID
Additionally, the provided data package was tailored to fulfill the customer's needs
Content of the certificate of analysis (CoA) was customized
Customized drawings
The Humira Biosimilar, filled in Nipro PFS in eNgage quality, and integrated into an AID was successfully launched into the market. A life-saving drug available for patients in need!
D2F™ pre-fillable glass syringes in engage quality offer full customization to meet specific biotech drug requirements and extensive service level needs.
Footnotes
1. GlobalData – Drug Database Analysis – Status 01.09.2022
2. NCSL – Decreasing Drug Costs Through Generics and Biosimilars – By Colleen Becker – January 2022
3. AJMC – IGBA Describes Competitive Economics of Biosimilars Industry – Tony Hagen – November 4, 2021
4. IQVIA – The Global Use of Medicines 2022 – Outlook to 2026 – Institute Report – Dec 09, 2021
5. IQVIA – Biosimilars to continue rapid growth over the next decade – David Bottom, Senior Analyst, IQVIA Forecast Link, Global Market Insights – Clare Davies, IQVIA Forecast Link – Blog – Jan 03, 2022