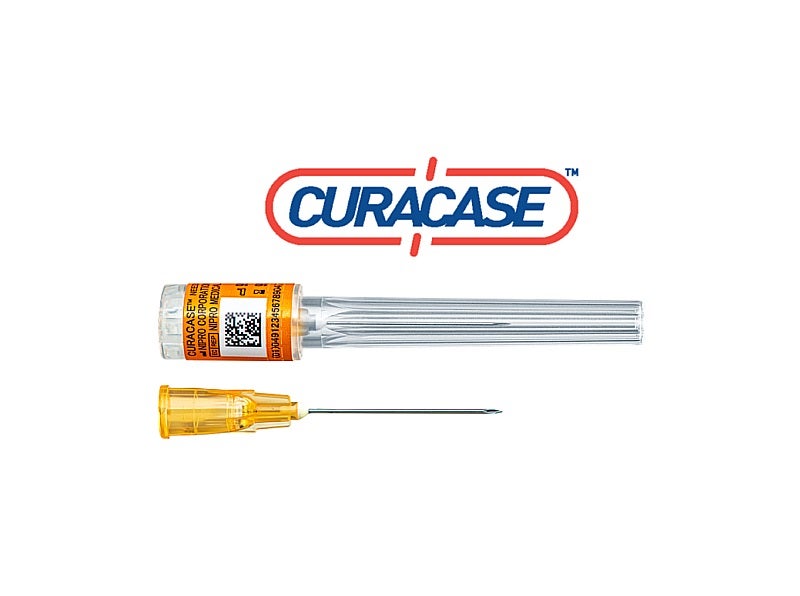 The launch of the CURACASE™ needles further strengthens our ability to manufacture and supply complete injection systems for the pharmaceutical industry.
Each CURACASE needle is individually packed in a compact and smartly designed hard-plastic packaging that uses minimal space in secondary packaging when by-packed. Its smart design enables compatibility with feeders and automated pick-and-place systems. Furthermore, each unit is sealed with a colour-coded label equipped with a barcode allowing in-line product identification by a vision system. All attributes of the unit pack contribute to optimised processability.
Nipro PharmaPackaging is a division of Nipro Corporation Japan, one of the leading manufacturers of globally renowned cannula-based injection devices. With this extensive in-house expertise, the results are needles with exceptionally sharp lancet points and homogeneously siliconised cannulas, supporting smooth administrations.
The needle hub complies to ISO 80369-7, allowing a proper connection to injection and infusion devices.
CURACASE needles will be manufactured at a dedicated Nipro plant in Japan, and will conform to ISO 13485 and ISO 14001. The newly installed assembly lines, featuring the latest manufacturing and inspection technologies, fulfil the highest Japanese and international quality requirements.
Nipro PharmaPackaging manufactures a broad range of premium quality glass primary packaging, such as D2F™ pre-fillable syringes, D2F vials, cartridges and ampoules. In combination with our growing range of reconstitution devices, Nipro serves you as a single supplier for complete injection systems.