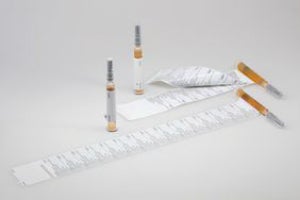 In clinical trials, it is important that the patient believes they are being given the drug in order for the placebo effect to not influence results. The drug and placebo are therefore neutralised to guarantee validity.
However, there is also a legal obligation to provide information about drugs being tested in many languages. This is a challenge for package labeling, particularly in transparent packaging with small radii. In cooperation with the Clinical Trial Supplies Unit of Sanofi, Schreiner Medipharm has developed a special solution for syringes to tackle this issue.
For use in clinical trials, the label must provide sufficient space for compulsory text. In addition, it must ensure that each product under investigation has the same appearance and are evenly deposited in a transparent syringe barrel.
Depending on the required amount of text, a one or two-layered wrap design is used for the syringe, each of which allows double-sided printing per layer of film. Extensive, high opacity printing of the transparent material is required to do this.
The product solutions are based on a particularly long, one-layered wrap-around label named Pharma-Wrap and a two-layered Euro-Label. Flexible film material is required so the label can be easily wrapped around the syringe and the part of the label directly glued to the syringe consists of a tinted transparent film.
This enables reliable neutralisation without obstructing the view of the contents. The remaining part of the label is printed on a white background so product information can be provided on both sides. The integrated peel-open tab enables easy opening and closing of the label.
These specialty labels increase flexibility, efficiency, and safety for the execution of clinical trials as one single label variant can be used globally for marking while also blinding.
More than a million needlestick injuries occur in European hospitals and private medical practices every year.