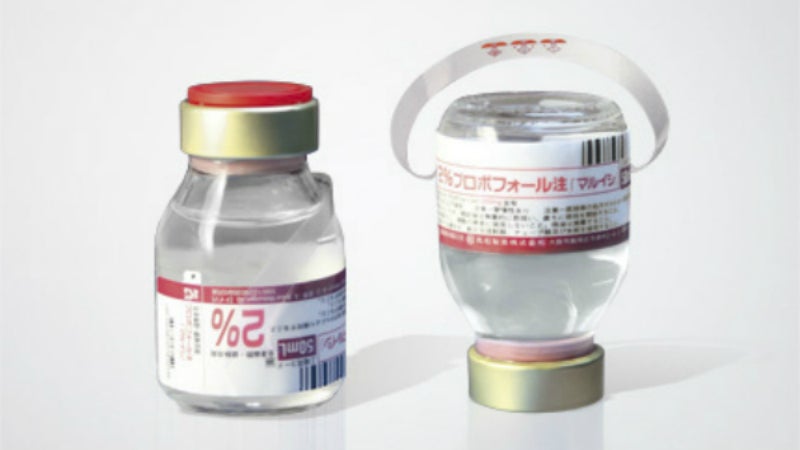 Schreiner MediPharm develops and manufactures innovative specialty labels, with value-added benefits.
As a certified A-level supplier to leading global pharmaceutical corporations, Schreiner MediPharm develops and produces customer-specific, intelligent labelling solutions. These products simplify dispensing and administering of pharmaceuticals, enhance drug safety, and reduce process costs.
Pharma-Tac: hanger labels for infusion bottles
Specialty labels, with integrated hangers, allow fast and safe hanging of infusion bottles by healthcare personnel.
The tear-resistant hanger is an integral part of the label, which can be easily and efficiently activated for suspension.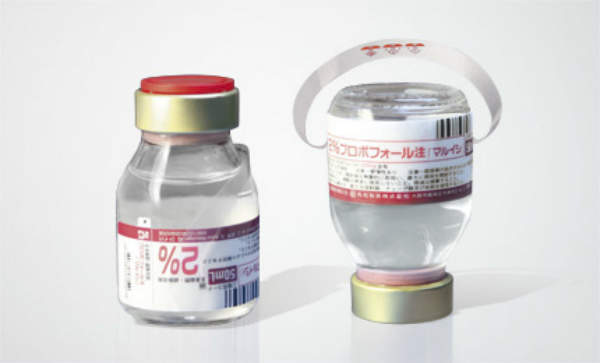 The Pharma-Tac hanger label is used for infusion bottles.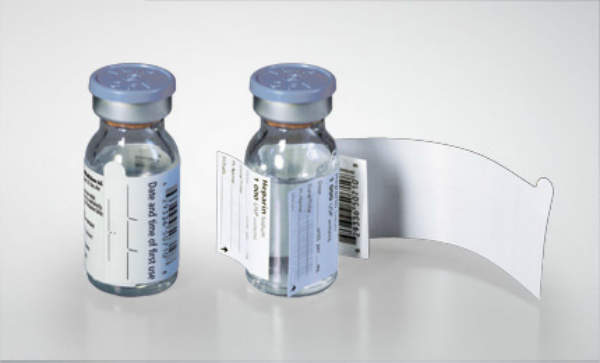 The Pharma-Comb SL label with self-lifting detachable parts is used for multi-dose vials.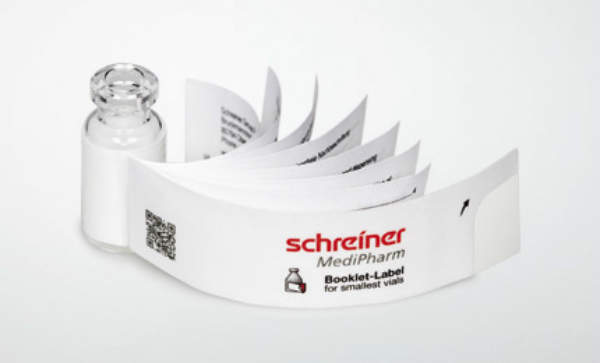 A Booklet-Label provides extensive text in several languages for containers such as small vials or syringes.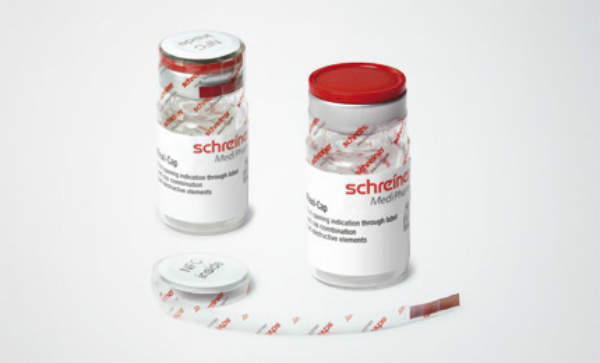 Flexi-Cap combines a label and a cap for first-opening indication.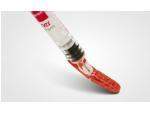 Needle-Trap is a label-integrated needlestick prevention system.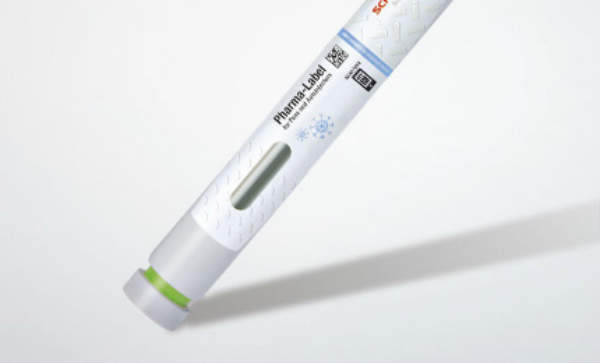 Multi-functional labels can be used for pens and autoinjectors.
Additional label functions can be integrated including a multi-layered design offering enough space for detailed product descriptions and detachable label parts for documentation.
Pharma-Comb: labels with detachable parts for documentation and identification
Labelling solutions with one or more detachable parts help to easily document drug administration in patients' records.
In case of refilling processes, labels with detachable parts play an important role in marking containers.
The self-lifting Pharma-Comb SL label offers advanced user friendliness and reliable marking for multi-dose medications. After opening the upper label, the parts underneath automatically rise for easy and efficient peel-off.
Even when wearing gloves, healthcare personnel can easily detach the upright self-lifting label parts and apply them to filled, disposable syringes. This product offers high patient safety through clear identification and traceability of the drug up to the time of administration.
Pharma-Multi-Inform: Multi-page Euro-Labels and Booklet-Labels
Euro-Labels, with several pages, and Booklet-Labels meet pharmaceutical manufacturers' needs to provide extensive text, often in several languages, on the product pack or container. Particularly in the case of containers with small radii, such as small vials or syringes, this can be a challenge.
Multi-page film and Booklet labels are optimally adapted to the specific customer product. They are mainly used for multi-lingual applications, helping pharmaceutical manufacturers gain flexibility, and reducing administration and logistics costs.
In clinical trials, multi-lingual Booklet-Labels play an important role.
Pharma-Security: Anti-tampering, counterfeit protection and track and trace
Schreiner MediPharm offers a wide range of integrated tamper-evident and anti-counterfeiting solutions, which are individually tailored to the pharmaceutical manufacturer's specific security requirements.
A recent development is Flexi-Cap, a unique first-opening indication that combines a label with a cap. It clearly and irreversibly shows that a primary container has been opened.
Flexi-Cap enables flexible use with different container types, forms, and sizes. It is applied without using heat. The top of the cap allows space for barcode printing or near field communication (NFC) chip integration.
Schreiner MediPharm's anti-counterfeiting features include overt security technologies such as holograms, and colour-shifting or thermochromic inks.
Covert technologies include LaserSecure, which uses special pigments that can only be seen by a special reader and would only be visible by informed experts.
Traceability plays a major role in ensuring security across the supply chain. The use of numbering, encoding, or 2D codes makes products definitely identifiable and traceable.
KeySecure system is an online serialisation track and trace solution to identify original pharmaceutical products using an alphanumeric code that can be authenticated directly on the internet.
Needle-Trap: Label-integrated needlestick protection
Needle-Trap, a cost-effective labelling solution for pre-filled syringes, helps prevent accidental needlestick injuries to healthcare providers. Its compect design allows a blood-contaminated needle to be simply and safely secured after injection. It can be easily operated by healthcare personnel in a controlled, single-handed fashion.
After the needle is locked into the plastic trap, it is irreversibly protected.
Needlestick injuries harbour high risks for healthcare personnel to be infected by contaminated blood after injection.
Regulatory requirements by US Food and Drug Administration (FDA) and National Institute for Occupational Safety and Health (NIOSH) demand that sharps instruments have to be equipped with safety devices. Also, in the EU, member states implemented directive 2010/32/EU on the prevention of sharps injuries into national legislation in May 2013.
By integrating the safety mechanism into the syringe label, regulatory demands can be met in an efficient and user-friendly manner.
Needle-Trap can be easily incorporated into conventional labelling systems and is adaptable to the most common syringe types.
Label solutions for pens and autoinjectors
User safety and comfort is the primary concern in the development of pens and autoinjectors for self-injection. Multi-functional label solutions can be individually customised to further enhance reliability and ease-of-use of these injection devices.
Functionalities that can be added include temperature indication via a reversible colour shift, special varnishes to improve grip and feel of the surface, and integrated tactile elements.
If the pen or autoinjector has a transparent window to check medication, the contents can be protected against ultraviolet (UV) rays by a double-layered label, which can be easily opened and closed. The transparent window can be equipped with UV protection.
In addition, first opening indication and anti-counterfeiting features, as well as near-field communication (NFC) chips for electronic tracking and interactive functionalities can be integrated.