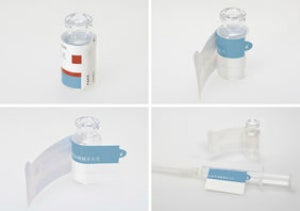 Schreiner MediPharm has developed a new version of its Pharma-Comb self-lifting (SL) label, which has a starter tab, which was designed for easier and more efficient use in hospital-care environments.
Handling conventional labels is a time-consuming process for healthcare staff. Developed for a leading producer of anesthetics in China, the special label design is particularly easy to use on small vials, allowing efficient and reliable marking of the medication while increasing patient safety at the same time.
Pharma-Comb labels are specialty labels with one or several detachable parts printed with the most important data. The small vial size posed a special challenge. Despite minimal space, the label must contain all important product information, provide room for variable post-printing, and integrate a detachable part to mark the disposable syringe after drawing up the anesthetic.
This newly developed solution is based on a three-layered film label. The outer layer offers ample space for important product information and post-printing with the batch number and expiration date. The outer layer tightly wraps around the small vial and when opening, the detachable part underneath is exposed.
Due to its special design, the starter tab of the detachable label part is self-lifting and a physician or nurse can easily peel it off even with gloves on and mark the syringe after drawing up the medication from the vial.
The detachable label contains information about the product name and active ingredients. In addition, it has two fields for entering the date and time of administration, as well as the dose and the initials of the caregiver. Due to a special varnish coating of the detachable label it can be inscribed by hand with a variety of pens or pencils.
President of Schreiner MediPharm Ann L. Merchant summarises the label's benefits: "In daily hospital care settings, medication errors can have severe consequences for the patient.
"Therefore, clear and reliable marking of the administered medicine is extremely important.
"Labels with detachable parts can make an important contribution here, in order to reliably mark the disposable syringe after drawing up the required dose. Due to the self-lifting starter tab, this can be done in a very simple and convenient way."
More than a million needlestick injuries occur in European hospitals and private medical practices every year.