Pharmaceutical Security Label Combines Multi-functional Counterfeiting Protection with Digital Features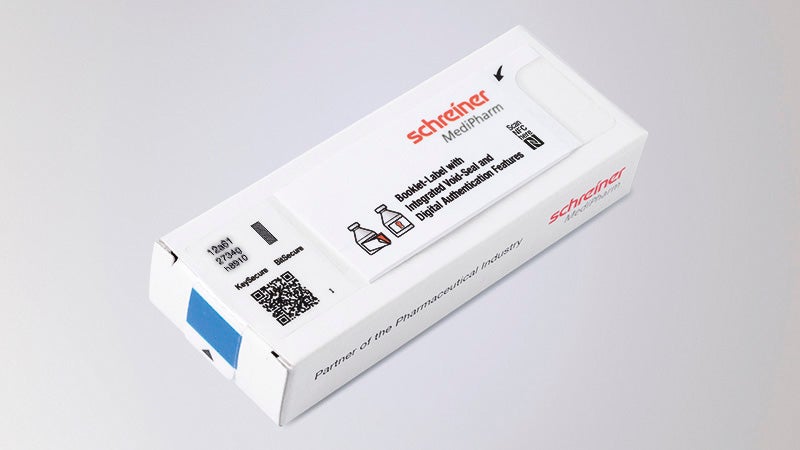 At Pharmapack in Paris, Schreiner MediPharm will be presenting its extensive portfolio of customised pharmaceutical security solutions to safeguard the supply chain in Hall 4, Stand M31.
The event will take place from 1 February to 2 February.
Innovative solutions are required to protect patients against falsified medicines.
These must adhere to regulations such as EU 2016/161, which has to be implemented by February 9, 2019.
A particular highlight at the Pharmapack event will be Schreiner MediPharm's newly developed label, which demonstrates a combination of diverse digital security features on a Booklet-Label with an integrated first-opening seal. The bottom layer contains a tab, which serves as a closure seal for tampering protection. When this seal is opened, a void effect emerges as an irreversible first-opening indication.
The Booklet-Label applied to a medicine pack allows a pharmacist to view product information about the medication without opening the pack and thus destroying the tamper protection. In addition, the sample label is equipped with three digital security features.
BitSecure: novel copy detection technology
The novel copy detection technology is based on a high-resolution, cloud-like random pattern. In an attempt to copy BitSecure, the fake will suffer a loss in precision and optical details. While the original print is produced from a high-resolution digital master, an illegal copy is based on a previously printed image. These variances can be checked by means of a smartphone app, a conventional scanner, or a 2D barcode reader and respective software. The BitSecure pattern requires a minimal size of only a few square millimeters and can be easily integrated into the pharmaceutical manufacturer's brand appearance.
KeySecure: innovative tracing system
The innovative tracing system is based on an encrypted 15-digit alphanumerical code, which makes it possible to identify and authenticate every single product item marked via a smartphone or the internet. The code can be printed in human-readable form or as a 2D code. Authentication is performed by either entering the code on the manufacturer's website, a mobile query of the 2D code via a smartphone or calling a hotline.
Label-integrated near field communication (NFC) chip: digital authentication
A label-integrated near field communication (NFC) chip enables digital authentication using a smartphone. The NFC chip inconspicuously blends in with the label design and allows for contactless product identification within a few centimeters. Due to the widespread use of NFC-capable smartphones, consumers can easily and quickly utilise this function. In addition, the automatic starting of an app for product verification is possible.
More than a million needlestick injuries occur in European hospitals and private medical practices every year.