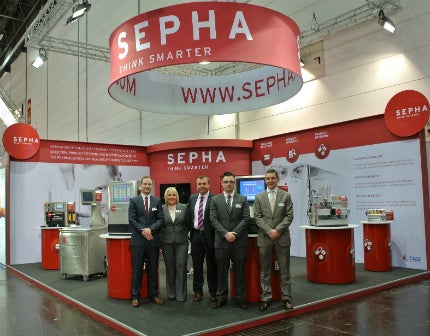 The Sepha team have completed a successful Interpack, where the company launched three new technologies across each of its divisions, and carried out a significant number of product demonstrations and meetings with global pharmaceutical clients.
Sepha head of sales and marketing at Paul Kelly said: "We have seen an unprecedented level of interest in our range of technologies at Interpack from leading global pharmaceutical clients who are increasingly interested in improving their quality standards and driving production costs down.
"There was particular interest in our non-destructive blister pack integrity testing equipment, given the recent selection by Pfizer of Visionscan.
"We also received significant orders globally for our newly launched Press Out Universal Mini deblistering unit and our EZ Blister Modified Atmosphere lab scale blister pack unit. Overall we are delighted with the show, the quality of the attendees from around the world and our clients' response to Sepha's continued investment on new products and technologies."
The visitor numbers reached new heights at 175,000, with high-level representatives from most of the top pharmaceutical companies in attendance. Interpack organisers have highlighted the following as dominant themes of this year's show: resource efficiency for plant and machinery as well as for packaging material usage; quality and safety; diversity; flexibility and shorter product cycles.
Sepha's continuous market- driven approach to innovation has resulted in a range of products that address the important issues for those involved in packaging pharmaceutical products as well as others. The Product Integrity range enables modern packagers to ensure the safety and shelf life of their products while reducing waste and costs incurred by conventional, destructive methods such as the blue dye test.
The EZ range of small scale packaging machines allows research labs and manufacturers to take control of their short run packing by using the technology adopted in larger scale production to form, seal and cut high quality blister packs and medical device packaging. Finally, the product recovery range has been designed for pharmaceutical manufacturers and packagers. This extensive range enables clients to safely and efficiently recover tablets and capsules from blister packs while reducing product waste and the associated costs.
Given this success, Sepha is looking forward to attending a wide range of global pharmaceutical and packaging shows that over the next months with local agents and distributors.