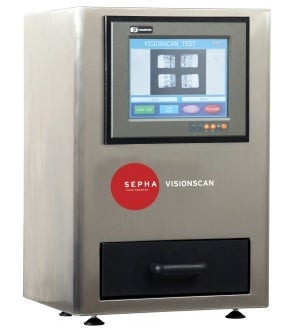 Sepha has secured several significant new orders from pharmaceutical multi-nationals, including Novartis, for its leak inspection machine, Visionscan.
Visionscan is part of a new range of innovative machines that use high resolution imaging technology to detect product defects in pharmaceutical blister packs. Visionscan is the world's first tool-less, non-destructive inspection machine for detecting leaks in pharmaceutical blister packs and the new contracts with these global customers, which also include Jansen USA, is seen as a progressive achievement by the Sepha team who designed and developed Visionscan at their Belfast-based R&D facility.
Since its launch last year, Sepha has achieved export sales for Visionscan in all its major global markets, including USA, Brazil, India, Europe and New Zealand. Paul Kelly, head of sales and marketing said: "Over the last five years there have been considerable changes in global pharmaceutical production, with significant production cost-saving measures implemented by most large drug producers. We developed our new range in response to these changes. Visionscan enables pharmaceutical manufacturers to significantly lower their production costs, while at the same time improving their quality levels."
The machine is a mobile, table-top device which uses the latest camera imaging technology to offer a flexible and reliable cost saving alternative to destructive blister pack test methods, such as blue dye. It is easy to use and requires no tooling, making it ideal for high volume pharmaceutical manufacturers and packagers where high levels of quality and cost-control as well as multiple product changes are required. It can detect channel leaks and weak seals down to 15 micron and has a simple touch-screen operator interface.
Detecting leaks in blister packaging has traditionally involved a destructive process, but non-destructive methods, which do not result in wasted products, have emerged as viable...
Demonstrating the integrity of pharmaceutical blister packs is critically important, as any defects can affect the shelf life and efficacy of the contents.
This white paper will test the hypothesis that the VisionScan is considered non-destructive.