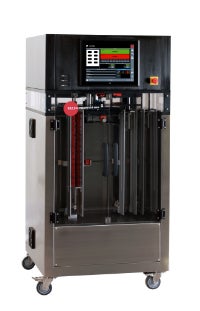 Following significant interest in the VisionScan Max prototype at Achema 2015, Sepha has taken on board industry feedback to improve its design.
VisionScan Max is an automated, non-destructive, tool-less inspection device for blister packs that can detect holes and weak seals down to 15 micron at a rate of up to eight packs per minute.
It enables pharmaceutical manufacturers and packagers to further increase the efficiency of their blister packaging inspection process by minimising operator involvement.
The state-of-the-art device incorporates the same imaging technology as VisionScan, which has been adopted by many of the top pharmaceutical companies worldwide.
In addition, VisionScan Max has an automated magazine feed, allowing the operator to load a magazine, start the test and walk away from the machine until all packs in the magazine have been tested.
Each pack is tested and carefully placed in the new pass and fail magazines for returning to the line or for product recovery. The user-friendly interface allows any menu to be reached within two clicks.
Sales and marketing head Paul Smith said: "VisionScan Max is the logical addition to our leak testing range.
"It offers the same objectivity, flexibility and cost saving benefits as our existing leak testing products, while further increasing efficiency of the testing process.
"Achema 2015 was an invaluable opportunity to present our pre-production model and obtain feedback from potential end users.
"Our engineers used this feedback to develop the machine further and ensure that it meets and exceeds customer leak testing requirements."