DIOSNA Dierks and Sohne GmbH Opens New Pharmaceutical Technical Centre "ProcessLab" and Puts Virtual Tour Online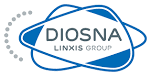 In spring 2020, the plant manufacturer and expert for moist granulation completed the new "Diosna ProcessLab". The renovation and upgrading of the old technical centre to Good Manufacturing Practice (GMP) standards began in 2019 and now enables successful compliance with all safety regulations on over 300 square meters. However, the grand opening has so far had to be postponed due to the global pandemic.
The ProcessLab offers various plant options and a wide range of possibilities for experimental implementation. For example, top-, tangential- and bottom spray processes in the fluid bed processor, high-shear, and single-pot granulation as well as universal mixtures can be tested. By upgrading the ProcessLab with, among other things, a tablet press, the complete production chain of coated tablets can be simulated. Michael Benjamin, Head of ProcessLab since 2016, is a pharmaceutical technologist and expert in granulation techniques, scale-up of oral solids, and coating. He supports customers in process optimization.
Just in time for the 135th anniversary, Diosna offers a virtual tour of the technical centre to give other interested customers an insight despite the ongoing situation. The virtual tour can be accessed via the Diosna Pharma Experts homepage and provides an informative 360-degree tour of all areas. The entire equipment can be viewed conveniently from the own computer. Additional information, helpful links, and contact options complete the virtual experience.
URL: https://www.diosna.com/uk/the-pharma-experts/technical-centre/virtual-tour/
DIOSNA offers a versatile range of machines for laboratories, pilot plants and small scale production.
The DIOSNA HDC Horizontal Drum Coater perfectly complements your tablet production for both laboratory and full production.
Targeted development processes and a variety of products set high standards in the reliability, control and security of the processes.