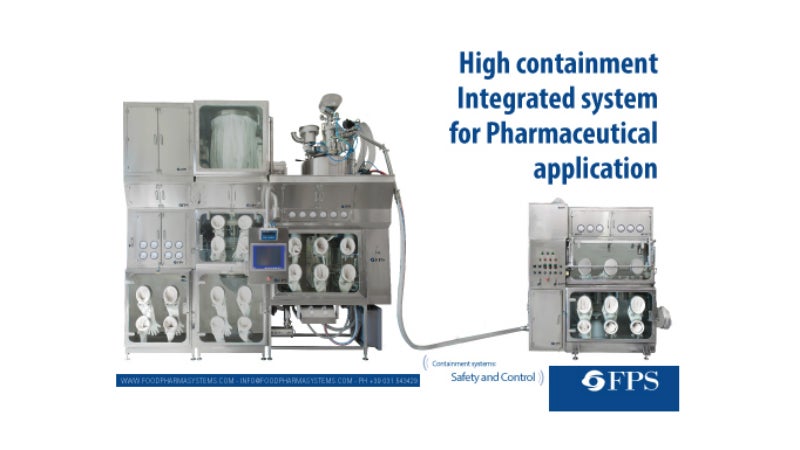 FPS has announced delivery of a high-containment Integrated system for an Oncology plant in Bangalore, India.
The system is composed by an agitated nutsche filter dryer (ANFD) discharge isolator, a vacuum transport system (VTS), and micronisation equipment PROMILL-8.
FPS' technical sales manager Eng. Bissola said: "Our client searched an appropriate solution for grinding material and clean packaging after the filtering and drying process.
"We offered a filter dryer discharge system in combination with a vacuum transport system (VTS) and micronisation equipment for the high potent active pharmaceutical ingredients (HPAPI) handling. It's a customised system, using solutions and technologies derived from similar units supplied in the past".
The isolator for product discharge from an existing ANFD is complete with a discharge chute so product can be re-processed and transferred to the micronisation unit conical mill for product sieving before micronisation and rapid transfer port (RTP) for material inlet / outlet.
The VTS transfers the product from the ANFD discharge isolator to a buffer vessel installed on top of the micronisation system for complete batch transfer.
The vessel is complete with an active split butterfly valve to allow connection of bins in safe way in case the VTS cannot be used due to poor material flowing properties. A lifting column is supplied for the bins handling.
The micronisation equipment PROMILL-8 is installed inside the isolator and is complete with gravimetric feeder for product discharge inside the jet mill and a separation cyclone filter for gas product separation after micronisation. Pack-off systems and an exit chamber allow for controlled discharge inside the drums, with weight control and safe exit from the system.
This solution provides optimum operator and product protection and permits it to work in high safety environment, while assuring top micronisation performances according to typical FPS jet mill design.
FPS is used to give process support to customers during the project development and after the commissioning, assisting the users in the operation, and increasing knowledge of the supplied process for further development of active pharmaceutical ingredients (API) manufacturing.
FPS' managing director and micronisation expert Eng. Giovanni Gianola completed a four-session training seminar in May 2017. The seminars provided a deep explanation of micronisation processes.
The training sessions, distributed over a period of months, were followed by almost 100 people coming from operations, engineering, maintenance, and plant directors, with the aim to share FPS approach to the process, its main parameters, the possible equipment configurations, and the safety aspects to be considered.
It was also an occasion to discuss solutions to specific plant situations occurring when operating the jet mills, indicating possible improvements strategies.