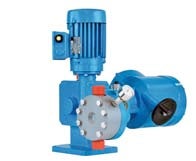 At Achema 2012, LEWA is presenting solutions that once again highlight their technology leadership in metering pumps and process diaphragm pumps. The main challenge for LEWA is to be a specialist for the reliable, and at the same time economical, handling of demanding fluids.
LEWA, with headquarters in Leonberg, Germany, is familiar to any company operating in the chemical and pharmaceutical industries or in oil and gas, conveying fluids under critical conditions. LEWA's pumps and systems handle metering and processing jobs under low to the highest pressures and temperatures. And when used in the life science industry, they comply with the specific requirements for hygienic design.
Intelligent metering flow controls for process technology
LEWA offers the LEWA smart control for optimum monitoring of metering systems: it compares the actuating variable of the metering pump to the measurement signal from the flowmeter and checks both values for plausibility. Smart control can regulate deviations very quickly, since the controller can access pre-programmed pump characteristic curves. That lowers the scrap and keeps product quality uniformly high, even with pressure fluctuations in the system.
The controller regulates one or even two closed control loops and thus can access up to four actuators. This allows the operator to control a redundant system or two completely independent metering systems with a single controller.
Here's an example: if the process needs to maintain a continuous mass or volumetric flow, metering must be controlled accordingly, for example by injecting blowing agents during extrusion processes. Here, the speed of the extruder is the master for the diaphragm metering pump. Using smart control, the blowing agent can be added proportionally to the extruder speed into the plastic melt. This offers the operating company the security of a uniformly maintained product quality.
Metering pump: Solid technology at an affordable price
The developmental objectives for the diaphragm metering pump were ambitious: the result is a solution for medium-sized requirements on a smaller investment budget. A flexible and very integration-capable pump that meets LEWA's strict quality demands, at a very attractive price. The successful market introduction of the ecosmart in 2010 indicates that the requirements and the results obviously match.
To cover a wide range of applications, in parallel with the high-quality components – the stainless steel pump head (1.4404), the PTFE sandwich diaphragm, diaphragm monitoring and the diaphragm protection system (DPS) – four sizes up to 300 l/hr – were developed.
Now a new option with a PVC pump head has been added to the line. That means the ecosmart can even be used in applications that require good resistance against highly aggressive chemicals, including industrial water treatment systems, for example when sodium hypochloride has to be metered.
The PVC pump head can be used at pressures up to 12 bar (stainless steel: up to 80 bar) and at temperatures of up to 60 °C (stainless steel: up to 120 °C).
The 'ecosmart webshop' is also new: purchasers can select an ecosmart on the LEWA homepage and order it online. Here, LEWA offers best prices and lowest delivery time. This industrial webshop will be expanded with more items over the course of the year.
System solution for low-pressure liquid chromatography
The requirements on process chromatography have significantly increased in recent years due to higher fermentation yields. Systems must not only be very reliable, they must also manage significantly larger volumes. Operators are also more and more frequently expressing the need for a linear gradient (linear concentration drop) in order to elute the molecule from the chromatography column in a reproducible manner.
The EcoPrime system presented by LEWA (with two pairs of ecodos hygienic metering pumps with the intellidrive drive concept) permits these linear gradients to apply over a significantly wider mixing range.
While conventional systems often work linearly only over a performance range between 20 and 70% of the mixing range (with an accuracy of 2%), EcoPrime offers a linear gradient between 1 and 99% – at an accuracy of just 0.5%. EcoPrime can be used both as a buffer dilution skid or, connected directly to a column, as a standalone chromatography system. For many of the ecodos hygienic pumps already installed for customers, it is possible to upgrade to EcoPrime functionality.
Cryogenic submerged motor pumps and canned motor pumps
Seal-less pumps are also the focus at LEWA's parent company, Nikkiso, but canned motor pumps are based on a different design principle.
While in positive-displacement pumps it is LEWA diaphragms separating the product from the piston drive and thus the environment, in centrifugal pumps from Nikkiso a can between the rotor and stator of the drive motor does the job. The canned motor pumps series includes horizontal pumps, vertical pumps, inline pumps, self-priming pumps, high temperature pumps, as well as multi-stage pumps for large conveying heights. The focus of the applications includes the chemical and petrochemical industry, process-related system engineering, refrigeration industry and the energy sector.
Submerged motor pumps for cryogenic liquefied gases, such as LNG, LPG and LEG, will also be presented. Immersed in the medium, these comparatively simply designed pumps can also be considered as 'leak-free' to the environment. This is the first time LEWA and Nikkiso will present their portfolio at the same exhibition stand at ACHEMA.
Pumps and systems for sustainable processes
Both politicians and society as a whole want to see significant reductions in the consumption of primary energy. One way to realise these ambitious goals is to increase the energy productivity of industrial manufacturing by 2.1% a year. Flow machines such as pumps rank among the especially 'energy hungry' components of a system. So every operating company should know: the efficiency of oscillating positive-displacement pumps reaches values of over 80% throughout the control range.
In regards to sustainability, LEWA develops pumps and systems for high running times (annual continuous operation 8,000 hours) and for a service life of over 25 years. Assuming continuous operation over several years, the supplier calculates a total downtime of at most 3 days. In other words: LEWA assumes an availability of up to 99%. Given normal operation, the operator can expect these service lives for the most important components: Diaphragms, e.g., PTFE: up to 20,000 hours; pump valves: up to 8,000 hours; hydraulic valves/pistons: up to 30,000 hours; crankshaft bearings: 70,000 hours; motor bearings: 50,000 hours; crankshaft casing: failsafe.
With their energy efficient, resource conserving systems, LEWA supports the VDMA 'Blue Competence' sustainability initiative.
The ultraviolet light emitting diode (UV-LED) market should reach more than $500 million in 2019 as reported by market analysis.
Over the last decades, the pharmaceutical industry has invested a tremendous amount of resources and capital into the development of continuous processes to improve process...
The pump piping system has to be designed carefully if positive reciprocating displacement pumps with high hydraulic power are installed.