Metastorm offers strategy, analysis and execution software for pharmaceutical process management.
Metastorm's integrated portfolio includes enterprise architecture (EA), business process analysis (BPA) and business process management (BPM) software. The company aims to bring these critical disciplines together to enable understanding and opportunity assessment, as well as effective process execution and accelerated value realisation for organisations worldwide.
Metastorm's  products help to ensure a high level of pharmaceutical process management in the following solution areas:
Periodic review and change request management
Safety and adverse data report automation
Clinical grants management
Product conformance management
Contract and chargeback management
Agreement management
Pharmaceutical process life-cycle management
Metastorm BPM® provides capabilities for designing, automating, analyzing, and monitoring human-centric and integration-centric activities and processes – enabling pharmaceutical manufacturers to deliver new medicines in the most cost-effective and timely manner possible.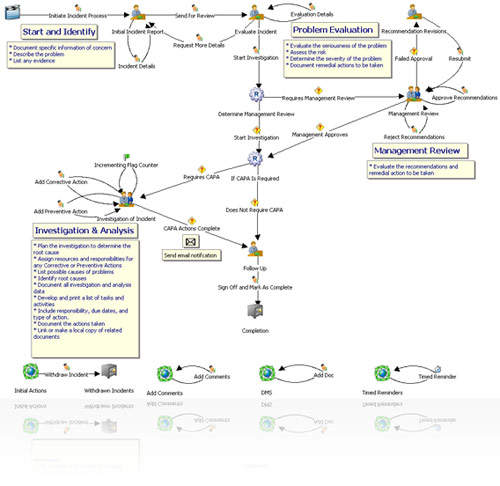 An example of the Incident Process Map created in Metastorm Designer.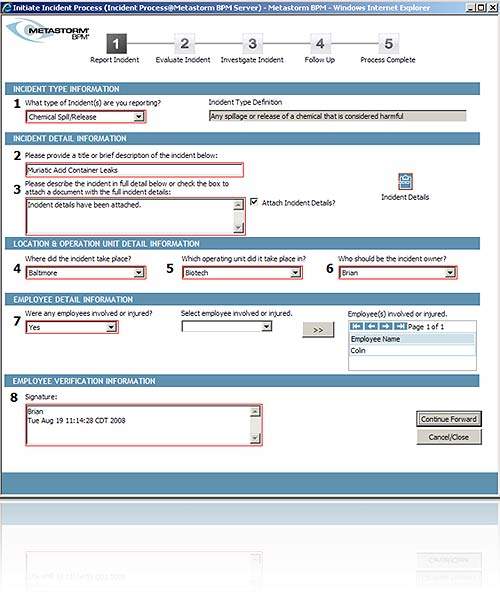 An example of a Metastorm BPM form for the Incident Process.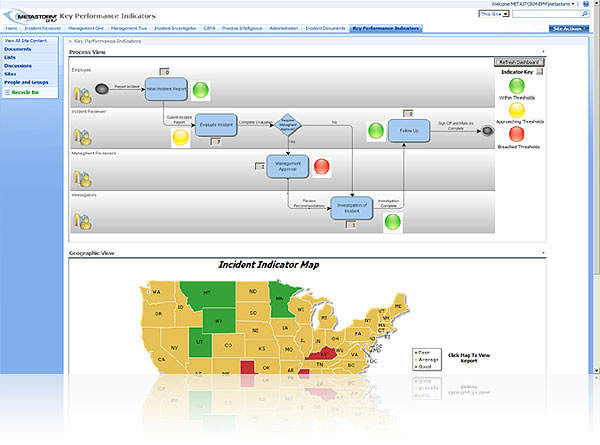 An example of a process key performance indicators (KPI) via Microsoft SharePoint.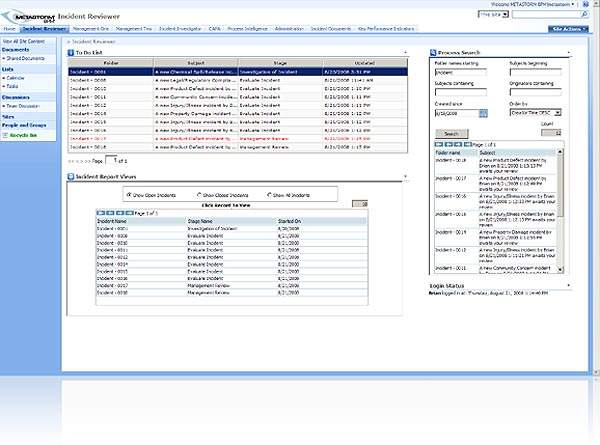 An example of a user's To Do list and other related web parts via Microsoft SharePoint.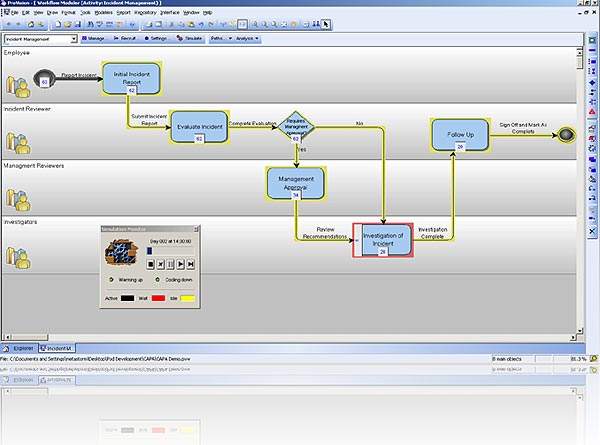 An example of a Metastorm ProVision simulation.
Pharmaceutical manufacturers that use Metastorm BPM benefit from gaining repeatability, control and visibility throughout the organization, whilst simultaneously creating more efficient and streamlined processes.
Utilizing Metastorm BPM, pharmaceutical manufacturers can:
Establish well-defined processes that span multiple people, organizations and systems
Integrate with related systems and tools, including document management systems (DMS)
Present complete monitoring and visibility into the process life-cycle
Provide secure and highly-compliant procedures
Provide tracking and oversight, helping identify potential bottlenecks and risk areas
In addition, Metastorm recently completed a rigorous evaluation by a top pharmaceutical manufacturer–ensuring that Metastorm BPM adheres to GAMP 4.0 guidelines. Click on the news link at the bottom of this listing for the full article.
Metastorm document management provider framework
Metastorm BPM also delivers value-added support for a pharmaceutical organization's document management needs. The Metastorm document management provider framework provides easy and rapid methods of integration between Metastorm BPM and customer-selected DMS applications. This helps organizations achieve faster time to market for deploying document-intensive processes.
From a user's standpoint, Metastorm BPM provides seamless integration with DMS systems, for example allowing users to link to and track content directly from within a process while at the same time storing and maintaining the integrity and latest version of the document in the source content management system.
Analyzing and Optimizing Business Processes, Systems, and Technologies with Metastorm ProVision®
A key to retaining a competitive advantage in today's environment is optimizing business processes, systems and technologies. Enterprise modeling helps pharmaceutical manufacturers do just that.
The Metastorm ProVision® enterprise modeling suite provides end-to-end process modeling capabilities, allowing organizations to model and improve their processes, assets and organizational responsibilities under one common framework. For example, a pharmaceutical manufacturer can use Metastorm ProVision® to understand the relation of processes that span across silos and multiple organizations. This superior process analysis, modeling and simulation environment is combined with industry acclaimed "ease of use" for both business and systems users.
Using Metastorm ProVision®  in a Software-as-a-Service (SaaS) model further enables organizations to address governance and compliance challenges and lower overall risk. The Metastorm ProVision SaaS offering allows users to quickly and conveniently establish a shared repository environment, without needing to install an internal server. That means a company's distributed work teams can immediately pool their knowledge and focus on the important business of improving their processes and systems.
Why Metastorm
The bottom line is that Metastorm can help pharmaceutical manufacturers quickly understand and exploit processes and systems to run their business better, and then gives them the agility they need to respond to changing conditions, new regulations, and demands for a rapid product delivery life-cycle. Pharmaceutical manufacturers can depend on Metastorm to help them provide:
Process efficiency, effectiveness and cost
Regulatory and legal assurances and compliance
Information security, confidentiality and ethical standards