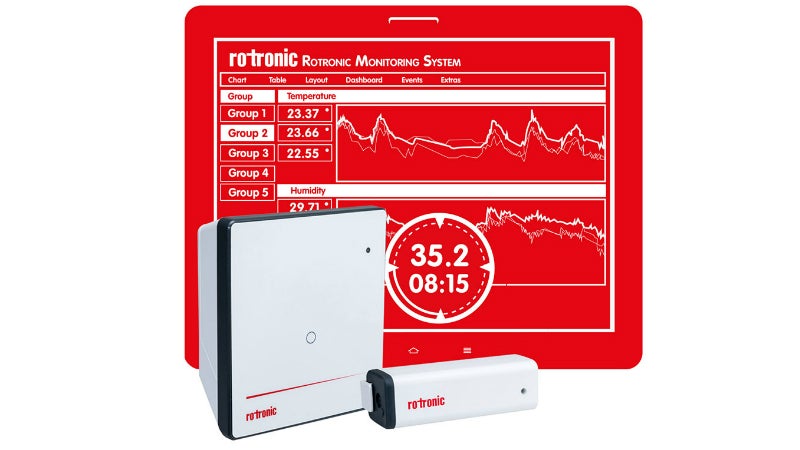 The new ROTRONIC monitoring system (RMS) checks, documents, and visualises all required measurements and makes them available to the user in the desired form.
Data can be retrieved from anywhere, at any time, by PC, Mac, tablet, or smartphone. The system offers a high level of performance, flexibility, and versatility, while being easy to set up and operate.
The RMS provides one complete, flexible, and simple solution to replace fragmented and complex systems working in isolation. The software stores all recorded measurements securely in a system that the user can access at any time and data can be retrieved in any form and integrated into third party systems.
The heart of the system is server software with a secure database. It records all data and events generating a range of alerts or warnings when customer-defined criteria are breached. The RMS data loggers transmit measured values to the software via wireless or LAN communication. The system has already been extensively tested successfully and proven its worth in pilot projects. Customer feedback has enabled the system to continue to evolve, further enhancing many key features.
RMS is highly versatile
The modular system is suitable for use in laboratories, cleanrooms, production, and manufacturing processes, as well as stability cabinets and storage facilities throughout the food, pharmaceutical, biotechnology, and cosmetic industries.
It is highly suitable for monitoring data reliably and for building management systems across industry, museums, and art galleries, as well as archive stores and during the transportation of valuable products that are sensitive to variations in humidity and temperature levels.
Data loggers record environmental data such as temperature and humidity continuously. Third-party devices and existing systems can also be integrated easily, making the RMS extremely flexible and allowing trouble-free expansion at any time. The system sends error messages and alerts by voice call, email or SMS text messages, as well as through a smartphone app.
RMS has a wide reach and data is secure
Whether the user is abroad travelling or working in an adjacent room, access to the real-time data is guaranteed at all times. This gives peace of mind and also saves costs.
Due to the server database and software, high availability of the data is guaranteed and security ensured by https protocols, regardless of the location or terminal device. It is also possible to encrypt all data.
RMS meets regulatory requirements
The new RMS meets all the regulatory requirements of GxP, US Food and Drug Administration (FDA) Annex 11, and 21 CFR 11. Thanks to the technical experts in the research and development (R&D) department at ROTRONIC, installation is simple and uncomplicated. Local support is available through a worldwide network of the company's subsidiary companies and distributors.