ROTRONIC
Humidity Measurement Instruments
ROTRONIC offers a comprehensive range of humidity instruments, including transmitters, data loggers, indicators, probes, sensors, and humidity generators for the measurement and calibration of relative humidity, dew point, water activity, and other humidity parameters.
Grindelstrasse 6,
CH-8303 Bassersdorf,
Switzerland

---
---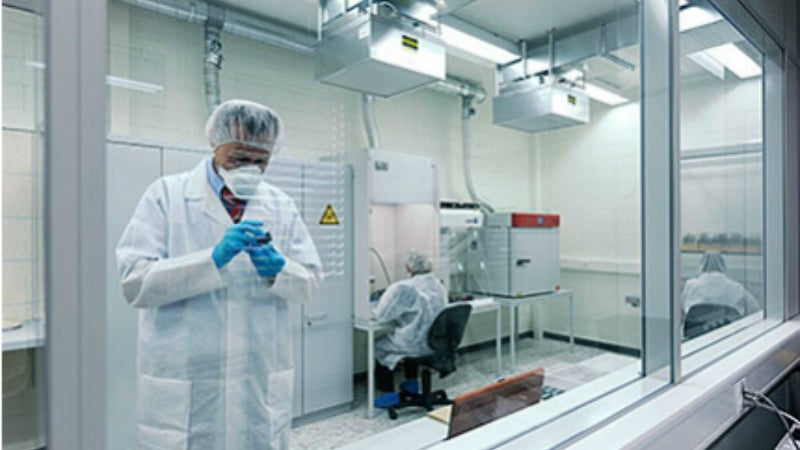 ROTRONIC offers a comprehensive range of transmitters, data loggers, indicators, probes, sensors, and generators for the measurement and calibration of industrial measurement solutions for relative humidity, temperature, dew point, pressure, differential pressure, flow, CO2², and water activity.
Precise and accurate humidity measurement instruments
ROTRONIC's major focus is industrial humidity measurement. The company offers precise and accurate measurement results through one of the most stable humidity sensors in the industry, which is combined with ROTRONIC's unique HygroClip® digital technology.
The device's instruments and probes measure both humidity and temperature, as temperature is critical to the proper measurement and interpretation of humidity.
High-accuracy humidity probes
The HygroClip2 is a high-accuracy humidity probe, with a strong performance. ROTRONIC's new AirChip3000 technology provides the HygroClip2 with a unique calibration and adjustment process alongside many other superb innovations.
With new levels of dependability and performance, the HygroClip2 offers high-reproducibility and a superb system accuracy of <±0.8% relative humidity (rh) and ±0.1K.
Industrial measurement and monitoring devices
The ROTRONIC product range includes transmitters for heating, ventilation, and air conditioning (HVAC), as well as building management systems (BMS), manufacturing, and process control applications. Handheld indicators, data loggers, generators for metrology laboratories, and meteorological probes are also available.
Further applications include water activity indicators for quality control of foods, pharmaceuticals, and cosmetics. For special applications, Rotronic offers a line of intrinsically safe humidity probes and transmitters.
Transmitters for precise measurements
ROTRONIC's transmitters are ideal for all applications where exact measurements are of decisive importance, such as the food, pharmaceutical, printing, paper, meteorology, agricultural, archaeology, and climatology industries.
There is hardly a field today in which these parameters may be ignored. It is ultimately the measuring task on hand that defines the instrument that best covers your needs.
Data loggers for long-term recording of humidity and temperature
ROTRONIC's data loggers provide long-term recording of humidity and temperature conditions areas such as storage, shipping, production processes, and test facilities.
Once logged, data can be evaluated statistically, providing valuable information on conditions that can have an influence on people, materials, and objects.
The ROTRONIC data loggers fulfill requirements of the US Food and Drug Administration (FDA) 21 CFR Part 11 and good automated manufacturing practice (GAMP) 5. The loggers have a high-degree of functionality, while being highly accurate and easy-to-use.
Data can be shown in a graph or table. A large range of interchangeable probes means simple maintenance and flexibility in different applications and loggers are available in a range of configurations to suit a wide variety of applications.
Practical handheld instruments with interchangeable probes
ROTRONIC's handheld instruments are extremely precise and feature many practical functions, while being easy-to-use. They are adjusted and configured during production and are ready for immediate use.
In addition, they can be configured for specific applications with user-friendly HW4 or SW21 software or directly on the keypad. A wide range of compatible probes can be easily switched for simple maintenance and calibration.
Humidity and temperature generators
Many customers already use ROTRONIC's HygroGen humidity generators to calibrate their humidity measuring instruments themselves. The minimisation of instrument downtime and reduction in administrative work for the customer are significant advantages.
Benefits of the HygroGen humidity and temperature generator include:
Generates stable humidity and temperature conditions
Transportable calibration instrument
Humidity equilibrium typically reached in 3 minutes or less
Suitable for the calibration of most relative humidity instruments
Integrated touch-screen PC and USB hub
Ability to connect and calibrate up to five probes simultaneously
Standard external heated sample loop connection
Integrated dryer cell condition monitoring
Digital water level indication
Easy-to-use graphical user interface
Direct certificate printing
About ROTRONIC
ROTRONIC was founded in 1965. The company employs around 360 people and markets its products in more than 40 countries worldwide. With branches and agencies in the US, Germany, the UK, France, Canada, Italy, Singapore, and China, ROTRONIC's emphasis is on the development and production of industrial measurement devices at the company's headquarters in Bassersdorf, Switzerland.
The HC2-S / HC2-S3 is ROTRONIC's most versatile probe, which measures humidity, temperature and calculates the dew / frost point.
The new HygroFlex5-EX series, which meets international standards, is the latest development in two-channel transmitters for the exact measurement of humidity and temperature in explosive atmospheres.
For more than 40 years, ROTRONIC has been combining technical innovation and Swiss quality.
Neopharma opened a new pharmaceutical plant in Abu Dhabi, United Arab Emirates, in July 2003.
The new ROTRONIC monitoring system (RMS) checks, documents, and visualises all required measurements and makes them available to the user in the desired form.
ROTRONIC AG
Grindelstrasse 6
CH-8303 Bassersdorf
Switzerland