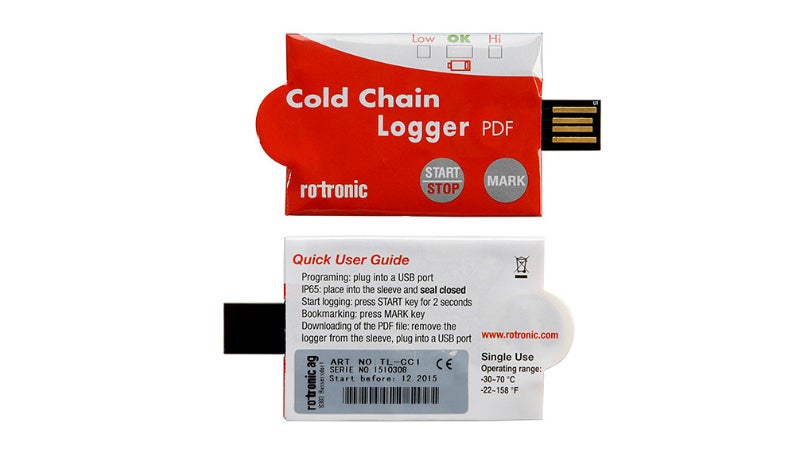 Due to the value and sensitivity of pharmaceuticals, there are various directives prescribing specific cold-chain conditions that need to be met when they are transported.
Rotronic's TLI-CC1 logger monitors temperatures simply and reliably. This single-use device is inexpensive and easy-to-use. It can be configured freely without software and is activated by pressing the start / stop button.
If a situation requiring special attention arises during transport, for example unplanned opening of the cargo space in sunlight, this can be marked by pressing the mark button. At the end of the journey, it is possible to download a clear and concise report by connecting the device to a USB port and printing the PDF.
Features:
Freely configurable by user without software installation
Clear alarm indication
Automatic PDF report generation
Everything in one logger, including configuration file, PDF report, instruction manual, and calibration certificate
High storage capacity of 8,000 data point memory
Manipulation-proof
Conforms to GxP, EN 12830, and US Food and Drug Administration (FDA) 21 CFR Part 11/ GAMP 5
An order of one box contains ten devices
The new HygroFlex5-EX series, which meets international standards, is the latest development in two-channel transmitters...