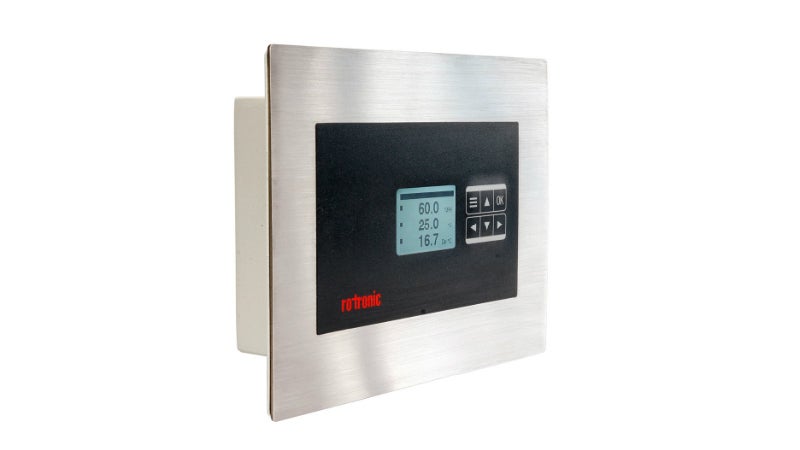 Rotronic Introduces the CRP1 clean-room panel for the measurement of humidity and temperature in the clean-room.
Characterised by its compact construction and simple handling,iIts compatibility with HygroClip2 allows humidity to be registered to the highest degree of accuracy. Depending on demand and application, any other Rotronic probe might be connected. The data can be transferred via analog outputs or MODBUS. Measured values, alarms, and measurement curves are shown on the display.
Features:
Monitors humidity, temperature and low-dew point
Designed specifically for clean rooms
Works in combination with the HygroClip2-series but also with any other Rotronic probe (customised to your needs)
Food and Drug Administration (FDA) and good automated manufacturing practice (GAMP) compatible
Digital communication via MODBUS RTU/HW4
Analog output signals freely configurable
Stainless steel front panel highly resistant to chemicals
Alarm output acoustic, or via relay or liquid crystal display (LCD)
Simple probe calibration outside the room being monitored
The CRP1 clean-room panel handles precise measurement of humidity and temperature for applications where a high-degree of cleanliness must be maintained, such as clean rooms in hospitals, in the pharmaceutical, electronics, and food industries.
The comprehensive functional capabilities of the CRP1 can also be used for many measurement and control tasks.
In combination with the Rotronic HC2-LDP probe, the CRP1 meets the requirements of monitoring dry air in compressed-air equipment and battery fabrication.