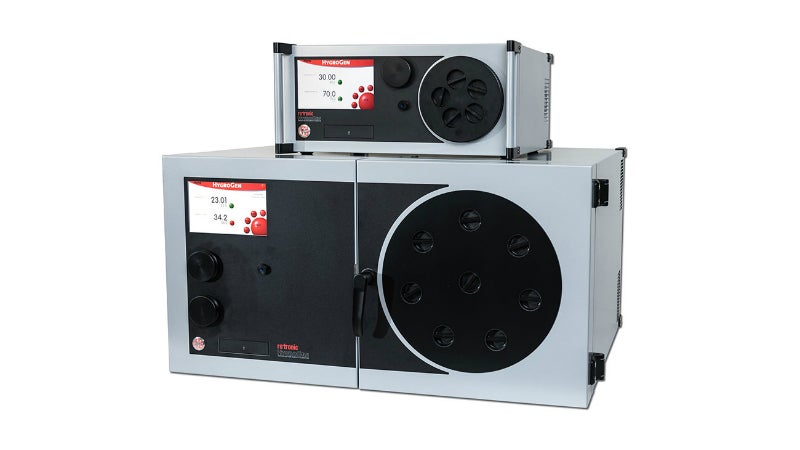 ROTRIONIC's latest reference generator model in the HygroGen2 has a chamber volume ten times larger than the HygroGen2-S model.
This enables multiple probes from all manufacturers to be calibrated both in the laboratory and on-site. Calibrations can be performed across the working range of devices, with only a few minutes to reach stable set-point equilibrium work is completed quickly compared with other methods.
The innovative HygroGen2-XL generator saves time and money with its ability to perform multipoint calibrations on multiple sensors, with fast turnaround time providing fast return on investment (ROI).
Features:
Chamber volume: 20l
Work volume: 17l
Humidity changes (5% to 95% relative humidity (RH), with 0.1% RH stability) in less than 15 minutes
Temperature changes (23°C to 50°C, with 0.01°C stability) in less than 15 minutes
AutoCal automated calibration option
Integrated US Food and Drug Administration (FDA) 21 CFR part 11 compliant Rotronic HW4 software
Favored by ISO 17025 calibration laboratories worldwide
Applications
The HygroGen2-XL generator is perfect for calibration laboratories and production areas throughout industry and research facilities where fast stability time is required. It enables a high volume of probes and devices from all manufacturers to be calibrated at multiple points with fast return to their installation minimising production downtime.