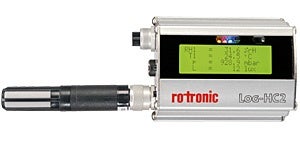 Parameters such as humidity, temperature, air pressure, light and acceleration are of central importance in order to obtain meaningful measurement results for industrial and scientific applications. The new all-in-one LOG-HC2 enables users to measure and save all these parameters simultaneously.
The LOG-HC2 is a high quality autonomous and versatile data logger perfectly suited to long-term measurements. The loggers perform various documentation and recording functions in a large number of industries, including transportation, pharmaceutical and chemical industries, mechanical engineering, storage facilities, environmental and laboratory technology, aviation, research and development and many more applications.
The robust LCD data logger can store more than 2,000,000 measured values. Thanks to its powerful lithium polymer rechargeable battery, the LOG-HC2 is ideal for long-term measurements. The easy-to-read, four-line, liquid crystal display with backlight has four individually configurable views. All data of the autonomous universal logger can be transferred quickly to a PC or laptop via a USB port.