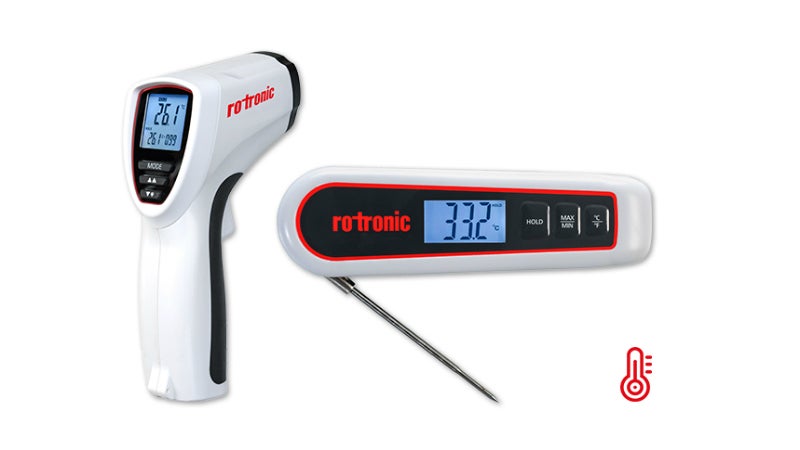 ROTRONIC has enhanced its temperature measurement device portfolio with its latest handheld TP31 series.
The device can be used to precisely measure surface, liquid, and core temperatures conveniently and precisely.
Using the infrared thermometer, dual lasers, and the folding thermometerm, with its rugged immersion / insertion probe, you can meet the requirements of increasing regulation in the food and other industries. With their convenient features and ease-of-use the new temperature handhelds from ROTRONIC are suitable for many varied applications.
Infrared digital thermometer (TP31-IR)
The TP31-IR determines surface temperatures quickly without contact using infrared measurement technology and is available in two versions with different focal points and measurement ranges (12:1 optics for -50°C to 650°C or 30:1 optics for -50°C to 1,000°C).
Due to an adjustable emission level and a double laser, which serves as a visible target, the hot surfaces of a wide range of materials can be measured precisely using their different emissivity values.
Folding digital thermometer (TP31-S)
The compact TP31-S with hazard and critical control point (HACCP) certification (ISO22000: 2005) indicates temperatures from -50°C to 300°C quickly and reliably in liquids and penetrable materials (core temperatures).
The simple operation ensures efficient temperature measurement. The rugged probe can be folded out to an angle of 180° to the display, and due to its robust design, can penetrate semi-solid and viscous plastic materials under considerable force. With an IP65 protection rating, the TP31-S is easily to clean under running water.