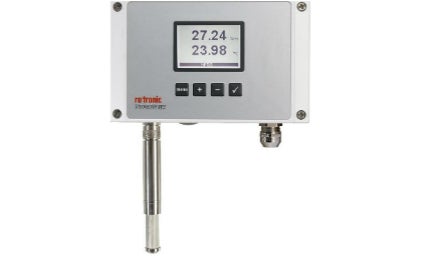 The HF5 series is compatible with HygroClip2 probes with integrated AirChip3000 technology, which achieves an unparalleled degree of accuracy.
In combination with advances in sensor technology and integration, the HygroFlex HF52, HF53, HF54, HF55 and HF56 transmitters combined with a HC2-S probe provide precision and functionality through accurate humidity and temperature measurement of <0.8% rh and <0.1K at 23°C.
Applications for the technology include measuring relative humidity, temperature and calculating all psychrometric parameters in the pharmaceutical field.
Features of the HF5 series include:
Relative humidity and temperature measurement
Dew Point and other psychrometric calculations
Interchangeable probe for easy maintenance
Wide range of probes for every application
Low voltage and mains versions
Freely scalable analogue signals
Various digital outputs available
Available with metal housing
The new HygroFlex5-EX series, which meets international standards, is the latest development in two-channel transmitters...