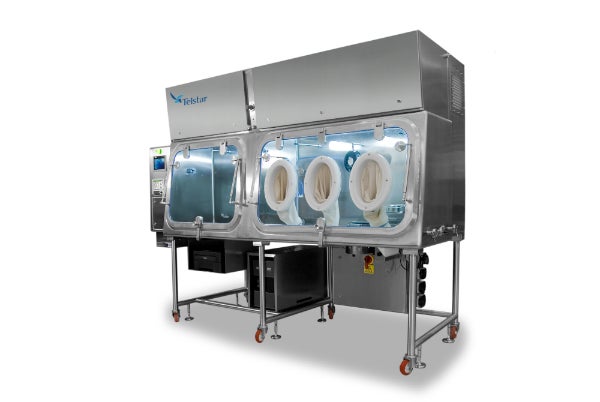 During Interphex in New York from 26-28 April, Telstar will promote the latest generation of sterility test isolators integrated with the ionised hydrogen peroxide (ionHP) bio-decontamination system, which has been proven to dramatically decrease cycle times.
The ionHP system is the latest leading-edge bio-decontamination technology for aseptic systems, developed to resolve traditional difficulties associated with H2O2 bio-decontamination processes.
Unlike conventional systems, the ionHP technology developed by Telstar increases the efficacy of the bio-decontamination process and reduces degradation of construction materials, while using a very low concentration of H2O2.
Reduced bio-decontamination cycle times are possible since the process efficiency is not affected by temperature and humidity and there is no need to pre-condition the chamber prior to H2O2 injection.
The ionHP bio-decontamination system incorporated in the new Telstar Pura will be promoted at Interphex.
Telstar Pura is a range of two, three and four glove sterility test isolators, with the option of a transfer chamber for batch or continuous sterility testing.
It is designed to avoid the risk of false results and to protect the product from both the process and externally generated factors that would compromise its quality.
The Telstar Pura range is suitable for performing both direct inoculation and filter membrane sterility tests.
During Interphex, Telstar will also be promoting its latest innovations in the field of process equipment developed with lyophilisation, sterilisation and water and pure steam technologies, for the pharmaceutical and biotechnological industry.
Lyophilisation and sterilisation technologies
In the lyophilisation field, Telstar will promote the new generation of vial loading and unloading systems, which can be integrated with freeze dryers and offer robustness, efficiency, reliability and accuracy in the vial transport and transfer process.
In addition, the units offer easier cleaning and maintenance. The new range of this equipment features improvements in the transport conveyor transition modules and in vial alignment systems, which offer increased security of vial transport in loading and unloading processes, resulting in elimination of breakage and significant reduction in rejects.
Improvements include new vial descrambling modules that are suitable for unloading processes up to 400 vials per minute with a typical rejection rate of 0.01%.
Telstar has also introduced an ultra-compact loading mechanism that results in a 40% reduction of space required in the clean room.
The Telstar cartridge mushroom valve, designed to connect the drying chamber and condenser of freeze dryers with less complexity and easier maintenance to enhance process safety, will be promoted at Interphex.
The latest generation of LyoBeta, the pilot-scale freeze dryer, will be exhibited, which is designed for experimentation and research and formulation to develop recipes for pharmaceutical freeze drying processes, prior to full scale production.
Telstar will promote the new compact steam sterilising autoclave with GMP design developed to minimise footprint, while maximising maintenance access.
Equipment includes hinged front-facing access panels, which open completely to provide full access to the technical area of the equipment.
In the field of water and pure steam generation technologies, the company will offer the latest purified water systems designed to generate pharmaceutical purified water, which allows chemical sanitisation of the entire unit.
Telstar has released a new single-vessel good manufacturing practice (GMP) production freeze-dryer that is optimised...