Telstar
Engineering, Construction and Consultancy Services and Integrated Process Equipment Solutions
Telstar, part of the azbil Group, is a company that develops high-technology solutions in engineering, construction, process equipment and services for the life sciences market (pharmaceutical and biotechnological industry, hospitals, laboratories and research centres)
Av. Font i Sagué, 55,
Tecnològic Orbital 40,
08227 Terrassa,
Barcelona,
Spain

---
---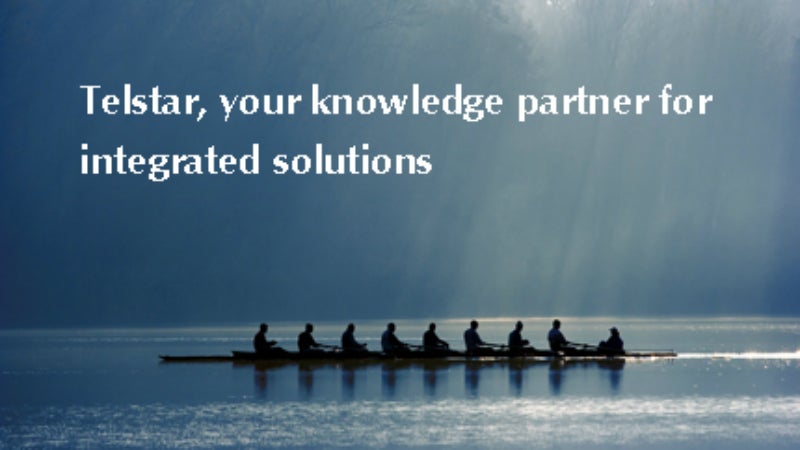 Telstar is a company that develops high-technology solutions in engineering, construction, process equipment, and services for the life sciences market, including the pharmaceutical and biotechnological industries, hospitals, laboratories, and research centres).
Recognised as one of the major suppliers for the pharmaceutical industry, the company also provides global services to turnkey projects and critical installations.
Telstar is one of the few international manufacturers able to offer integrated process solutions for the biopharmaceutical industry, with in-house sterilisation, freeze-drying, containment, generation of water and pure steam, as well as clean air technologies. Telstar invests 3% of its turnover in research, development, and innovation of its technologies and equipment.
Technologies and integrated solutions for sterilisation, freeze-drying, and cold storage
The company designs and manufactures complete integrated equipment solutions in the process line through applying in-house technologies for sterilisation, generation of water and pure steam, freeze-drying, containment, clean air, and cold storage.
Telstar specialises in the application of in-house technologies to design and develop integrated process solutions, which are implemented in existing facilities or new pharmaceutical and biotechnological plants, as well as new research laboratories.
Engineering, construction, and consultancy for pharmaceutical plants and laboratories
Telstar provides high added-value solutions in consultancy, engineering, and construction of pharmaceutical and biotechnology plants, as well as complete laboratories for the manufacture of medicines, including critical equipment.
This encompasses validation, regulatory compliance, and implementation services for logistics management and maintenance systems. Telstar takes on overall management of customised, integrated, innovative and effective turnkey projects, including consultancy, development, and end-to-end monitoring of projects.
Engineering and turnkey design of pharma and biotech projects
The company designs integrated turnkey projects, from the technical feasibility study and definition requirements, development of basic and detailed engineering using the most advanced tools to ensure a top-quality result from the start of a project, right through to qualification.
All activities are overseen by a project management team of Telstar professionals who works closely with the client to offer support and advice in critical decision-making, as well as ensuring the success of the project.
Services include:
URS and concept engineering
Basic engineering
Detailed engineering
Project management
Construction of pharmaceutical and biotechnology plants
Telstar provides the life sciences industrial sector with expertise and technological capabilities in developing integrated critical and non-critical facilities, as well as the construction of pharmaceutical and biotechnology plants.
Telstar develops construction projects for integrated turnkey plants and laboratories for the pharmaceutical, biotechnology, and veterinary industries, with a high-degree of specialisation in the design, supply, installation, qualification, and implementation of critical facilities.
Life sciences consultancy
Telstar focuses on strategic technology-based businesses and services aimed at addressing regulatory compliance requirements in critical manufacturing processes in the life sciences sector, ensuring efficiency, quality, and risk minimisation. At the same time, the company also provides compliance with quality regulations and standards demanded by different national and international health authorities.
In this area, Telstar supports companies to help them comply with quality standards in research and development (R&D), clinical trials, registration, and industrial and pharmacovigilance throughout a products' lifecycle.
About azbil Group and Telstar
Azbil is a leading Japanese group in building automation for the building market, advanced automation for the industry market, and life automation systems for the life sciences and healthcare markets, as well as fields connected closely to everyday life. The group develops its own regulation, control, and automation technologies, equipment, and systems.
As a subsidiary of Azbil, Telstar leads the life science engineering business division of the Japanese corporation to provide global solutions in design, engineering, and manufacturing processes, with automation technologies for international markets such as biopharmaceutical, research, personalised medicine, regenerative medicine, and foods.
Telstar operates in more than 100 countries and has five production plants, seven technology centres, and 13 consulting and engineering services centres, with commercial offices worldwide. It has manufacturing plants in Spain, China, the UK and the Netherlands. Headquartered in Terrassa (Barcelona, Spain), it has a workforce of 900.
Telstar provides solutions and complete systems for purified water generation, water storage and distribution skids and steam sterilisation, in accordance with the latest pharmacopeias, for pharmaceutical and biotechnological industry, including purified water systems and water for injection stills and pure steam generators.
Telstar, part of the azbil Group, has a long track record and experience in the development of engineering projects, equipment and services solutions for companies associated with life sciences, specifically in the fields of biotechnology, nanotechnology, traditional technology and medicine.
Michigan State University (MSU) has opened a new bioengineering facility in its East Lansing campus in Michigan, US.
Moderna Therapeutics opened its state-of-the-art good manufacturing practices (GMP) clinical manufacturing facility in Norwood, Massachusetts, US, in July 2018.
The South Australian Health and Medical Research Institute (SAHMRI) at North Terrace in Adelaide, the state capital of South Australia, was officially opened in November 2013.
The Cancer and Cardiovascular Research Building at 23rd Avenue, south-east of Minneapolis, Minnesota, US, was officially opened in June 2013.
Telstar has released a new single-vessel good manufacturing practice (GMP) production freeze-dryer that is optimised to maintain conventional workspace while making the footprint up to 20% smaller than a lyophiliser with standard external condenser configuration.
The purpose of the innovative inline vial management device developed by Telstar is to reject, retrieve for sampling, or reintroduce vials automatically during the loading / unloading process into pharmaceutical freeze-dryers.
Telstar has announced a new vacuum nucleation induction method in the freeze-drying process that is suitable for a wide range of freeze-dryers without modifying its main elements or adding gases or external substances.
Pharmaceutical company Orion entrusted Telstar as a specialised partner in containment technology to supply various isolators to sites in Finland over the last five years.
Telstar responds to new progressive challenges from technology and the digitalisation era by increasing its portfolio with a new professional service, intended to offer retrofit and upgrade solutions to customers existing equipment, in order to meet the latest industrial requirements standards.
Lyosensing is an in-line process analyser based on the application of a quadrupole mass spectrometer system, a non-invasive technique capable of performing quantitative real-time measurements during freeze-drying processes. 
Telstar has announced it will be exhibiting at Achema, Frankfurt, showcasing innovative process analytical technologies for pharmaceutical freeze drying systems and aseptic manufacturing processes.
Baccinex has entrusted Telstar with the design and construction of a cleanroom installation to accommodate an aseptic and lyophilised filling process line, enlarging the existing pharmaceutical plant in the Switzerland region of Jura.
Telstar has announced it will be taking part at FarmaForum, a congress for the pharmaceutical, biotechnological, cosmetics and laboratory technology industries.
Telstar has developed a new standardised range of downflow booths for weighting and sampling in materials dispensing and dosage processes.
Telstar has announced that it has designed and developed a new heating, ventilation and air conditioning (HVAC) control system that has been proven to maintain an optimised quality of air through an automatic control mechanism.
Telstar has completed design, manufacture and validation services of a complex suite of thirteen isolators.
Telstar has completed a total of 35 high-complex projects for international pharmaceutical and biotechnology industries within the first half of 2017.
Telstar has incorporated an innovative soft-sensor temperature monitoring system in the new good manufacturing practice (GMP) industrial freeze-dryers with automatic loading / unloading systems.
Telstar has announced the incorporation of new automated product handling systems for automatic loading and unloading processes in high-capacity pharmaceutical sterilisation systems.
Telstar has announced it will be present at Interpack showcasing its automatic vial loading and unloading system for freeze-drying process.
Telstar has announced it is set to introduce a new generation of vial automatic loading and unloading systems into the US market for pharmaceutical freeze-drying, which features a contact-free magnetic drive mechanism.
Telstar has announced the integration of its new semi-automatic glove leak tester into a range of isolators.
A new generation of automatic loading and unloading system for pharmaceutical freeze-drying process propelled by a contact-free magnetic drive mechanism, developed for the first time in the world by Telstar, represents substantial progress in the field of lyophilisation processes under aseptic conditions.
During Interphex in New York from 26-28 April, Telstar will promote the latest generation of sterility test isolators integrated with the ionised hydrogen peroxide (ionHP) bio-decontamination system, which has been proven to dramatically decrease cycle times.
Telstar's subsidiary will now manufacture lyophiliser loading and unloading systems for its clients located in the Asia-Pacific region, which coincides with the tenth anniversary of Telstar's production plant in China.
Telstar's R&D team have developed and implemented a new automatic Clean in Place (CIP) system for lyophilisers, which dramatically reduces water consumption by up to 75%.
Telstar have completed the construction and installation of a modular research and development laboratory, and kilo lab at the Medichem production centre in Hal Far, Malta.
Telstar is proud to announce it has designed and manufactured two Safety Airlock System (SAS) units with volumes of more than 5m³.
Telstar's comprehensive new range of laminar flow cabinets, designed to provide protection for product in an ISO 4 sterile environment, will be presented at Expoquimia in Barcelona, Spain.
Telstar has supplied a set of autoclaves for sterilisation of large volume parenteral solutions and isotonic liquid products to the pharmaceutical firm Laboratorios Pisa.
Telstar has developed an integrated water systems solution for the biopharmaceutical industry. Based on the results of an extensive market assessment, Telstar has extended its range of integrated pharmaceutical water systems with a new high performance solution.
Telstar has developed two high containment barrier systems for the Korean Komipharm Pharmaceutical, one of the largest producers of products from anti-cancer drugs in human oral dosage form to veterinary medicines in Asia.
The Azbil Telstar subsidiary in Dhaka, Bangladesh, was formally inaugurated on 2 April. The opening of Telstar's new centre, which is specifically focused on reinforcing a professional and specialised service in Asia's pharmaceutical market, is in response to a requirement to promote growth in a region where the company has been active over the past ten years.
Telstar has introduced the new ionHP biodecontamination system for use in pharmaceutical aseptic enclosures, an innovative technology which resolves some of the traditional difficulties associated with H2O2 biodecontamination processes.
Telstar has developed a new generation of vial loading and unloading systems that can be integrated into freeze-dryers and offer greater robustness, efficiency, reliability and accuracy in the vial transport and transfer process, in addition to easier cleaning and simplified maintenance.
Telstar Life Sciences
Av. Font i Sagué, 55
Tecnològic Orbital 40
08227 Terrassa
Barcelona
Spain
Argentina
Av.Bartolomé Mitre 1249, 1ro A
B1604AKE - Florida Oeste
Vicente López
Buenos Aires
Argentina
China
15F, Belle International Plaza
No.928 Liuzhou Road
Xuhui District, 200235
Shanghai
China
China
No. 30 Jin Wen Road
Zhu Qiao Airport
Ind. Zone, Nanhui District
201323
Shanghai
China
France
ZAC de la Clef de saint Pierre
5, rue du groupe Manouchian
78990 Élancourt
Ile-de-France
France
Holland
Kuipersweg 37
3449 JA Woerden
Utrecht
Netherlands
India
Office No.414, 4th Floor
Arenja Corner
Plot No.71, Sector - 17
Vashi, Navi Mumbai
400703
Maharashtra
India
India
Office No.202, 2nd Floor
7-1-638 to 643/1, Sunder Nagar
Erragadda, Near ESI Hospital
Hyderabad
500038
Andhra Pradesh
India
Portugal
Estrada Consiglieri Pedroso, 71
Edificio D-6° Esq
2730-055 Barcarena
Lisboa
Portugal
United Kingdom
Unit 4, Shaw Cross Business Park
Horace Waller VC Parade
Dewsbury
WF12 7RF
West Yorkshire
United Kingdom
United States
1504 Grundy's Lane
Bristol
PA 19007
Pennsylvania
United States of America
Bangladesh
Suit No. B-4(4th Floor)
Anam Rangs Plaza
Plot No.61, Road No.6/A
Dhanmondi, Dhaka-1209
Bangladesh