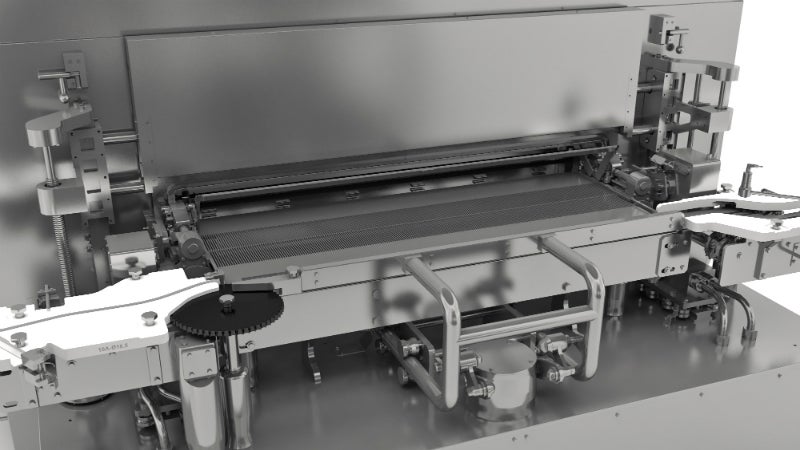 Telstar has announced it is set to introduce a new generation of vial automatic loading and unloading systems into the US market for pharmaceutical freeze-drying, which features a contact-free magnetic drive mechanism.
Under the brand of LyoGistics Zero, the uniqueness of the new vial loading & unloading solution resides in the inclusion of a passive linear magnetic driving mechanism. Without need for belts, bellows, or racks, the new mechanism moves smoothly and unhindered within the chamber of a lyophiliser, reducing particle generation and improving cleanliness and sterility. The new system developed by Telstar was successfully launched in the European market in 2016 and it will be promoted to the US pharmaceutical market on the occasion of Interphex (New York 2017, 21-23 March).
The new development features a steam-sterilisable slider, with no concealed parts, which is moved by a contact-free magnetic drive mechanism. Configured to be integrated to industrial-scale single-side or pass-through freeze-dryers, the new system incorporates a sliding device able to move the vials in both directions for loading and unloading. This device enables the long pushers traditionally associated with loading and unloading systems to be eliminated and replaced with compact marshalling devices that do not take up space within the clean room or the technical area.
Absence of mechanical links between the drive and slider provides the system with unprecedented levels of precision and robustness. By incorporation of a passive magnetic drive, the new system developed by Telstar eliminates many risks related to a lack of asepsis caused by the presence of mechanisms (belts, bands, chains, and linkages) and electrical equipment (cables, batteries, and motors) typically used in conventional and current loading / unloading systems. Furthermore, the transfer device, or slider, remains in the chamber at all times, undergoing cleaning and sterilisation alongside the internals of the freeze dryer.
Suitable for use in production processes involving hazardous products, LyoGistics Zero has been designed to be integrated within aseptic isolators requiring high-level protection for the operator (OEL5), the product (ISO5), and the environment.
Telstar at Interphex 2017
Telstar will also be present at Interphex 2017, with new solutions for isolation technology alongside new developments for pharmaceutical freeze drying applications. Also, the company will offer visitors the opportunity to experience a 3D virtual tour of a pharmaceutical plant as if they were walking through a fully equipped facility. The viewer will also observe the full manufacturing process including the complete range of integrated process equipment installed in a high-technology pharmaceutical plant. Telstar will be present in booth 3063.
Telstar has released a new single-vessel good manufacturing practice (GMP) production freeze-dryer that is optimised...