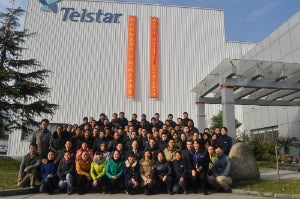 Telstar's subsidiary will now manufacture lyophiliser loading and unloading systems for its clients located in the Asia-Pacific region, which coincides with the tenth anniversary of Telstar's production plant in China.
The plant in China has started directly handling the management of projects for freeze-drying technologies to provide local high-quality support to customers.
Part of the Azbil Group, Telstar is now represented in Asia-Pacific region by three specialised production plants and engineering centres in China, Bangladesh and India.
Telstar began activities in China in the early 1990s through exports and has been present in China since 1998. It has been consolidating its presence in the region over the last ten years, and operates as a Wholly Owned Foreign Enterprise (WOFE).
In addition, the company has a 4,500-m² production plant located in the district of Nanhui, Shanghai, which is highly specialised in the designing and manufacture of processing equipment.
From 2009, Telstar's production plant in China increased its activities and gradually incorporated the manufacture of new types of equipment and the development of services for laboratory and pharmaceutical applications.
Telstar originally developed the life science industry's most compact unloading system, which was patented in 2006, facilitating easy integration into freeze-drying equipment and minimised installation space.
In 2011, Telstar introduced a compact drive system featuring flexible steel bands for vial loading and unloading systems, designed particularly for operating under aseptic conditions and within barrier isolators.
This system can unload lyophilisers configured in 'pass-through' mo and also be used to load and unload single-sided lyophilisers when layout conditions restrict application of other technologies.
Telstar recently obtained the China Food and Drug Administration (CFDA) authorisation license for the commercialisation of its biologic safety cabinets, for use in medical centres and hospitals in China.
Telstar has released a new single-vessel good manufacturing practice (GMP) production freeze-dryer that is optimised...