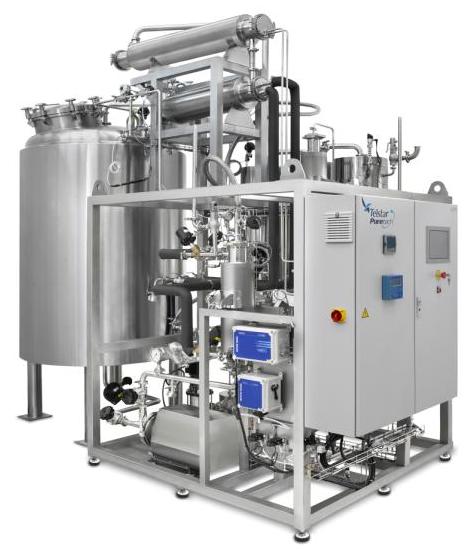 Telstar has developed an integrated water systems solution for the biopharmaceutical industry. Based on the results of an extensive market assessment, Telstar has extended its range of integrated pharmaceutical water systems with a new high performance solution.
The new system combines a Water-For-Injection distillation system and a storage and distribution system installed on the same skid and with a single control system. The compact unit is easy to control and operate and provides savings in cost and space. In fact, this compact combination provides a space-saving of up to 35%.
The new Water-For-Injection production and storage and distribution skid operates to current GMP standards for pharmaceutical water and is marketed under the Telstar Puretech brand.
The Telstar-Puretech production, storage and distribution solution minimises space requirements by integrating all of the process technologies, instruments and controls within a single unit. The systems are designed and engineered to give reliable operation and continuous monitoring, while maintaining optimal energy efficiency, thereby lowering operating costs without compromising quality.
As a specialised company in the development of critical installations for the biopharmaceutical industry and also in the management and execution of projects associated with water installations, Telstar offers complete solutions for GMP water and pure steam spanning generation, storage and distribution systems.
Both installations and equipment, developed with proprietary technologies, are designed to obtain maximum energy efficiency, and reduce operational costs. The systems are designed, developed and installed as turnkey projects including full validation packages.
Telstar, part of the azbil Group, is an international leader in the development of high-technology solutions of engineering, construction, equipment and services for the life science market (pharmaceutical and biopharmaceutical industry, hospitals, laboratories and research centres).
Acknowledged as the only company able to develop and provide integrated process systems for the biopharmaceutical industry with in-house sterilisation, freeze-drying, containment, water and process and clean air technologies, Telstar invests 3% of its turnover in research, development and innovation of its technologies and equipment.
Telstar has released a new single-vessel good manufacturing practice (GMP) production freeze-dryer that is optimised...