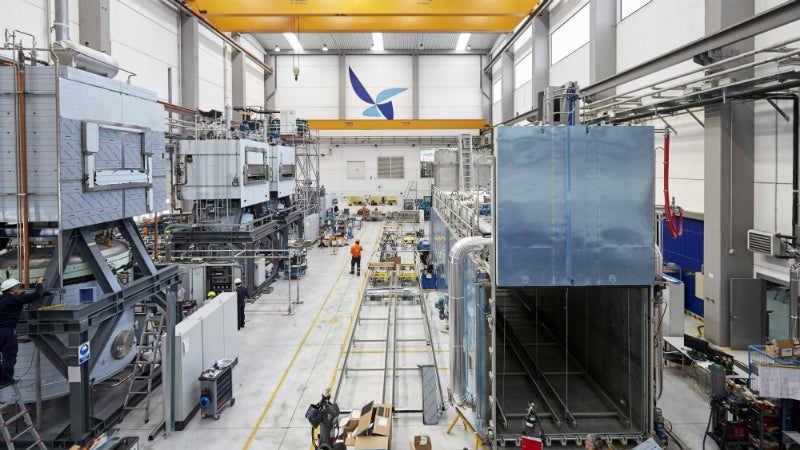 Telstar has announced the incorporation of new automated product handling systems for automatic loading and unloading processes in high-capacity pharmaceutical sterilisation systems.
The new robotised solution will be incorporated in the SteriDelta autoclave, which has been designed for sterilising large size parenteral products.
The company has taken a further step in the integrated solutions for pharmaceutical sterilisation process equipment, integrating robotic and automated loading and unloading technology and in-house sterilisation technology.
Regarding the automatic process for loading products into the autoclave, the sterilisation system integrates robotised processing prior to loading products from the filling equipment. It then begins to classify and place packaged material such as bags and bottles on trays, subsequently placing them on transport conveyors. In turn, these are placed on the automatic loading system to be fed into the autoclave chamber.
Once the sterilisation process has been completed, the unloading system extracts the product from the autoclave at a maximum temperature up to 80ºC and the load is placed automatically on the packaging line. Unlike the manual loading and unloading process, which requires putting the product through a cooling phase until reaching a temperature of 40ºC so it can be unloaded from the chamber, the automated process integrated to the SteriDelta range enables to unload at temperatures up to 80ºC. This provides greater efficiency, with an average reduction of 15% of the duration of the sterilisation cycle and saving up to 20% in energy consumption.
By launching this new system onto the market, Telstar is enhancing its response to the increase in demand for sterilisation systems, which has grown 40% in the last two years. There is a particular need for sterilisation equipment designed for larger size pharmaceutical products.
Within the SteriDelta range, the larger superheated water autoclaves have been developed for conducting faster sterilisation cycles with greater energy efficiency. Designed to sterilise large batches of parenteral solutions, the equipment includes control systems that allow it to balance the pressure between the inside of the container and the autoclave chamber during the heating and cooling stages. This ensures that the process is developed under a uniform temperature and that the packaging remains physically intact when the cycle finishes.
Telstar has released a new single-vessel good manufacturing practice (GMP) production freeze-dryer that is optimised...