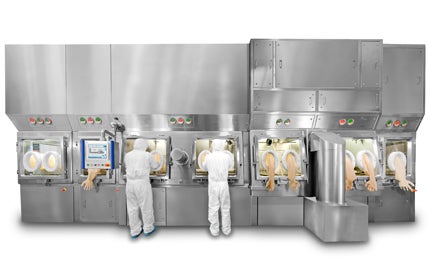 Telstar offers solutions and equipment with technology for chemical and biological containment: containment isolators, sterile isolators, weighing cabinets or RABs.
In the global pharmaceutical market with the ever growing demands on materials, operator and environmental protection, consideration toward increasing standards of safety, sterility assurance and regulatory compliance has never been higher.
As applications expand into less traditional areas of pharmaceutical manufacturing, laboratory and hospital environments, the availability of customized solutions has been essential to ensure that equipment is designed and installed with the maximum effectiveness, while understanding the need for flexibility, ergonomics and cleaning.
Traditional containment / aseptic technologies such as Downflow Booths (DFBs) Laminar Airflow systems (LAF), aseptic / containment isolators and restricted access barrier systems (RABS) are being enhanced by additional features providing greater product, operator or environmental safety technology.
With the utilisation of additional containment technologies such as flexible 'bag in-bag out' and closed transfer such as RTP (rapid transfer ports), as well as split butterfly valve technology allows the containment system designer the ability to 'combine' technologies for the best and most appropriate layered affect for the application. This will ensure the minimization of containment 'gaps' throughout the process steps.
Telstar considers that all of today's current pharmaceutical manufacturing procedures are subject to FDA or EMEA regulatory guidelines focusing on product sterility assurance, as well as understanding the safety and health needs defined under COSHH + OSHA considering the wide requirement for operator and environment protection.
Telstar has released a new single-vessel good manufacturing practice (GMP) production freeze-dryer that is optimised...