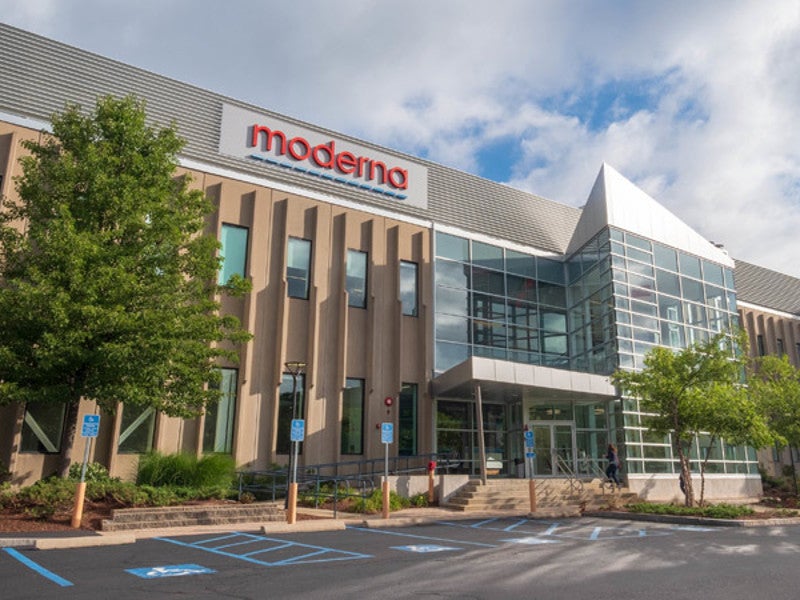 Moderna Therapeutics' cGMP clinical manufacturing facility was built by Wise Construction. Credit: ISPE.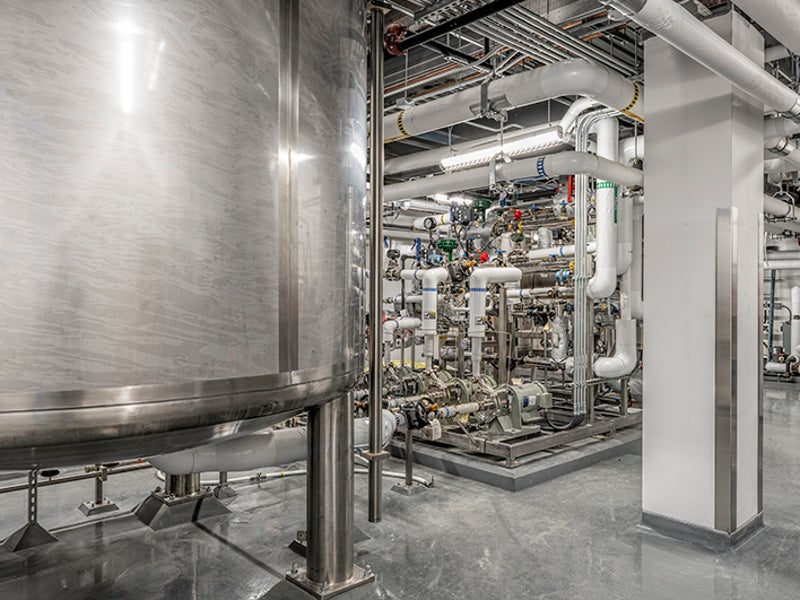 The facility won the ISPE's Facility of the Year Award in 2019. Credit: Wise Construction.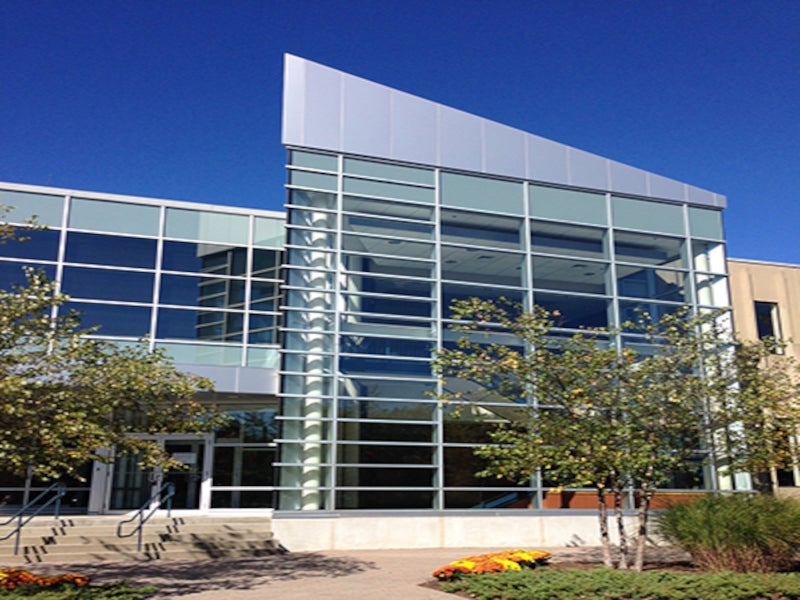 The facility produces a range of mRNA therapies and vaccines for GLP toxicology and Phase I and II clinical studies. Credit: Wise Construction.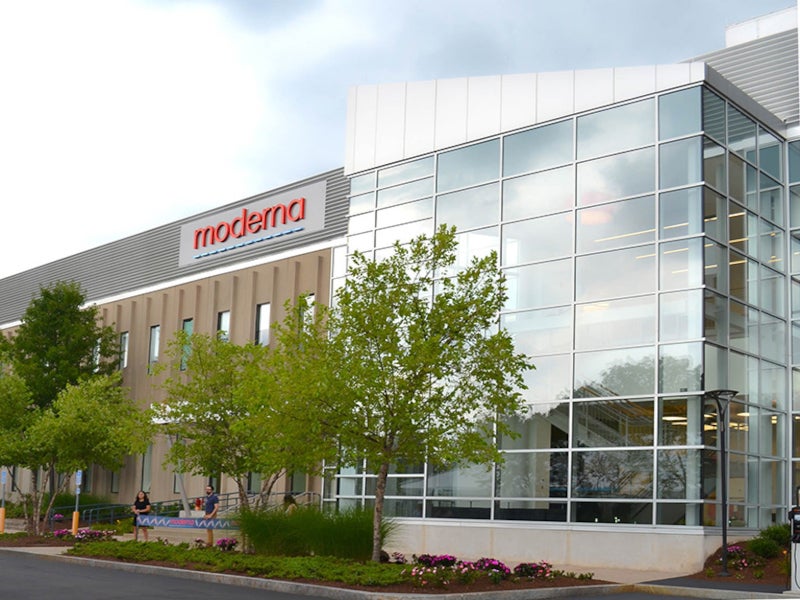 The manufacturing facility was designed to achieve Leadership in Energy and Environmental Design (LEED) certification. Credit: DPS Group / TRIA Architects.
US-based biopharmaceutical company Moderna Therapeutics opened a state-of-the-art good manufacturing practice (GMP) clinical manufacturing facility in Norwood, Massachusetts, in July 2018.
The company announced plans to build the facility in September 2016. The plant's construction was completed in early 2018 and involved a $110m investment.
The facility manufactures a range of messenger RNA (mRNA) based drugs and vaccines, including Covid-19 vaccines, for good laboratory practice (GLP) toxicology studies, as well as Phase I and II clinical studies. It has created more than 200 jobs to date.
Moderna's facility won the International Society for Pharmaceutical Engineering's (ISPE) Facility of the Future award in 2019.
Location of Moderna's cGMP manufacturing facility
The cGMP manufacturing facility is located in a 200,000ft² building leased at UPLAND, a Class A office and research and development (R&D) building at 100 Tech Drive.
The area was rented from real estate company Campanelli and its partner TriGate Capital, a venture capital firm, for 15 years with options for renewal.
Details of the Moderna clinical manufacturing facility in Norwood
The facility was developed within a 300,000ft² building that was previously occupied by a Polaroid plant.
Covering a 200,000ft² total floor space, the facility offers state-of-the-art integrated end-to-end process facilities. It includes spaces for GMP manufacturing, plasmid manufacturing, pre-clinical operations and testing, quality control labs, development labs, a cancer vaccine unit, a warehouse, and maintenance and administrative offices.
Designed to achieve Leadership in Energy and Environmental Design (LEED) Gold Certification, the facility performs all manufacturing activities, from raw material production to active pharmaceutical ingredients (APIs), formulation, filling and finish, at one location. It produces 40 batches of GMP mRNA a year, which can be increased to more than 100 GMP mRNA batches in the future.
The building also houses all quality and infrastructure services, as well as a collaborative open plan office and amenities area covering 25,000². The amenities area comprises a fitness centre, conference and training facilities, a cafeteria, and recreational and meeting areas.
The site also houses Moderna's personalised cancer vaccine (PCV) unit for individual supply batches of mRNA for cancer vaccines.
Moderna's early development engine programme
The GMP mRNA clinical manufacturing facility is part of Moderna's early development engine programme for the advancement of its innovative class of mRNA drug pipeline. Apart from the facility's construction, the programme includes collaborations with Charles River Laboratories, a preclinical and clinical laboratory services provider, and Pharmaceutical Product Development, a contract research organisation.
The collaboration with Charles River Laboratories aims to help carry out GLP toxicology studies and preparing investigative new drug (IND) filings for submission to global regulatory authorities. The collaboration with Pharmaceutical Product Development helps design and execute clinical trials to allow Phase I and II clinical studies to be carried out.
Moderna has also developed an automated and digital enterprise by adopting Cloud-based applications, which aim to help with the planning and execution of its mRNA pipeline. The digitally enabled site integrates information systems, robotics and machinery to allow the continuous exchange of data and provide information on all manufacturing activities.
In addition, the company has gained knowledge on the requirements of several regulatory authorities worldwide to advance its programmes through the regulatory processes.
Expansion of Moderna's Norwood manufacturing facility
In May 2021, Moderna announced plans to expand and transform its Norwood manufacturing facility into an industrial technology centre.
The expansion will more than double the facility's size from 300,000ft² to around 650,000ft² through the renovation of existing space and acquisition of a 240,000ft² building within the same campus. It is intended to expand the company's commercial and clinical activities.
The expansion will increase the production capacity of Moderna's mRNA Covid-19 vaccine by 50% or up to three billion doses in 2022.
In addition, the project will increase the company's technical development capacity and preclinical production capability to enable the production of thousands of preclinical samples for research and development each month.
The expanded facility will help facilitate Moderna's investment in technical capabilities such as the expansion of shelf-life stability and new drug delivery forms, including prefilled syringes and lyophilised products.
Contractors involved in the project
In October 2016, engineering and project management company DPS was awarded a contract to provide architectural, engineering and design services for Moderna's manufacturing facility. The contractual scope also included construction management, commissioning, qualification, and validation.
Boston-based architecture and interior design firm TRIA was awarded a contract to design clinical labs, offices, employee amenities and a conference room for the facility.
The subcontract for piping was awarded to process and mechanical contractor Kinetics, while heating, ventilation and air conditioning (HVAC) and plumbing were contracted to Harold Brothers Mechanical Contractors, a mechanical construction company.
Engineering and automation company Hallam-ICS provided instrumentation and control system infrastructure for the facility, while automation and control systems were produced by Siemens, an industrial manufacturing company based in Germany.
General construction company Wise Construction served as construction manager for the project, while Valsource, a consulting and advisory services company, carried out the validation activities.
Engineering services company Pare Corporation was the project's structural engineer and Kelly Engineering, a civil engineering design services company, served as civil engineer.
Moderna selected Hereva Consultants, a project management and consulting company, to supervise with the facility's design, construction and commissioning. Engineering and consulting services company Jenson Hughes was the code compliance consultant for the project.
Other contractors involved in the project included separation solutions provider Reilly Electrical Contractors, a HVAC products supplier New England Applied Products, and industrial water purification company MECO.
Marketing commentary on Moderna Therapeutics
Based in Cambridge, Massachusetts, Moderna Therapeutics is one of the world's leading biotechnological companies.
Founded by Flagship Ventures in 2011, the company offers a range of therapies based on the mRNA drug technology platform targeted at areas such as oncology, immuno-oncology, cardio-metabolic, rare diseases, and infectious diseases. mRNA therapeutics are a new class of drugs that generate human proteins and antibodies within patient cells to treat diseases caused by the lack of a fundamental protein.
Moderna is developing its mRNA therapeutics drug pipeline through several ventures focused on a specific set of areas, namely Onkaido (oncology), Valera (infectious diseases), Elpidera (rare diseases), and Caperna (specific cancer vaccines).
The company has formed strategic alliances with pharmaceutical and biotech companies such as AstraZeneca, Alexion Pharmaceuticals, Merck, Catalent and Vertex Pharmaceuticals to commercialise its drugs pipeline.