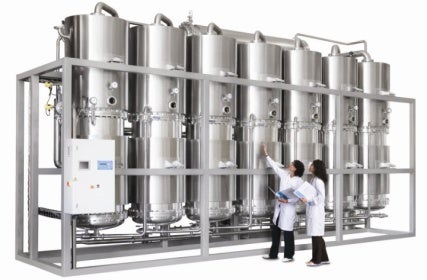 Telstar has supplied a set of autoclaves for sterilisation of large volume parenteral solutions and isotonic liquid products to the pharmaceutical firm Laboratorios Pisa.
The autoclaves have been installed at the Mexican group's pharmaceutical plant in Tlajomulco, Guadalajara, Mexico. The supply contract for multiple pieces of equipment, which was delivered in December 2013, is to be extended by the addition of further autoclaves this year.
The super-heated water autoclaves developed by Telstar for Laboratorios Pisa, which can perform faster and more energy-efficient sterilisation cycles, are characterised by their large capacity.
Each autoclave has been specially designed for use in the sterilisation process of large batches of parenteral solutions. The new set-up includes control systems, which can compensate the pressure differences occurring between the inside of the container and the autoclave chamber during the heating and cooling phases. This system ensures that the processes occur at controlled temperatures and that the physical integrity of the container is retained at the end of the cycle.
Telstar is also supplying the Laboratorios Pisa plant in Guadalajara with several seven-effect water stills, each with a capacity for up to 12,000l/hr of distilled water (WFI); some of which are in full operation, and a further two which are now in the process of manufacture. The seven-effect stills operate without requiring any cooling water. The seven columns provide more enhanced utilisation of the heating energy and as a result in the last condensation phase no cooling water intake is required, which results in a significant financial saving across such large production volumes.
The autoclaves and water stills are complemented by steam generators, each with a capacity for 1,000kg/hr of pure steam.
Freeze-drying 500,000 vials/month of solutions-for-injection
Throughout this year, Telstar will supply steam sterilisable freeze dryer capacity for the production of injectable products at Laboratorios Pisa's plant in Tlajomulco, Guadalajara. With a freeze-drying surface area of 19.8m², each piece of equipment has the capacity to freeze-dry a total of 33,000 vials every 40 hour cycle over 15 cycles a month.
Two steam autoclaves for terminal sterilisation of blisters and culture media manufactured by Telstar will also be supplied to the Guadalajara plant.
Telstar has released a new single-vessel good manufacturing practice (GMP) production freeze-dryer that is optimised...