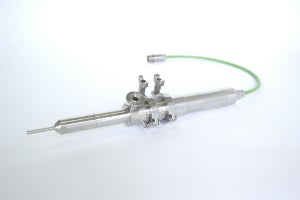 Due to its extensive range of services, professional consulting and high-quality technologically advanced products, ViscoTec addresses various application sectors.
At the end of 2015, the dosing machine specialist sold its 30,000th pump from its portfolio.
This pump refers to the Pharma Dispenser, 3VPHD8, with a dosing volume of 0.35ml per revolution, and is suitable for high precision filling of small amounts, independently from viscosity.
Due to high requirements of process safety, repeatability, precision and cleanability in the medical, biotechnical and pharmaceutical sectors, the filling pumps were developed with an hygienic encapsulated servo drive and control unit.
In the first stage, the 30,000th dispenser will be integrated in a machine unit from Amplius, a special system integrator for labour automation and will finally be delivered to a production line from Bayer CropScience.
Bayer CropScience is an independent subgroup from Bayer and is based in Monheim am Rhein.
Within Bayer CropScience, the dosing pump 3VPHD8 finds its application in biotechnology, where a high precise dosing of a highly viscous product in very small quantities is required, a predestined ViscoTec application.
Next to a low shearing and pulsation free conveying of the product, the ViscoTec dosing pump fulfills all current guidelines and regulations of the pharmaceutical industry from 3.1 factory certificates through EHEDG-design to elastomers.
The profile is rounded off with a dosing accuracy of more than 99%, without valves.
ViscoTec offers its Pharma dispenser as the ideal dosing unit to smoothly fill and precisely dose pharmaceutical products, independently of their viscosity.
Process safety filling of syringes from low to highly viscous ointments and dosing of abrasive pastes and creams are typical ViscoTec applications.