SmartSense is a continuous temperature monitoring solution that delivers remote, real-time, actionable insights to help hospitals and pharmacies ensure the safety, compliance and efficiency of vaccines, medicines and laboratory specimens.
Our temperature monitoring solution eliminates the need for manual checks and other repeatable tasks and gives this time back to facilities so they can treat more patients.
All reports are kept in one central location, making them instantly available for audits or inspections. The data can be used to identify underperforming equipment to prioritise quality control and ensure the safety of medication for patients.
Our automated temperature and compliance logging ensures pharmacies, hospitals and laboratories exceed Centres for Disease Control and Prevention (CDC) and Vaccines for Children (VFC) compliance standards.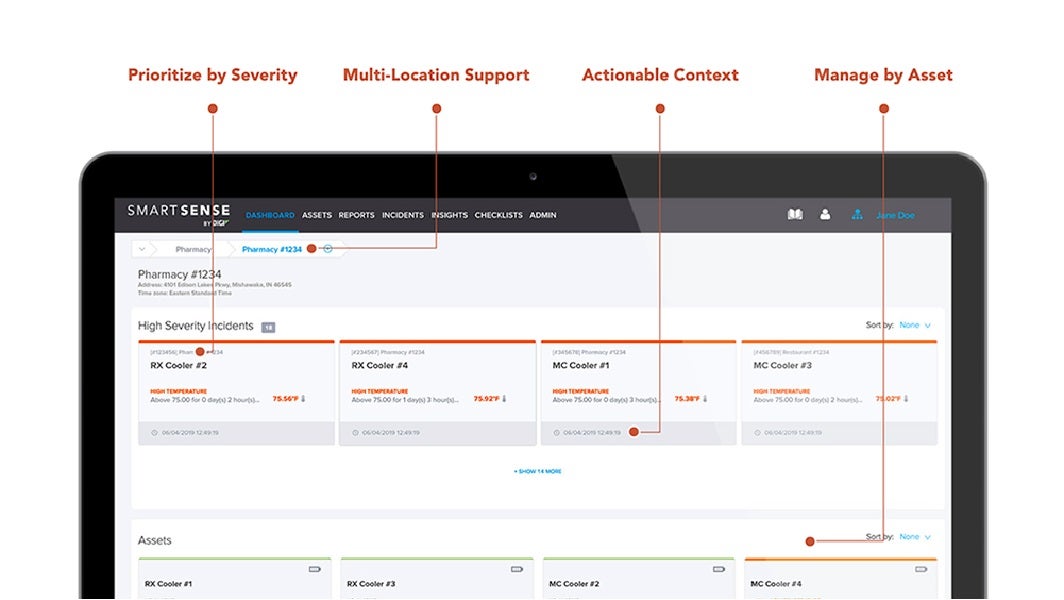 The SmartSense Dashboard lets you manage a multi-site network and orchestrate workflows in real time.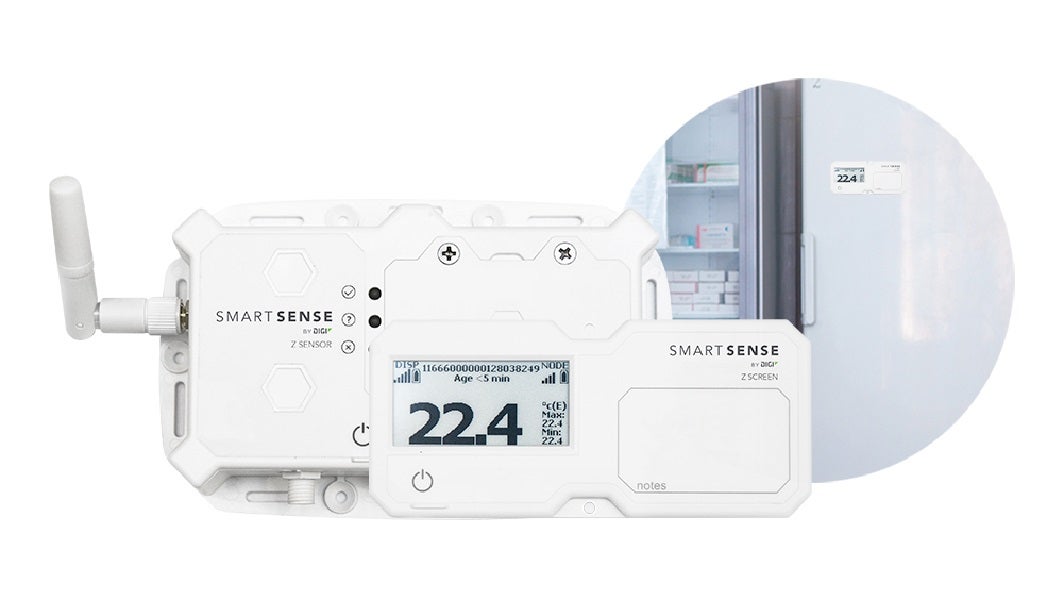 The Z sensor can be placed directly inside refrigerators, freezers and ambient environments.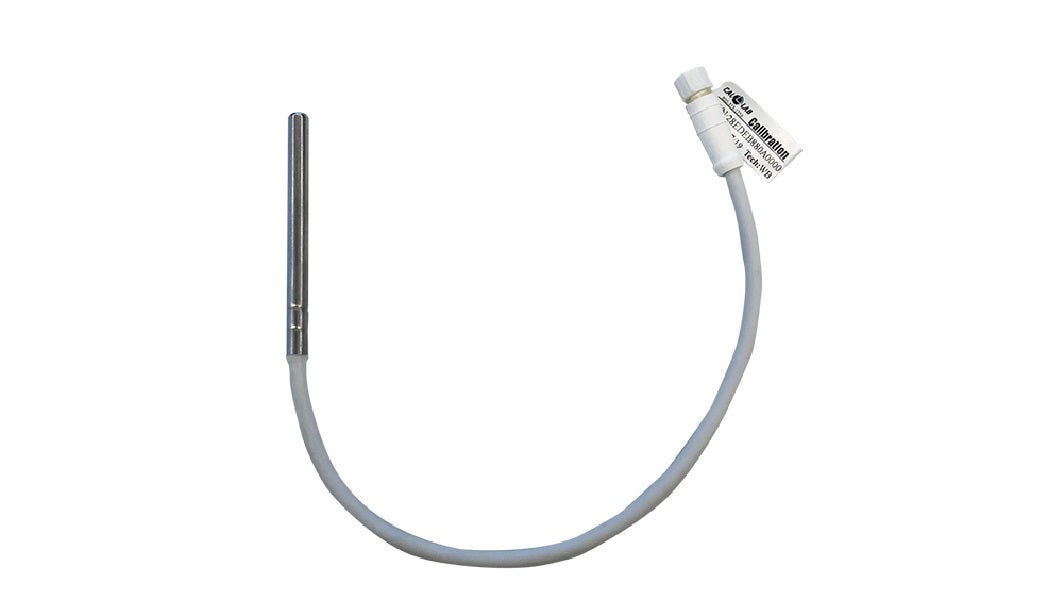 The SmartSense cryo probe covers freezers from a range of -200ºC (-328ºF) to 200ºC (392ºF).
Remote temperature monitoring and network management
The SmartSense BZ Gateway provides remote monitoring and sensor network management via a long-term evolution (LTE) cellular connection.
Up to 32 SmartSense Z Sensors and more than 200 SmartSense B Sensors can be connected to a single gateway. The sensors connect to the gateway automatically to ensure effortless deployment.
The gateway weighs 11oz and measures 3.9in x 3.9in x 1.6in. It was designed with the customer in mind to enable simple installation while taking up a minimal amount of space in your facility. The device operates in a temperature range of 40°F-95°F.
SmartSense BZ gateways use the LTE cellular network to connect the gateway to the sensors and dashboard. The system is functional as long as your facility has a cellular connection.
Digital temperature logs for pharmaceutical refridgeration equipment
The SmartSense Dashboard was created with the aim of replacing paper temperature logs to track failing equipment, and identifying sites with the greatest safety, quality and compliance risks.
Our dashboard lets you manage a multi-site network and orchestrate workflows across departments in real time, using the web and our mobile app. The dashboard automates manual processes and helps you take corrective action when it's needed.
The dashboard can monitor fridges, freezers and ambient conditions, letting you know exactly when a power outage occurs and when it begins to affect products in your refrigerator or freezer. Alerts can be sent immediately by text, email or automated call to ensure timely action can be taken.
Real-time temperature monitoring solution
The SmartSense wireless Z Sensor is a National Institute of Standards and Technology (NIST) certified, battery-powered monitoring device. The sensor can be placed directly inside refrigerators, freezers, ambient environments and other areas where monitoring is required.
Up to 24 Z Sensors can be connected to each individual gateway. The information from our sensors is sent to the gateway before being relayed to the SmartSense Dashboard. All sensor locations in a multi-site network can be viewed simultaneously in real time via the dashboard.
Temperature sensors for cryo freezers
SmartSense's cryo probe provides quick reading speeds and intuitive feedback for improving productivity. The probe is sold as an external attachment for the Z Sensor. It greatly extends the range of temperatures the Z Sensor can monitor and can easily be recalibrated to the sensor as needed.
The probe can monitor cryo freezers from a range of -200°C (-328°F) to 200°C (392°F). Its cable is 6ft (1.82m) long and 0.2in (5mm) wide.
Humidity monitoring for pharmaceutical environments
Similar to the cryo probe, SmartSense's glycol probe is sold as an external attachment for the Z Sensor. The probe covers a temperature range of -40°C (-40°F) to 125°C (257°F) and is designed to measure humidity within the asset's environment.
The probe's cable is 1ft (304.8mm) long and 0.2in (5mm) wide. Its tip is 3in (76mm) long, and its vial is 4.06in (103.12mm) long.
About SmartSense
SmartSense delivers proven internet of things (IoT) solutions for some of the most recognisable names in the retail, pharmaceutical, healthcare, transportation and logistics industries. A thorough understanding of challenges these industries face, including regulatory and compliance guidelines and protocols, is what sets us apart.
Backed by the legacy and strength of global IoT leader Digi International, SmartSense has the flexibility to adapt quickly to the ever-changing IoT landscape. Our solutions are currently in use at more than 75,000 facilities worldwide.