Created 25 years ago, SOFRIGAM has grown rapidly in the past years to become a leading company in the design, testing, manufacture and qualification of thermal insulated (isothermal) and refrigerating (cooling) packaging for cold-chain storage and distribution, selling to the largest pharmaceutical and biotechnology laboratories in the world.
COLD-CHAIN STORAGE AND DISTRIBUTION APPLICATIONS
Rupture in the cold chain is a problem common to many pharmaceutical packaging applications. SOFRIGAM offers thermal insulated and cooling packaging solutions that are efficacious and economical for air, sea and overland shipping and transport.
The perfect compromise between security and cost depends on the performance of insulating material and the cool packs used, the design of course, and the assembly of the packaging.
POLYURETHANE PANELS
SOFRIGAM mainly uses polyurethane panels from RECTICEL, a leading European producer. The Polyurethane (PU) panels feature one of the best insulating capacities – homogeneous foam – and a multi-layer coating to preserve it. These panels also make the containers stronger and protect the products.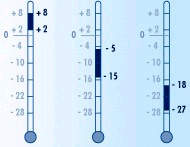 Once your product's thermal profile is confirmed, metrological tests are performed in our climate units to optimise your cold chain storage and transportation process.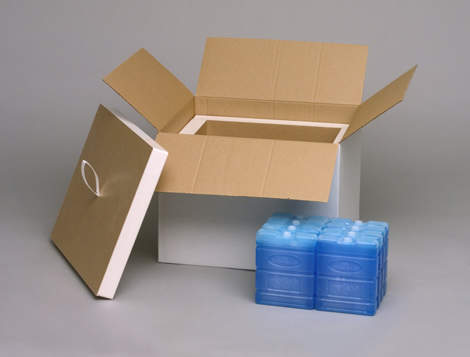 SOFRIGAM offers isothermal and cooling packaging solutions, including the efficacious and economical Kit Froid series.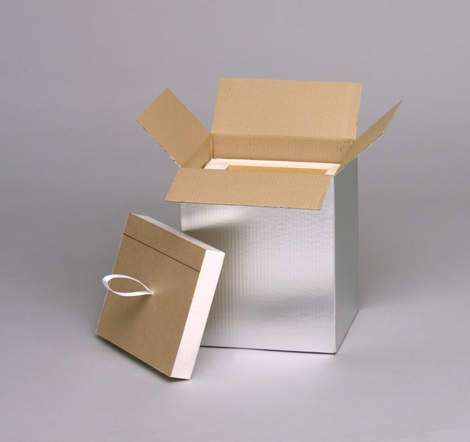 Sofribox isothermal and/or refrigerated boxes are built to universal specifications and offer either isothermal or refrigerated storage and transportation for up to 96 hours, at +5°C, +2°C to +8°C or -70°C.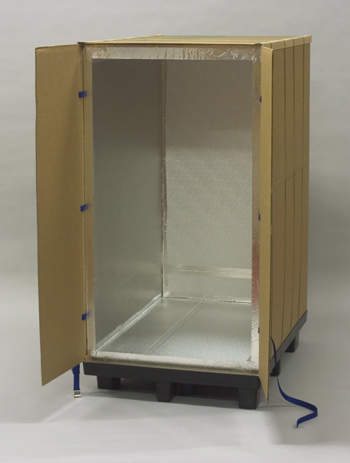 Frizbox® thermally insulated storage containers are designed for temperature-sensitive packs with the external dimensions of a standard pallet or custom-made pallet.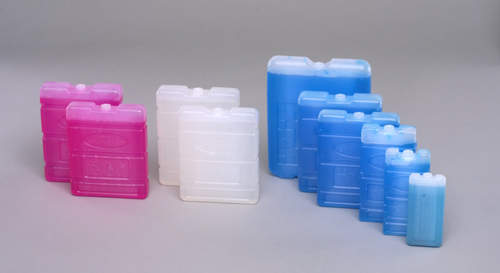 SOFRIGAM produces a range of soft and hard eutectic accumulators, using an exclusive manufacturing process. These consist of a rigid hull in PEHD with a non-toxic gel.
The thermal conductivity of PU panels is the lowest of the most common insulated materials, while its homogeneity and size allow SOFRIGAM to produce the most secure and the cost-efficient packaging in the industry.
Additionally, Sofrigam assembles the containers in a highly automated factory. Extreme precision measuring and cutting of the polyurethane allows us to optimise the weight, volume and overall cost of your cold-chain storage and transportation operation. SOFRIGAM polyurethane waste is recycled by incineration with energy retrieval.
EUTECTIC ACCUMULATORS
SOFRIGAM produces an exclusive range of soft and hard eutectic accumulators. The range consists of two sizes of cold packs with euthetic points of -20°C, -15°C and 0°C, and four other sizes of cold packs only available for 0°C.
The 0°C rigid snowgam guarantees perfect restitution for the cold storage environment and transport in +2°C to +8°C conditions.
STANDARD ISOTHERMAL AND REFRIGERATED BOXES – KIT FROID
SOFRIGAM's Kit Froid P series includes five standard-sized boxes (01P, 02P, 03P, 04P, 05P), from 8L to 98L internal volume, for conservation between +2°C and +8°C for 96 hours.
Kit Froid N series includes three sizes (01N, 02N, 03N), from 21L to 40L internal volume, for conservation at -18°C for 96 hours. The 96-hour autonomy makes them ideally suited for express shipping, reaching almost any point of the planet by airfreight.
CUSTOM-MADE BOXES – SOFRIBOX
The Sofribox range of products now counts more than 30 references, including 20 qualified boxes. They count both isothermal or refrigerated storage and transportation boxes, for up to 96 hours, at various temperature ranges (the most common are -20°C, +2°C to +8°C, or -70°C).
THERMAL INSULATED BOXES OR 'PALLET SHIPPERS' – FRIZBOX®
Frizbox® thermally insulated containers are designed for temperature-sensitive packs with the external dimensions of a plastic or wooden pallet (both 1,000mm x 1,200mm and 800mm x 1,200mm) or with custom-made pallet design with PU or plastic studs. These isothermal storage and transportation containers are most commonly optimised for transport durations of up to 96 hours. There are more than 30 references already developed, of which 25 are qualified.
FLEXIBLE ICE BOXES – SOFRIBAG
Sofribag flexible ice boxes are cooling systems for medical and food products, designed to transport contents of 4L to 35L, for four hours or 24 hours at a temperature of +2°C to +8°C or at a temperature of -5°C to -18°C.
CUSTOM COLD-CHAIN TRANSPORT SOLUTIONS
SOFRIGAM uses an internally developed software tool, Bil-fri, to determine as closely as possible clients' refrigeration needs. Our analysts use the specifications provided in a client's order to calculate the cold mass necessary and the positioning of cold accumulators that will produce optimal thermal insulated packaging.
Specifications considered are:
Measurement: length, width and height
Temperature range of product: -20°C to -18°C, -15°C to -5°C or +2°C to +8°C
Duration of transport
Type of transport
Average temperature required
IN-TEMPERATURE TESTING FOR OPTIMAL COLD CHAIN STORAGE
SOFRIGAM conducts in-temperature tests on request. Clients may then check their results against an official metrology service, e.g. LNE, BVT. After the test, our results are published to allow clients to reproduce the test, run an in-depth interpretation and draw independent conclusions.