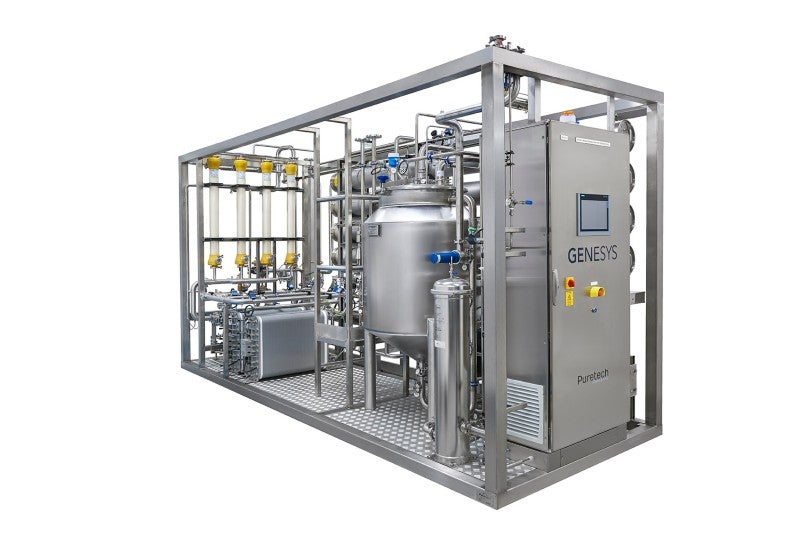 Puretech manufactures pharmaceutical-grade water purification systems for the pharmaceutical, biopharma and cosmetic markets.
We design, install, commission, test and validate water generation and pure steam and storage and distribution systems. Our systems are manufactured in the UK and Europe and distributed globally.
Our systems are compliant with worldwide pharmacopoeia standards and guidelines and designed to meet the client's specification and requirements.
Pre-treatment systems for pharmaceutical-grade water purification
Every water system requires mains water treatment before the purification process. The design of the pre-treatments can vary significantly depending on world location, and Puretech individually designs each pre-treatment system based on the characteristics of the local mains water.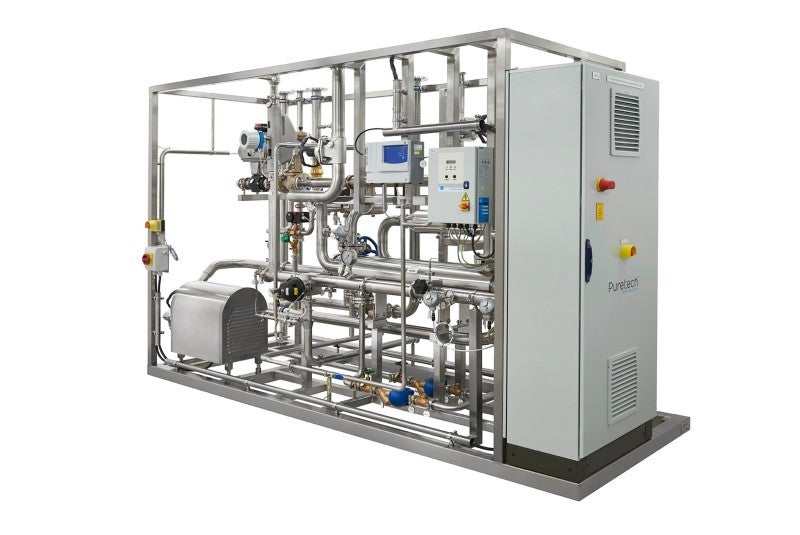 Distribution Skid.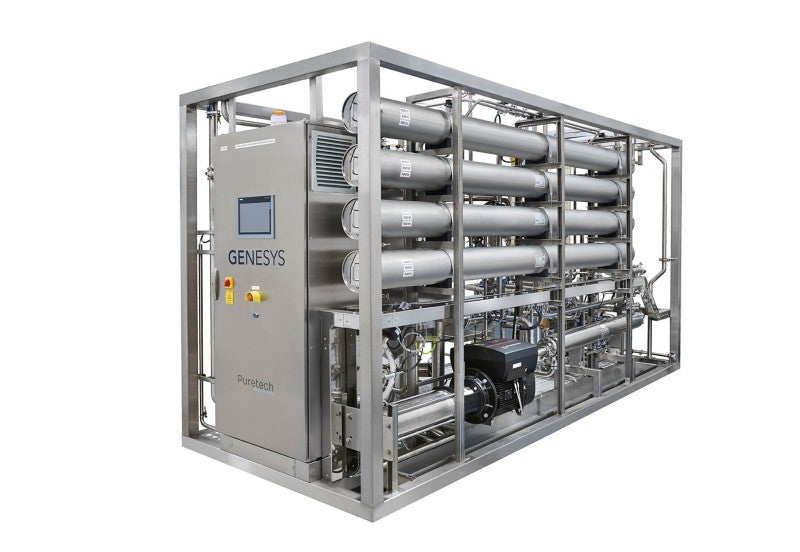 Genesys Purified Water Generation.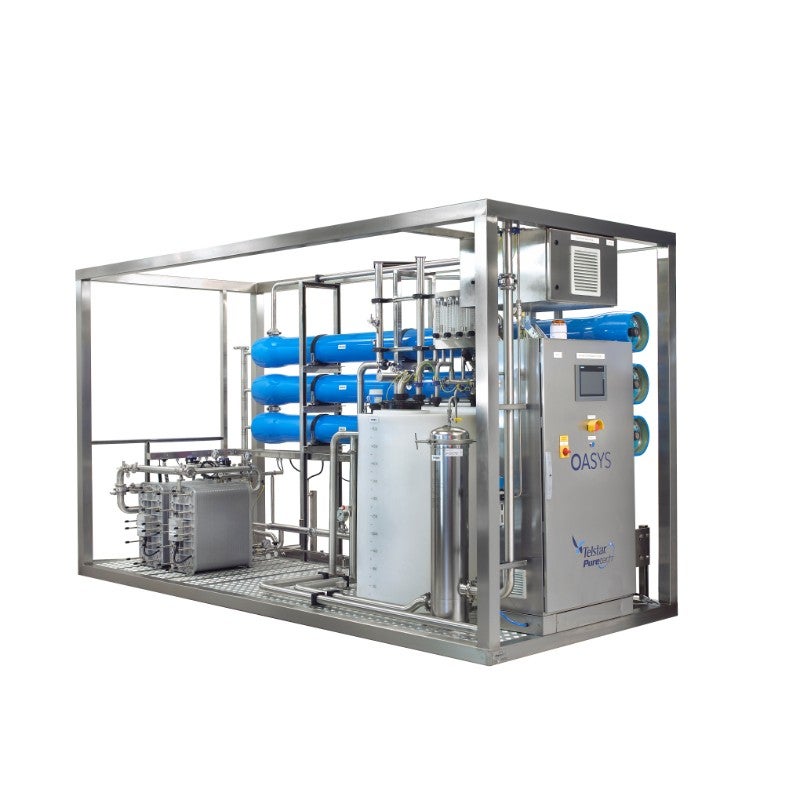 Oasys Purified Water Generation.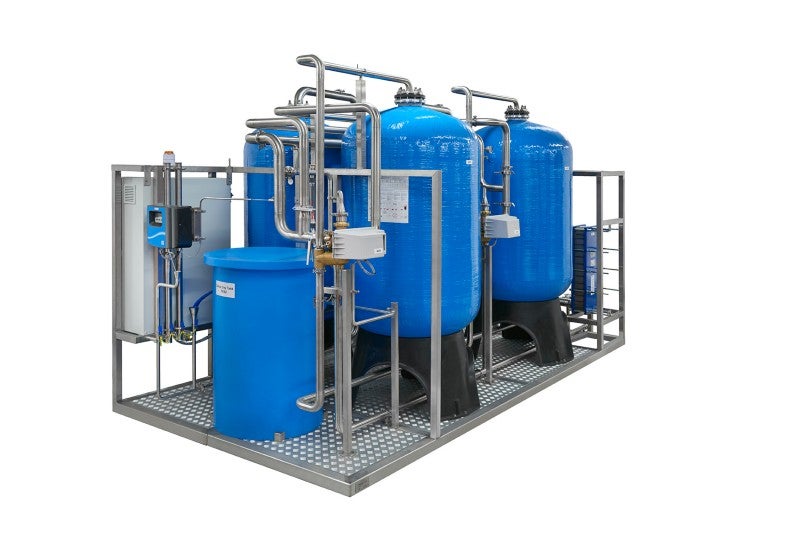 Pre-Treatment Skid.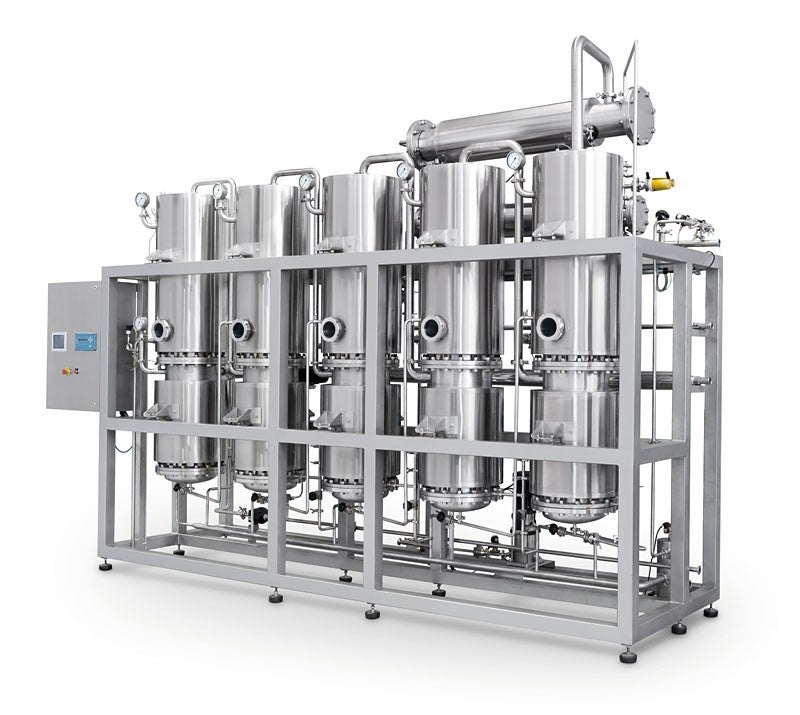 Multi-Effect Distillation.
The correct design is paramount to ensure the safe running of a system, as well as ensuring the quality of the product water is met; whether it is purified water, water for injection or pure steam, a robust, well-designed pre-treatment system is imperative.
Purified water generation solutions for pharmaceutical environments
We design our Genesys and Oasys purified water generation systems to produce pharmaceutical-grade purified water in full compliance with current good manufacturing practice (cGMP) guidelines according to the Food and Drug Administration (FDA) and European Medicines Agency (EMEA), European Pharmacopoeia (EP), Japanese Pharmacopoeia (JP) and the United States Pharmacopoeia (USP) requirements.
These systems are multi-technology skids encompassing as their central technologies reverse osmosis and continuous electrodeionisation, programmable logic controller (PLC) controlled with options for automatic thermal sanitisation or chemical sanitisation.
Water for injection systems
According to USP, EP and JP standards, there are two options available to produce water for injection (WFI), via a distillation process or membrane technology.
Puretech has the Genesys WFI systems and the AquaZero systems available within their product portfolio.
Genesys WFI system produces water for injection utilising reverse osmosis, continuous electrodeionisation and ultrafiltration as its primary technologies, universally recognised and accepted to provide WFI. Capacities range from 300l/h to more than 10,000l/h and are compliant to EP, USP and JP standards. All models are PLC-controlled with automatic thermal sanitisation procedures and clean-in-place (CIP) cycles.
In comparison, the AquaZero multi-effect distillation system is available as an electrically heated system (for smaller capacities) or steam-heated to maximise efficiency without compromising quality.
If pure steam and WFI is required simultaneously, there is the option to have a 'combi' system that can provide both variants together.
Pure steam generation solutions
We design our AquaZero pure steam generation systems to deliver dry saturated pyrogen-free steam, and similar to all other products, are in full compliance with cGMP guidelines and in-line with FDA and EMEA requirements.
Options are available for electrically heated or steam heated systems with capacities ranging from 25kg/h to more than 5,000kg/h.
Storage and distribution systems
Each innovative storage and distribution system is specifically created to meet the client's requirements, which range from space to controls, instrumentation, and monitoring.
We produce our skids at our manufacturing facility in London, UK, which allows clients to observe the testing of the system before shipping to the site.